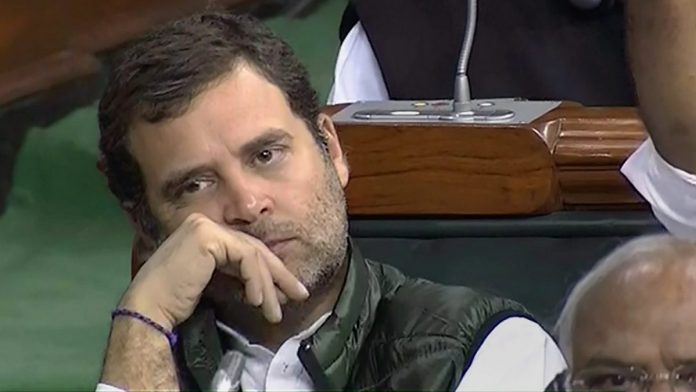 Text Size:
Another day, another sensational super-duper day time break: 'Rahul-Vadra-defense dalal-link' (OneIndia, Republic TV). This was followed by Union minister Smriti Irani's press conference where she alleged that "corruption defines the Gandhis" (CNN News18).
Meanwhile, 'Mahagathbandhan crumbles' (NewsX) as Mayawati, Mamata Banerjee lead exodus from the Congress.
There's 'Chaos in Congress' said Republic, it 'crumbles' added Times Now, after defections in Maharashtra, Gujarat.
And pray what is Congress president Rahul Gandhi doing? He's lecturing students at Stella Maris College, Chennai in T-shirt and jeans.
Perhaps he ought to watch TV news.
But if he did watch TV news, he would think he's better off at Stella Maris.
---
Also read: Arnab gives Rahul 'ji' prime time billing
---
For most TV news channels, the 2019 Lok Sabha elections are already over, lost and won, more than two months before the actual counting of votes on 23 May.
News channels have 'irrefutable' proof of this, to use the adjective made popular by television news to validate the Balakot air strikes.
The proof is in the polls and was aired on Sunday, after the Election Commission announced polling dates: all of them from ABP and Republic, India TV, News 24, News Nation, more or less agreed with Zee News's figures – NDA 264, UPA 132, Others 114. 'Home and dry' said Raghav Awasthi, RSS on India Today.
The proof is there in Modi's popularity, which one poll suggested rose by 12 per cent after Balakot air strikes (New 24) and another resonated with the public chants of 'Modi, Modi, Modi' before describing him as a shining 'dhoomketu' (comet) with 52 per cent of respondents in a poll survey wanting Modi for PM—only 17 per cent voted for Rahul Gandhi (India TV).
The proof is there in the disproportionate celebration of the Balakot air strikes that has continued on many news channels for more than a fortnight—the latest being the '187 second proof of airstrike' through an audio clip of Balakot residents (Republic, India Today).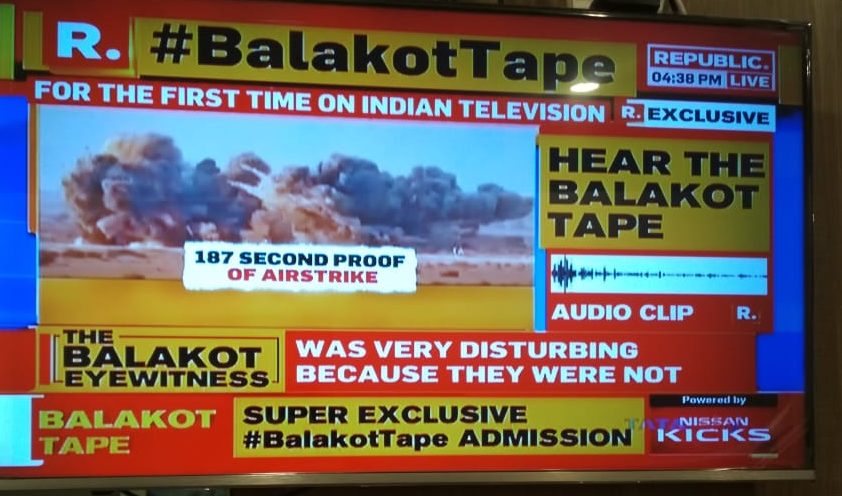 ---
Also read: TV 'polls' 'sentiment trackers' give Modi Balakot advantage
---
Of course, this victory parade is self-serving: news channels believe, perhaps with reason, that Balakot appeals to viewers, so why not give them what they want?
This may explain a fascination with aeroplanes flying across the screen—a ploy that reached ridiculous levels when India TV had an Indian Airlines jet zoom across the screen while Ajit Doval, National Security Adviser, explained the Kandahar hostage crisis that resulted in the release of terrorist Azhar Masood.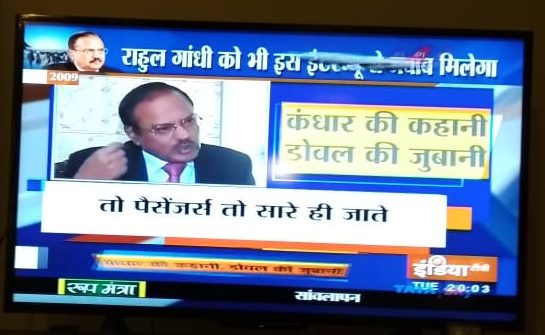 And still, Rahul Gandhi doesn't seem to get it: when Modi has clearly won the media and perception war on terrorism, he attacks him on Azhar Masood 'ji'—for instance, at Wednesday's press conference in Chennai.
The proof is there in the relentless focus on corruption charges against Rahul Gandhi and Congress leaders like P. Chidamabaram in the Aircel Maxis case and Robert Vadra on property issues. Charges, based on leaked documents to Times Now and Republic, have come thick and fast since 2014 and continued on Wednesday – while Rahul Gandhi continues to talks about Rafale.
In almost five years, Narendra Modi and Rahul Gandhi have been in the spotlight across many news channels. However, all the questions have been asked of Rahul Gandhi and of the Congress. Almost no questions are addressed to PM Modi— he doesn't entertain questions, interviews or address press conferences.
That is more proof, if any more is required, that on TV news, Rahul Gandhi and the Congress are on trial in this election, rather than the BJP and Modi's record of governance over the last five years—what's that?
See for yourself: Watch TV news for one week – like Times Now, CNN-IBN, NewsX, Republic, Republic Bharat, Zee News, India TV to name a few – and count the number of attacks on both, count the number of debates attacking Rahul Gandhi and the Congress. Then count those questioning the BJP on unemployment, rural distress, demonetisation, lynching, etc.
The imbalance is reflected in the conviction on television news that Modi is the winner – of the 2019 elections—and Rahul Gandhi a loser.
The attacks on Congress and Rahul maybe well founded, and the conclusion 'irrefutable' but doesn't any government deserve to be questioned?
---
Also read: Itching for an India-Pak war, TV news channels decided a simulated one is as good as any
---
On to other news:
Priyanka Gandhi Vadra's debut rally speech on Tuesday in Ahmedabad was unimpressive: she spoke briefly, hesitantly and referred to notes—perhaps she was overawed by the occasion.
Meanwhile, Aaj Tak has taken to utilising Wing Commander Abhinandan Varthaman in its promos a bit far: at public venues, there are hoardings with the slogan, 'Abhinandan ka Abhinandan desh ne kiya Aaj Tak ke saath'.
And Sudarshan TV has launched a campaign—call it war – against Unilever's Surf Excel for its commercial that promotes communal harmony during Holi. At prime time, the channel asks its audience to criticise Unilever and for viewers to boycott the multinational's products — that will make Ramdev very happy.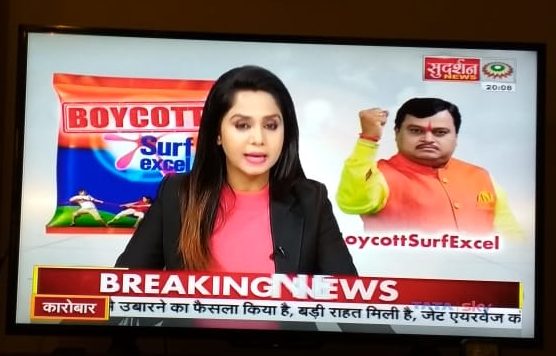 Get the PrintEssential to make sense of the day's key developments