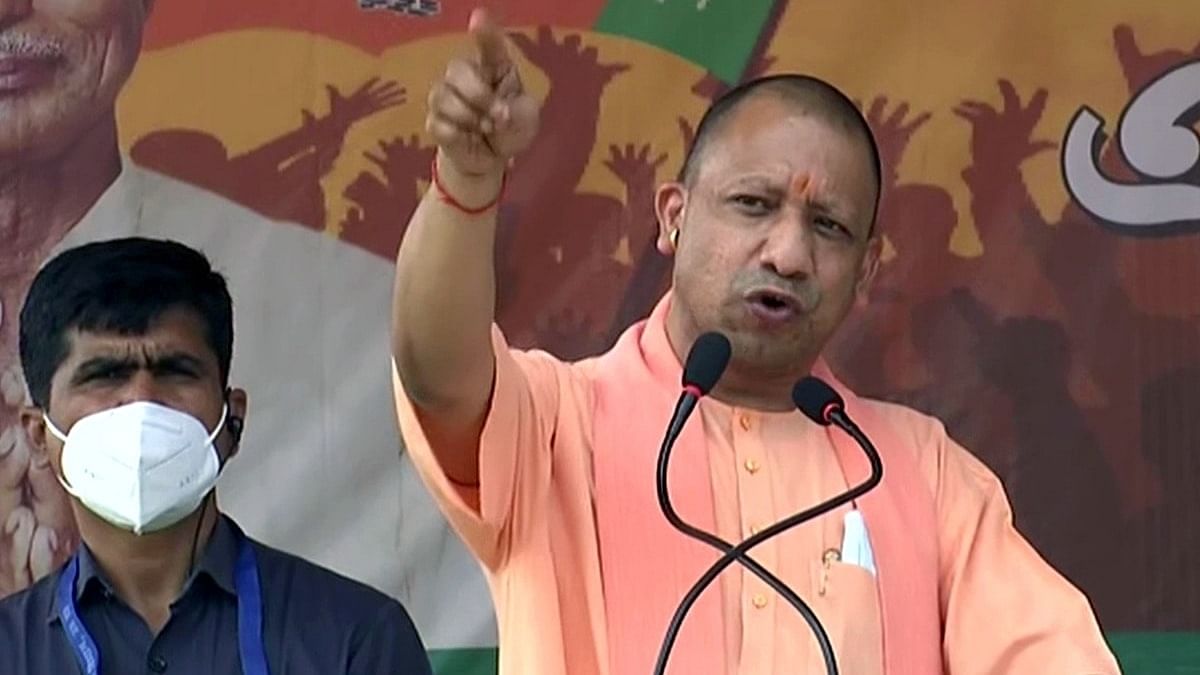 Question: what comes to mind when you read the word 'Abba'?
Never did it seem possible that this word would have a bearing on 'Modi's Mission UP 2022', or that it would dictate the TV news cycle this week, replacing #TalibanTerror as the lead headline, and sharpen the focus on the Uttar Pradesh assembly election next year.
For the Indian English-speaking adult over 45, 'Abba' refers to the Swedish pop group that recently reunited after 40 years to record a new album and host a virtual show. Millennials, unfamiliar with the band, simply break into songs from the film Mama Mia.
For Muslims and those who belong to UP, it means 'father'. Well, the word has created the mother of all political controversies since Sunday, when UP Chief Minister Yogi Adityanath, derisively, used the term `abba jaan' at a rally in Kushinagar – claiming those who said 'abba jaan' were the sole recipients of rations under previous UP governments.
By Wednesday, another member of the family was dragged into the fray: 'Abba jaan v/s Chacha jaan,' announced CNN News 18, after Bharatiya Kisan Union's Rakesh Tikait called Hyderabad MP and AIMIM president Asaduddin Owaisi 'BJP's chacha'.
Akhilesh bhaiyya had already charged into the ring Tuesday with criticism of the Adityanath government – much to the delight of news channels – 'Abba jaan politics' (CNN News 18) went from breaking news to prime-time debate across Hindi and English news channels.
---
Also read: Video game, fake visuals — It's a bad week for TV news. 'Good News Today' wants to change that
---
A wonderland called UP
Yogi Adityanath would have been hugely pleased. If Prime Minister Narendra Modi is the kingmaker in UP, Yogi Adityanath has been its newsmaker over the last few months. His sheer visibility has been staggering.
You see him here, you see him there – you see Adityanath speeches everywhere. Sunday and Monday, there were excerpts from his 'abba jaan' speech; then, there are Yogi with Modi, or rather Modi with Yogi, video and photo ops. Tuesday, he was one step behind Modi at the Raja Mahendra Pratap Singh University foundation ceremony where he lavished praise on Modi who 'heaps praise' on him (CNN News 18). Wednesday, he was the guest at Times Now Navbharat's conclave in Lucknow (so was Akhilesh Yadav but we'll come to him a little later).
There are also Yogi announcements on new schemes or government decisions to make UP great again, almost each day. Such pronouncements are frequent and covered widely by Hindi news channels, particularly those focusing on UP and Bihar — Prime News, India Voice, Jantantra TV, Network 10.
And then, of course, there are the 'Special features', which is a euphemism for paid news items – on almost every single news channel of any note, Hindi or English. We can only guess at the crores of rupees that must go into what has been a long-running advertorial campaign – not to mention a generous source of income for the Covid cash-starved but grateful news channels.
Almost each time a news channel 'slips' into a commercial break, Adityanath and his myriad achievements are paraded before us: women swoon over his munificence (and of course Modi's); farmers reap the benefits of his governance; children prosper under his paternal gaze – the state is completely transformed, beyond recognition. It's all bright and beautiful in Yogi's UP, if you believe these promos.
---
Also read: Taliban, Taliban, Taliban. Indian news channels serve 'exclusive' interviews, source-less videos
---
What the headlines hide
This sunny side up view of India's most populous state blinds us to the darkness at noon for many families in Firozabad and Mathura where a dangerous variant of what is thought to be dengue is a tragic reality. Channels such as India Today/Aaj Tak, NDTV 24×7 and Bharat Samachar have been tracking the viral fever for a while – bodies of children carried out on stretchers (NDTV 24×7), serpentine queues of people at hospitals (Bharat Samachar), and health infrastructure on the verge of collapse (India Today). Wednesday, Times Now found 'mystery fever grips Firozabad' and CNN News 18 India reported on the patients waiting at government hospitals.
This news makes headlines and receives coverage throughout the day on Bharat Samachar but that is not the case on other channels where 'abba jaan politics' is headline news and dengue a second or after thought.
Almost nobody spared a thought for the 20-year-old Dalit woman who was raped and assaulted in Hathras a year ago on 14 September, either. Remember? Close your eyes and you can see, once again, her lonely pyre burning in the wilderness of a dark early morning at a cremation not even her family was allowed to attend, by the local administration. It wasn't `Breaking News', Tuesday – was there even a remembrance of thing past or any update on the current status of the case against the four accused? It there was, it was overshadowed by PM Modi's Aligarh visit and Adityanath's 'abba jaan' rhetoric.
Yogi Adityanath basks in the reflected glory of his leader and his own 'achievements' in the advertorials. The Opposition, meanwhile, is mostly absent barring the press conferences and tweeted barbs by Akhilesh Yadav – or an interview with him. The Congress rarely appears in the frame unless Adityanath takes a swipe at it as he did on Sunday – calling it the 'mother of terrorism'.
As of today, what you see on television, appears to be the story of the UP election thus far: a strong BJP in the pole position, the Samajwadi Party trying to catch up on the bend, and both of them overtaking the Congress, lap after lap.
Where are you, Priyanka Gandhi?
(Edited by Prashant)