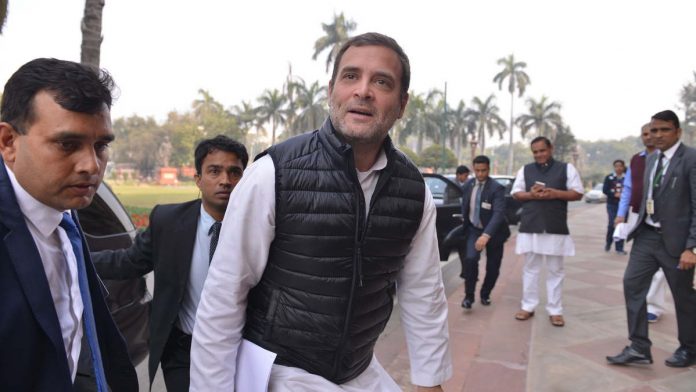 Text Size:
'Chowkidar' PM ignores media and Rahul Gandhi likes media but dislikes any other subject than Rafale.
The Prime Minister was in Solapur, Maharashtra. At a public rally, Narendra Modi hailed the Lok Sabha for passing the 10 per cent reservation bill for the general category, and then lent into the opposition for 'votebank', 'minority' reservation politics, And, dear ole 'Michel mama'.
A few hours later, Rahul Gandhi attacked Modi in Jaipur on demonetisation, GST and his pet obsession: Rafale.
It's been that kind of a week.
Briefly last weekend, we watched Indian politics' Punch & Judy show – defence minister Nirmala Sitharaman and Rahul Gandhi land blows over Rafale (what a triangle!), but mostly we watched 'Travels With My PM and Michel Uncle' as Modi spoke in Punjab, Odisha and Assam.
In each instance, he talks of the corrupt parivar, 60 years of misrule, slapping the palm of his hand to emphasise the inequities of the Gandhi family and the past.
---
Also read: In Photos | MPs in Parliament for the extended winter session of Rajya Sabha
---
However, the PM did not speak in Parliament on Tuesday when his 'Modi-stroke' (ABP) was discussed, although he did make a silent appearance late evening before the vote.
Nor did he speak in the Rajya Sabha on Wednesday when the opposition created 'an uproar' on '#ModiQuotaSop'. He couldn't have, could he? CNN News18's split screen showed him speaking in Solapur – on the very same bill being debated in Rajya Sabha.
In fact, the Prime Minister rarely-barely speaks in Parliament. He rather praise the upper caste quota bill in Agra, than in Parliament. He only shares his Mann ki Baat with the public on his radio show or at public rallies.
Rahul Gandhi speaks almost daily outside Parliament, to the media. Inside Parliament, he tries to speak once each session as he did last week. He holds press conferences almost as frequently as the PM holds public meetings, occasionally gives interviews and addresses public rallies.
If it is possible, he is more single-minded than the PM: he hitches up his kurta sleeves and goes, 'Rafale, Rafale, Rafale'. This singular preoccupation crept into his remarks, in Jaipur and on Tuesday regarding the Supreme Court's reinstatement of CBI Director Alok Verma: the government removed Verma, Rahul claimed, because of an impending investigation into … Rafale, of course.
---
Also read: When Rahul Gandhi pulls off a Kejriwal—and denies Modiji the headlines
---
Conclusion? The 'chowkidar' ignores the media, avoids Parliament, despite prostrating himself on its steps when he first entered in 2014. Rahul likes the media but dislikes any subject other than Rafale.
Virtuosity compared the two in the run-up to the Lok Sabha elections, Sunday: Vir Sanghvi and his panellists discovered that Rahul uses 'humour', 'smiles'. Modi does not smile. But as Mihir Sharma pointed out, PMs don't smile much —think Dr Manmohan Singh (CNN News18). More importantly, Gandhi had emerged as a 'possible alternative'— the 'TINA factor' had diminished, said Sanghvi.
This realisation that 'pappu' could actually become PM has seen a change on news channels which have been dedicated followers of PM Modi.
Till December 2018, channels like Times Now and Republic, News X and Zee News, asked 'burning questions' of the Congress; the latter boycotted them. Since state assembly victories in the Hindi heartland, the same channels now fire questions, at least some of the time, at the BJP and have warmed up to the Congress.
So much so, that since December Congressmen Kamal Nath, Madhavrao Scindia, and most recently Manish Tiwari have appeared on Times Now. Tiwari, on Monday, participated in a Times Now-Rupa debate on Jay Panda's Lutyens' book.
The SC verdict on Alok Verma, a 'setback' on CNN News 18, became 'a wrap on the knuckles' for Times Now: 'Isn't it a massive blow?'
Rewind to October last year and Verma's removal as Director. On Times Now, Navika Kumar had the attacked Verma, suggested he was responsible for allowing Vijay Mallya to get away. Yogendra Yadav (Swaraj Abhiyan) had famously left that Newshour debate questioning her professional ethics (26 October).
Republic TV and Arnab Goswami, at the time, said Verma was perhaps involved in a 'conspiracy' to remove Special Director Rakesh Asthana because Congress 'hates Asthana'. And if he goes, 'it is over' for the cases he monitored: AgustaWestland, Vijay Mallya, to just name two.
Both cases have been pursued by government agencies and the CBI since October, and made headline news on Republic but such niceties don't bother Goswami, who said on Sunday in another connection, 'I know what is best for the country'.
---
Also read: We need good reporting now more than ever. Democracy depends on it
---
And now it seems what is best for the country, is to tilt the windmills at the BJP: on Sunday, Goswami lit into BJP's Sudhanshu Trivedi. In #JhootPolitics, he accused him and his party of 'lies'. Referring to UP topping in custodial deaths, he said, "You have lied on everything". He referred to the 'same lie 22 years later' on Ayodhya and how the BJP's IT cell spread more 'lies' than anyone.
A wonder that Trivedi didn't lie down and cry.
A caveat: Times Now, India TV, Republic along with other news channels have frequently attacked the Yogi Adityanath government on law and order: Romeo squads, cow lynching, the UP girl child racket, and child deaths in Gorakhpur. These are not attacks on BJP, nationally, or Modi.
Also, the Mirror Now and ET Now often balance out Times Now: so the quota 'game changer' on Times Now was questioned on Mirror Now: 'Where are the jobs?'
Finally, advice for Koffee with Karan (Star World): stick to Bollywood for gossip on current affairs and other personal matters – leave cricketwood to actor Suniel Shetty who intelligently discussed India's series victory in Australia (NDTV 24×7).
On the show, Hardik Pandya described how he watches women make 'moves'. He should let his bat and bowling 'move' so that he scores runs and take wickets for India.
Get the PrintEssential to make sense of the day's key developments