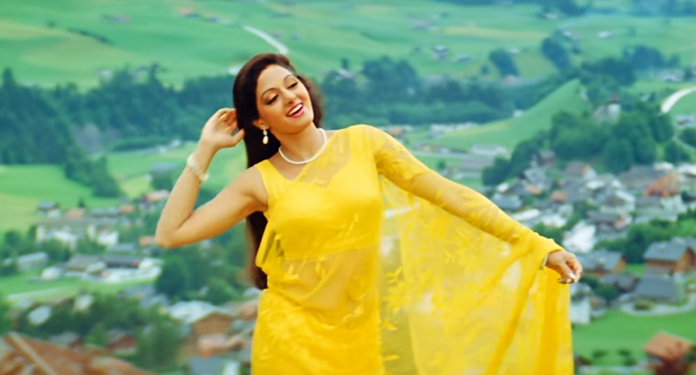 Text Size:
For a generation that grew up under the triple whammy of Islamization, Martial Law and life in a small town, Sridevi was the centre of our lives.
Pehle pehle pyar ki pehli raat yaad rahegi
Phoolon ke is shehar ki mulakaat yaad rahegi
Kaash yahin saari umar yun hi jaaye beet jaaye mitwa
Aage aage chale hum, peechhe peechhe preet mitwa
Until an (alleged) case of exploding mangoes/benign act of God/engine failure/American subversion (or all working in concert) got to him; my only hope in the late 1980s to get rid of General Zia ul-Haq was a shape shifting naagin. The rest of the world may have gasped as Amrish Puri's Bhairo Nath made his eyes seem more bulbous as he willed his victim to quake in his presence, but Jeepers Creepers, an '80s child had seen those peepers before.
We had entered the decade of our discontent and our only hope was a woman who would smite the hooded eyes into smithereens. In a fortuitous development, Benazir Bhutto returned to Pakistan the same year Nagina released, so forgive a child at that time if she confused a Main Teri Dushman, Dushman Tu Mera with her Dilan Teer Bijan.
Something had changed, and we counted down the minutes as our own heroine Bhutto encircled our oppressor—Sridevi and Nagina providing the soundtrack.
The 2016 film Ae Dil Hai Mushkil may have traded a Lahore for a Lucknow—tried to sanitize Alizeh of all that could link her to the land Where The Wild Things Are; but they could never camouflage a Pakistani heart's bucket list, that includes a fluttering yellow sari at the Alps. The rest of the darkened cinema hall may have been busy dissecting Karan Johar's Yash Chopra references, later the nudge,nudge,wink,wink of who did it better of a Ranbir recreating a Rishi Kapoor; but for a generation that grew up under the triple whammy of Islamisation, Martial Law and life in a small town—Tere Mere Honto Pe (rather the whole opening strain, as Sridevi walks out into the vales) opens the floodgates to a particular year of our teenage lives.
The year 1989 was our first Zia-free year, and it also saw the release of Chandni. A period of youthful enthusiasm and hitting your teens, coincided with the shedding of the dark clouds of the dour Zia era, and the promise of a shinier tomorrow.
Democracy is cool, but so is the prospect of sharing an ice cream. Chandni's protagonist is from the middle class and small town like us as she confronts the big city, her thrill as her cousin opens up her wardrobe to share, is palpable and familiar. Chandni took up class politics and the winds of change when we wanted someone to speak our stories, and Sridevi's tandav was our I Will Survive—the template to the angsty decades that were to follow. Chandni when she starts working at Lalit's office was a Haseena Moin heroine—there was something familiar to that particular story track and we devoured it so.
But Chandni, and its Chandni, did something that generations of educational institutions could not do—they made the ubiquitous white shalwar kameez uniform cool. We still dreamt of sexual awakening and Swiss Alps, but for the time being that white shalwar kameez made us feel better while we waited for that elusive Swiss dawn. Chandni and Sridevi/Chandni's naivety also made Maulana Rishi 'Cognac Sharab Nahi Hoti' a Shariah compliant drinking license for our times, but that is another story.
And as we basked in these changed times, someone else who was also young, female, and fearless had started representing us on the global scene.
Over the years when there were high points and low in my Pakistani life, and my relationship with Benazir Bhutto; it is these moments in 1989 that I come back to. At times I may have ranted and raved at Sridevi as well, but the centre of my life and world has always been these years, and these two women. Bhutto's hand pulling at the dupatta that escaped her hair pins , the flutter of a chiffon sari upon the wind—and an indomitable spirit that never kept still.
Of course my cup runneth over in 1992 when Sridevi plays a Pashtun—and wait for it, a Benazir. Khuda Gawah provided the words and cultural references for a decade when sar zameen e Hindustan ko (hamara) salam began.
So the news from Dubai has hit us in a way, that will take some time to recover from. Sridevi, as I explain to peers, is part of our cultural memory—her mother's botched operation was our first understanding of medical malpractice. How does one even begin to explain the myriad lens to Sridevi's Pakistani story? However, I do know how every reference to Sridevi is going to end in my stories—Zinda Hai Sridevi Zinda Hai.
Aneela Babar is a gender and cultural studies specialist, and the author of 'We Are All Revolutionaries Here: Militarism, Political Islam and Gender in Pakistan'
Check out My543, our comprehensive report card of all Lok Sabha MPs.