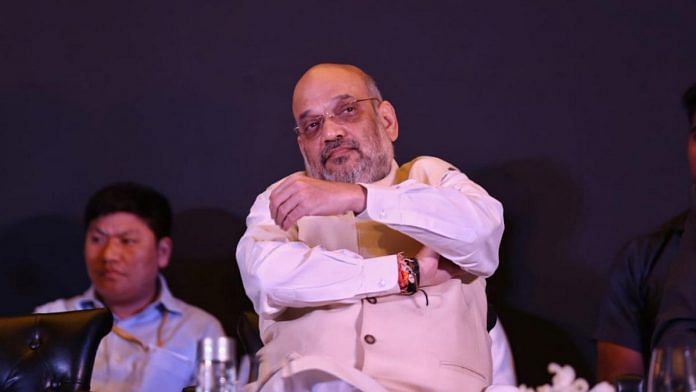 Text Size:
As the campaigner-in-chief for the Citizenship (Amendment) Act and the National Register of Citizens, Home Minister Amit Shah has been making, with his characteristic belligerence, a number of arguments both inside and outside Parliament in defence of his government's initiative. These arguments have been echoed by a host of BJP ministers, MPs and supporters on social media. Those of us who oppose this divisive exercise in India need to face these claims squarely.
Here's my point-by-point rebuttal, which also relies on legal expertise from constitutional lawyer Arvind Abraham:
1. The purpose of the CAA is to give refuge to persons who face religious persecution, in continuation of our ethos for thousands of years
Our millennial ethos was movingly articulated by Swami Vivekananda when he declared his pride in the fact that he hailed from a civilisation that had given shelter to the persecuted of all nations and faiths. The CAA betrays that ethos by limiting its generosity to some nations and some faiths only.
If the purpose of the CAA is to give refuge to those facing persecution, why is there a cut-off date in the Act, one that seems linked to the NRC exercise in Assam? The reason seems prompted by the fiasco in Assam: it has been reported that the RSS, alarmed by the exclusion of Hindus, had instructed the BJP to bring the CAB by December 2019. But even the RSS' generosity is limited. If a Hindu faces persecution in 2015 and comes to India, she cannot claim any benefit under this law.
If it is about giving refuge, why is the Narendra Modi government resistant to a national refugee law, which I have been proposing for years? I even introduced a private member's bill for a refugee law to establish an authority whose sole duty would be to determine who genuinely faces persecution. We remain the only major democracy without a national asylum law; but when I raised the issue in the Lok Sabha, Amit Shah declared he would never permit any such thing.
---
Also read: With CAA, Kashmir, NRC, Amit Shah has come out of PM Modi's shadow
---
2. Indian Muslims are not affected by the CAA; they are not even mentioned
This defence needs to be understood in conjunction with Amit Shah's avowed determination to follow the CAA with the NRC, which he says will be conducted throughout India, requiring people to show documentary evidence that they are citizens of India. In Assam, this has been implemented in a very strict manner, whereby even spelling differences in documents have caused rejections. This will disproportionately hurt poor, rural, marginalised, and tribal people because most do not have the required documents. Even ministers in PM Modi's cabinet – most famously former Army Chief V.K. Singh – do not have reliable documentation of their date and place of birth. If the poor have no documents, they could be declared as illegal migrants and face imprisonment. Numerous stories of innocent people being excluded can be seen in this Caravan report. 
The CAA refers to the rules under the Passport Act, under which, since September 2015, a non-Muslim who enters India from any of the three specified countries – Pakistan, Afghanistan and Bangladesh – due to religious persecution, without valid documents, will not be considered an illegal migrant. Amit Shah, in an interview, clarified that under the CAA a persecuted person from any of the three countries does not have to provide any documents and will be immune from criminal proceedings. So, most excluded by the NRC can seek protection under these rules without documentary evidence – but no Muslim can do so. Only Muslims without documents will face punitive action. When the NRC comes, the onus will be on the Muslim resident of India to prove that she is indeed Indian; those without documents will then be stripped of citizenship, while an undocumented non-Muslim from a foreign country will not need documents to claim citizenship. What perverse logic is this?
---
Also read: What 2019 Citizenship Amendment Act says and why the outrage over it
---
3. The CAB meets the requirements of "reasonable classification" under Article 14
It was amusing to see Amit Shah using this legal argument in Parliament. Only one problem: it doesn't work. There are three grounds that the test of reasonable classification must meet:
1) There must be an intelligible differentia, i.e. a distinction between classes of persons, on a reasonable basis;
2) There must be a nexus between the intelligible differentia and the object of the Act;
3) The Act cannot be arbitrary.
Amit Shah argues that these three countries have been selected because their official state religion is Islam and non-Muslims face persecution in these countries. The idea that Muslims cannot be persecuted in Muslim countries is absurd: just ask the Ahmadiyyas and Shias in Pakistan, or atheist bloggers in Bangladesh, or just individuals who disagree with Islamist communalism, like Taslima Nasreen or Daud Haider, both of whom were given refuge by India in more enlightened times.
A state's official religion or lack thereof does not necessarily correlate with the degree of persecution. For instance, Rohingyas in Myanmar faced genocide, even though Myanmar (which has a Buddhist majority) is not officially a Buddhist country. Sri Lanka has been excluded, even though Sri Lanka's official religion is Buddhism, and Sri Lankan Tamils, who are mainly Hindus, have faced religious and ethnic persecution. Nearly a lakh have sought refuge in Tamil Nadu, but it seems the BJP is only interested in Hindus who can speak Hindi. Since there is no consistent principle involved, and since the government has no asylum law to establish by individual assessment whether or not a person faces religious persecution, the Modi government has indeed made an arbitrary classification. That fails the test Shah claims his Act passes.
---
Also read: This isn't just about Muslims, say anti-CAA protesters in Delhi, blame police for chaos
---
4. When asked about persecution faced by Muslims, Amit Shah responded that there is a difference between religious persecution and sectarian persecution. There can be no religious discrimination, he averred, for a denomination within a religion. That is why they are not covered under the CAA
International law recognises five types of persecution: race, religion, nationality, membership of a particular social group, or political opinion. There is no separate category known as sectarian persecution. In 2011, India decided to give long-term visas to persons facing persecution on these grounds as well as two additional grounds – sex and ethnic identity. The Modi government has not explained why one form of persecution has more importance than the other under this new law.
As explained above, the distinction between a Muslim facing religious persecution and a non-Muslim facing religious persecution is arbitrary. If the Modi government feels that Muslims in these countries don't face religious persecution, then logically, the standard should be that only persons facing religious persecution can apply. If it is a general standard, then everyone's claim of religious persecution can be assessed individually – but the CAA instead presumes persecution based on religious affiliation alone.
The plain fact is that the government has not thought through the implications of its Act. It seems another hasty and arbitrary decision, like demonetisation, which Prime Minister Modi declared would only hurt black-moneyed fat cats, but ended up hurting everyone else. The CAA's declared purpose is one thing; its consequences will create victims right among innocent but undocumented Indians. No wonder our thoughtful young people are out in the streets to declare "not in our name". Sadly, it may be too much to hope that our reckless and feckless government is listening.
The author is a Member of Parliament for Thiruvananthapuram and former MoS for External Affairs and HRD. He served the UN as an administrator and peacekeeper for three decades. He studied History at St. Stephen's College, Delhi University and International Relations at Tufts University. Tharoor has authored 19 books, both fiction and non-fiction. Follow him on Twitter @ShashiTharoor. Views are personal.
Subscribe to our channels on YouTube & Telegram
Why news media is in crisis & How you can fix it
India needs free, fair, non-hyphenated and questioning journalism even more as it faces multiple crises.
But the news media is in a crisis of its own. There have been brutal layoffs and pay-cuts. The best of journalism is shrinking, yielding to crude prime-time spectacle.
ThePrint has the finest young reporters, columnists and editors working for it. Sustaining journalism of this quality needs smart and thinking people like you to pay for it. Whether you live in India or overseas, you can do it here.