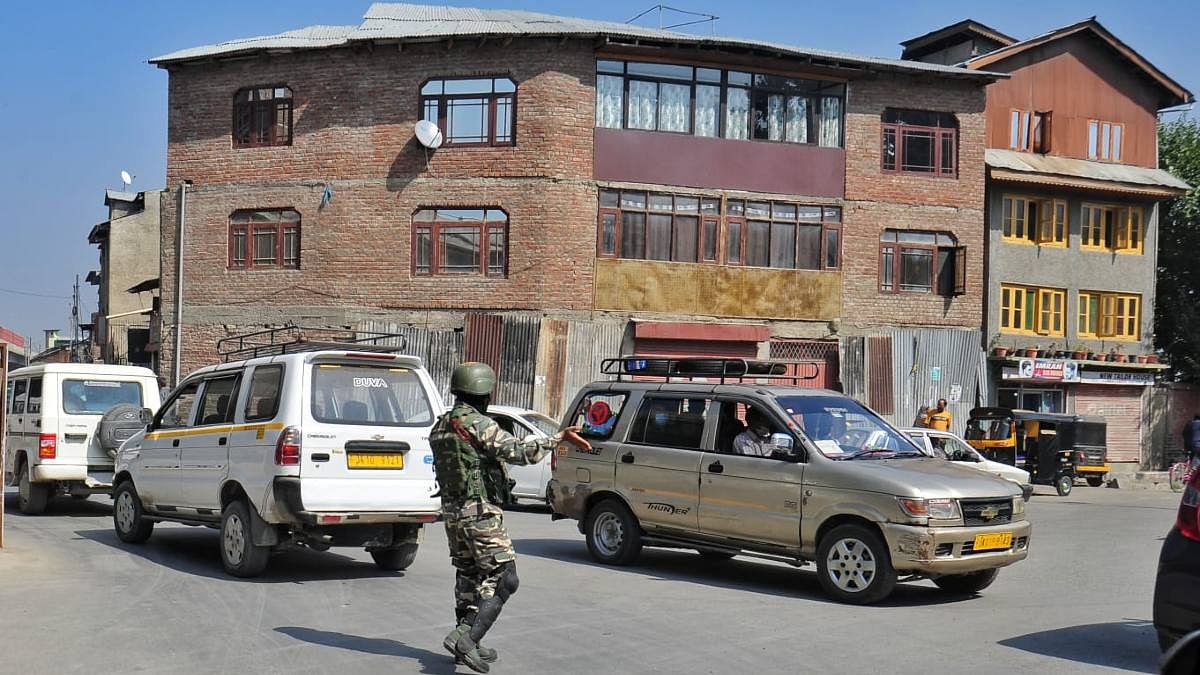 Ten days before the New Year, in the darkness of the night, Imad Muzaffar Wani disappeared from his home in Arigam, near the south Kashmir town of Pulwama, with nothing but an automatic pistol he'd kept hidden in his room. From there, authorities allege, he made his way to the nearby village of Bandzoo, where he shot police constable Mushtaq Ahmad Wagay, leaving him for dead. Earlier this week, after a twelve-hour exchange of fire, Wani was shot dead by police, his blood running over the snow outside Hassanpora, near Kulgam.
Ever since his early teens, an intelligence dossier records, the 21-year-old had participated in Islamic protest mobs battling police on Kashmir's streets, graduating to aiding Hizbul Mujahideen terrorists on the run. That freezing night, for reasons no-one knows for sure, he decided the time had come to kill—and die.
After the Pulwama terrorist bombing led India and Pakistan to the edge of war in 2019, Prime Minister Narendra Modi's decision to use force, and the internal crackdown which accompanied the revocation of Kashmir's special constitutional status, appeared to have paid off. The tempo of killings, which had risen since he took office, reversed. Moreover, there have been no significant terrorist attacks outside Kashmir.
There's one cause for concern, though: In spite of these gains, the recruitment of young ethnic Kashmiris to jihadist groups has continued apace. Estimating numbers for last year isn't easy, but many experts put the count around 200, nearly the same as in 2020.
Exact numbers matter less than the message: There's a wellspring of political resentment, ideological rage and social dysfunction that terrorist recruiters are able to tap.
---
Also read: Modi's Punjab security breach shows SPG lacks real-time situational awareness
---
The Pakistan army's peace dilemma
Key to relative peace seen since 2018 are restraints put on jihadist groups by Pakistan's military. The Generals know that—as the Pulwama crisis showed—they can draw a sharp punch or two on their adversary's nose but crisis inflicts asymmetric costs on Pakistan's fragile economy.
In 2018, it's now widely known, the Research and Analysis Wing (R&W) and the Inter-Services Intelligence Directorate began secret talks—gently nudged on by the world community—to prevent such crises from erupting between the two nuclear-weapons armed countries. The talks were derailed by the Pulwama crisis, but resumed and led to last year's ceasefire on the Line of Control, which significantly helps India target infiltration.
The Pakistan military's decision to restrain jihadists after 2019 was true to pattern.
Following the 2001 attack on Parliament House in New Delhi, Prime Minister Atal Bihari Vajpayee threatened war, only to find himself constrained not only by the Indian Army's lumbering infrastructure but also the prospect that India might win—forcing Pakistan to use its nuclear weapons.
In spite of this success, Islamabad ratcheted up terrorism against India sharply in coming years, and began secret diplomatic negotiations that almost ended with Prime Minister Manmohan Singh and Pakistan's military ruler General Pervez Musharraf securing a final status deal on Kashmir.
Lieutenant-General Moinuddin Haider, who served as interior minister under General Musharraf, explained to the scholar George Perkovich — he argued that the long-term costs for Pakistan continuing to back jihadists would be higher than the potential losses from taking them on. President Musharraf feared that confrontation with jihadi groups would provoke a civil war.
"I was the sole voice initially", Haider said. He told Musharraf: "Mr. President, your economic plan will not work, people will not invest, if you don't get rid of extremists."
General Musharraf's intelligence chief, Lieutenant-General Javed Ashraf Qazi, went further. "We must not be afraid," General Qazi publicly said "of admitting that the Jaish was involved in the deaths of thousands of innocent Kashmiris, bombing the Indian Parliament, [the journalist] Daniel Pearl's murder and even attempts on President Musharraf's life".
Today, though, there are signs that the Pakistan army may no longer be willing—or able, in the face of a resurgent Taliban—to take on its jihadist proxies. Last week, footage obtained by ThePrint established that the Jaish-e-Mohammad had held their first rallies since Pulwama, publicly announcing their role in terrorism in Kashmir.
Experience explains why Pakistan's military leadership might be loosening the jihadists' shackles. In 2007, General Ashfaq Parvez Kayani—locked in growing conflict with jihadists of the Tehreek-e-Taliban Pakistan, as well as groups like al-Qaeda—rolled back General Musharraf's peace plan, and escalated levels of violence in Kashmir. He calculated the military needed the support of its Kashmir-centred jihadist proxies—like the Jaish-e-Mohammad and Lashkar-e-Taiba, as ideological counterweights against anti-State jihadists.
General Qamar Javed Bajwa's tenure as Pakistan Army chief is scheduled to end in November. Amidst rising conflict with the Taliban, his successor could take the same call General Kayani did.
---
Also read: China's Pangong Tso bridge can't be countered with panic or polemic
---
A crisis of faith
Like it or not, the time couldn't be better for jihadist groups to expand their operations in Kashmir. In some important senses, the debates within Kashmir over the restoration of its statehood or Constitution guarantees aren't about their purported subject; these are a metaphor for wider insecurities that the region's Muslims have about their future in India. As India's always-fraught communal landscape has turned ever more toxic, those insecurities have sharpened.
"There isn't a single Muslim in Kapurthala, Alwar or Bharatpur," Kashmir's political patriarch, Sheikh Mohammed Abdullah, once said of the toxic legacy of Partition, noting that "some of these had been Muslim-majority states". Kashmiris, he added, feared "the same fate lies ahead for them, too".
In 2008, anxieties that 'Hindu India' might be preparing to seize Kashmir's lands and eradicate its religion were stoked by Islamists to spark an uprising against the grant of land-use rights to the Shri Amarnath Shrine Board. India, Islamist political leader Syed Ali Shah Geelani had warned, was working "on an agenda of changing the demography of the State".
A generation of young Kashmiris listened: in 2010, and again in 2016, mobs battled police, seeing themselves as defenders of a beleaguered people and religion.
The circumstances make it imperative for New Delhi to secure its political flanks in Kashmir, and engage a population deeply concerned about its future. The Indian armed forces are locked in confrontation with China, and the country's economy has been battered by the pandemic; a simultaneous confrontation with Pakistan would be unsustainable. The model of deterrence used in 2001 by Vajpayee, and in 2019 by Narendra Modi, is neither wise, nor currently credible.
Large numbers of options exist before New Delhi—and not just predictable ones, like holding elections to the state Assembly. The Modi government could, for example, consider lifting the Armed Forces Special Powers Act from some urban centres in the Valley—where the Army does not, in any case, operate—or from some of the many, relatively peaceful tehsils. It could encourage regular talks between regional political parties, and their national counterparts, on the state's constitutional future. And it could redress fears that India is aiming to transform Kashmir's demography.
The time of act is now, if New Delhi isn't to risk blowing its own hard-won gains.
The author tweets @praveenswami. Views are personal.
(Edited by Anurag Chaubey)