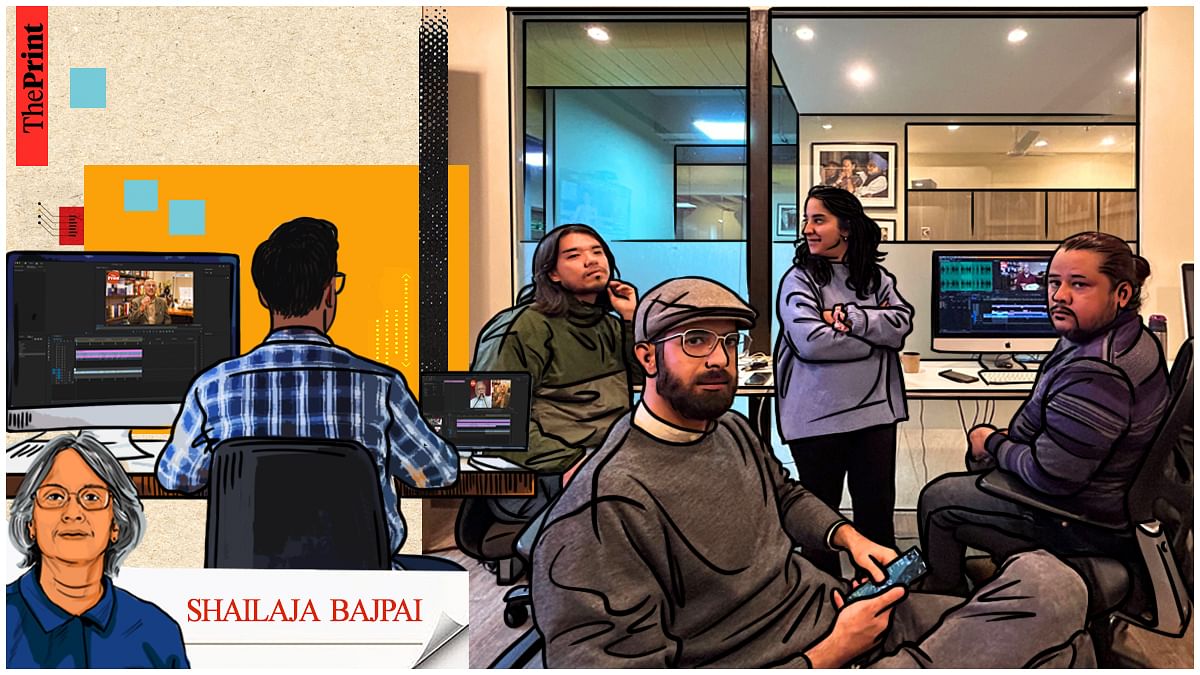 ThePrint is a one-stop multimedia destination for news and views. Since its inception in 2017, it has set out to offer a genuine multimedia experience of the news, however anomalous that may sound for a website that calls itself 'ThePrint'!
Today, that virtual reality is something of a reality. ThePrint has over two million YouTube subscribers, and although podcasts are still playing catch-up, listeners are downloading more and more audios – there are approximately four lakh downloads every month. ThePrint puts out more than 30 original video programmes every week besides news stories and clips from agencies such as Asian News International (ANI).
This month, I decided it was time to recognise ThePrint's video section, at least partly because the team hides behind its cameras, buries its head in its Macs, and never looks up to be noticed. I am thinking of Upendra Yadav, who sits quietly at his desk, going click-click for hours.
So, it's time to pay them some attention.
---
Also read: How Shekhar Gupta Cuts the Clutter and what people tell ThePrint about it
---
Eye on visuals
This is the age of seeing — and believing. The reader is now a 'viewer-reader'.
Think of how we while away our days and nights on YouTube and OTT platforms such as Netflix and Amazon Prime Video. See how Shah Rukh Khan's film Pathaan earned more than Rs 400 crore worldwide in four days — a record opening for Bollywood.
And then there's the ubiquitous social media — Facebook, Twitter, Instagram. The last of the three is a pure visual treat; Twitter has a word limit, and Facebook is as much about photographs and videos as it is about written posts. Finally to podcasts — according to Forbes, there are over 400 million podcast listeners globally, and the numbers are growing each day.
Prince Harry's memoir Spare, the fastest-selling non-fiction book on its first day of publication in world history, can't match these figures, nor, I imagine, could Harry Potter.
Time for mea culpa: As a loyal and dedicated reader, I spend as much time on television/OTT as I do on reading.
And so it is with journalism.
All self-respecting online news websites and web editions of newspapers or magazines are multimedia organisations combining print with videos and podcasts.
"Gen-Z would rather watch or listen, that's the reality," observes news editor Janki Dave who oversees ThePrint's video team. Recognition of this shift away from print to audio-visual is why ThePrint is ramping up its video section.
---
Also read: Are you happy with our headlines? This is the rule we apply
---
Look beyond CTC
Prod the viewer-reader to recall what they have watched at ThePrint and the prompt reply will be: 'CTC' and 'Shekhar Gupta'. Cut the Clutter with ThePrint's Editor-in-Chief has been the engine and the fuel that drives the website's video section. The series is explanatory journalism by Gupta, a talking head show, conversational and homespun that makes it inclusive.
However, CTC's continuing success does tend to obscure the other good work done in videos. Besides Gupta's weekly National Interest, video columns by National Security Editor Praveen Swami (Security Code), Political Editor D. K. Singh's Politically Correct, Political Adda, PoliGraph, To The Point with Vir Sanghvi, and ThePrint Debates with Jyoti Malhotra attract significant attention. Not to mention the interactive Off The Cuff interviews by Gupta, #Uncut that offers important and unedited speeches, and Pure Science with Sandhya Ramesh.
There's more to catch your fancy: CrossHairs, NorthEastParNazar, Mind Over Matter (with Tina Das), MacroSutra (with Radhika Pandey), World360, Mumbai Matters (with Purva Chitnis), #DefenceScope, Dashboard, SoftCover, and in-house ground reports.
Why am I listing all these out? Because I suspect many of you don't look beyond CTC or realise that there's more to video programming at ThePrint.
---
Also read: How ThePrint courageously covered the Covid battleground and won the IPI award
---
Coming a long way from 2018
ThePrint's video section's progress has been steady, not spectacular. It has required patient perseverance and organisation. A random set of videos being streamed in 2018 has made way for a tight, daily schedule of 8 to 15 shows. "It's not hunky-dory, but it's not haywire either," reflects senior multimedia editor Sajid Ali.
Today, the video production team comprises eight professionals and a regular stream of young trainee journalists and interns. What's interesting is that the core team, led by Sajid Ali and Manas Gurung and that includes Upendra K Yadav and Urjita Bhardwaj, has been together since 2019. That's uncommon in the revolving door of online journalism.
All of them will tell you that they have come a long way. In the early days of ThePrint, the video section barely produced a smattering of videos a week. There was OTC and an interview show called Bookmarks. The effort was to put out maybe one or two 'high-end quality' videos, remembers Sajid Ali, rather than to be quick and newsy.
But 2019 changed all that. The Lok Sabha election demanded news coverage, and campaign video clips took precedence. Then came two big political events that were game-changers for the video section — the Bharatiya Janata Party-led government repealed Article 370 and in November, the Supreme Court delivered its verdict on the Ayodhya dispute. "We had understood that we need to be fast in response to news," explains Ali. "[In] 2019, we saw our numbers shoot up."
"We had 19 video stories on the verdict," recalls Jyoti Malhotra who was overseeing the video department at the time, "with live reports from Ayodhya. It was a turning point. We were moving toward being truly multimedia."
Reporters travelling to Kashmir were accompanied by photo-cum-videographers: ThePrint's photojournalists learnt how to shoot videos and doubled up as video camerapersons. Praveen Jain, Manisha Mondal, and Suraj Singh Bisht, take a bow.
However, the long-term objective was to convert all the reporters at ThePrint into multimedia journalists — young reporters being trained in the video section. Today, all the reporters are expected to shoot their own footage, on mobile phones of course, and, in some cases, edit them into stories too. "It is a challenge to teach them, but the need is to increase viewership and our visibility. So, reporters have to contribute. Ground reports work well with viewers, especially the longer ones," says Manas Gurung.
"When I joined in 2019, there were very few ground reports, now we have much more," says multimedia editor Upendra Yadav. "We're doing more on politics too."
The extraordinary year
Things got even more hectic for young reporters and the video team in 2020 — the Covid pandemic ensured that.
Last year, I wrote about ThePrint's Covid coverage, which won its seven journalists the prestigious International Press Institute (IPI) award. These reporters, along with many others, went from one end of the country to track the pandemic between 2020 and 2022. That was an extraordinary effort, one in which videos played a significant role as they allowed the public to see the condition on the ground. It's one thing to read about ambulances filled with patients and another to see it.
Throughout Covid, photo–video journalists would accompany reporters on shoots, and their ground-zero reports would be accompanied by embedded videos in the story. It was bound to resonate with the viewer-reader. From approximately 30,000 viewers in 2018, the number rose to 1 million in 2020 and has steadily increased since then to the 2 million mark.
"I have a much better news sense now," says Urjita Bhardwaj who has been shooting her own stories apart from editing others' videos. "I like working on the longer videos.''
Lucky her. The numbers show that videos that are more than 10 minutes long do better than short takes. And longer videos are more frequent now as feature writers, too, have started to contribute: In fact, it has become the norm for any correspondent filing a news or feature story to report it on video too.
Testing new waters
Meanwhile, viewers prefer analyses to reports. Opinion video columns by ThePrint's editors are consistently watched by large audiences. Now there's an attempt to diversify into more in-depth expert opinion videos. One such effort is Thinking Medieval with historian Anirudh Kanisetti — a video version of his column. Videos on history, at news websites, are still something of a novelty, so let's see how this goes.
Everyone agrees that we need to do much more with videos. The quality of visuals remains variable — some young reporters have taken to shooting videos, but skills need scaling up. The videos could do with better graphic support and more animation, too.
"Our effort is to improve the quality of treatment and packaging and enhance graphics," says Janki Dave. "We have a long way to go. We also need more ground reporting."
Live streaming of ground reports/events is another frontier to be crossed at ThePrint — what could bring in more viewers — and we have to figure out how to make this happen as we inch toward the Lok Sabha election next year.
Shailaja Bajpai is ThePrint's Readers' Editor. Please write in with your views, complaints to readers.editor@theprint.in
(Edited by Humra Laeeq)