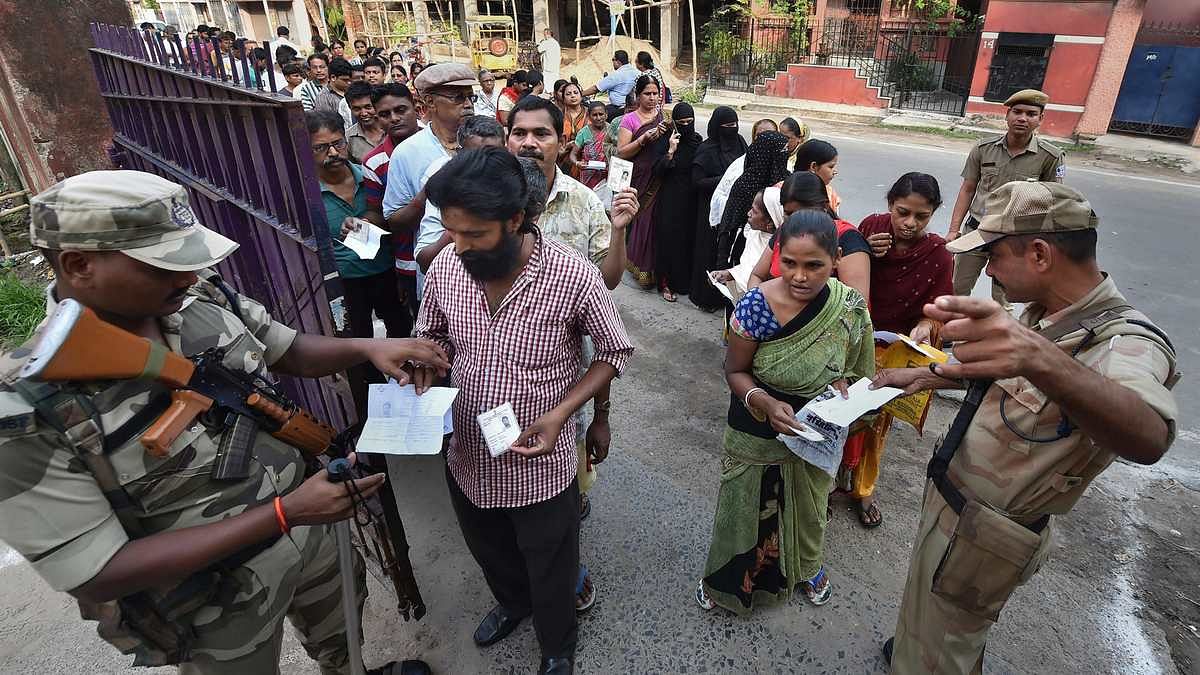 In West Bengal, in spite of CM Mamata Banerjee's opposition to the National Register of Citizens, detention centres are being built and people are taking their lives in fear of The Great List.
There is no clarity on the how, what, where, when, but Bengalis are lining up outside government offices, digging out yellowing papers to prove that they belong – not an easy task. Especially in the era of WhatsApp, where digital fear-mongering is just a steady internet connection away.
However, it is not only the Muslims in West Bengal who fear losing their home and identity, but also the Hindus and the poor.
And the BJP is facing the heat. Days after their loss in three assembly by-polls in West Bengal, state BJP leaders tried to shift the blame onto the drummed-up fear of the National Register of Citizens. According to them, the failure to counter the "misconception" regarding NRC has cost them badly.
Of the three assembly seats where by-polls were held in the last week of November, at least two, Karimpur and Kaliaganj are in Nadia and North Dinajpur districts respectively, bordering Bangladesh, triggering all kinds of suspicions and disquiet. And it is not the case of just these two seats alone, Mamata Banerjee, who has consistently opposed the NRC, claimed in September that six persons had died in the state due to its fear.
---
Also read: Why CAB-plus-NRC fantasy is BJP's next Ram Mandir-plus-Article 370 gambit
---
Not just Muslims
The Association for Protection of Democratic Rights (APDR) has collated 20 names, so far, from media reports, who they claim died of panic over the NRC or committed suicide. From the report, it is evident that most of them were either poor villagers or farm labourers, who after knocking at various government offices in search of legacy documents, gave in to despair. It is no coincidence that the deaths occurred within a span of 19 days in September after Assam's final NRC list was made public.
It is not just the Muslims in Bengal, there is much concern among the Hindus also. Seven of the 20 who died were Hindus. Of these 20 people, five died in North 24 Parganas, the rest were from Jalpaiguri, Cooch Behar, North Dinajpur, South Dinajpur, Murshidabad, South 24 Parganas, Bankura, East Bardhaman, and West Medinipur.
Ria De, a research associate with Calcutta Research Group, had met and interviewed family members of three victims at Basirhat. According to the relatives, Alia Beoa (55) died of a heart attack while she was standing in a queue in front of the block office; Montu Mondal (40) died of a heart attack after suffering from anxiety for failing to get any legacy documents; and Kamal Hossain (35) committed suicide. Many Hindus came over to West Bengal from erstwhile East Pakistan after Partition and settled wherever they could. The migration was not a one-time affair, it continued from 1947 to the 1970s. Since the Citizenship Act 2003 changed the earlier provision of birthright and made it mandatory for both parents to be of Indian citizenry, the Hindus are also worried and trying to look for legacy certificates.
Apart from refugees, the rural poor also are finding it difficult to prove that they belong in India because West Bengal has the second-highest landless population (70 per cent).
Emanul Haque is a writer and the leader of 'Bhasa O Chetana Samiti' (society for building awareness of vernacular languages), and his ancestors are from Bardhaman. He says, in the pre-digital age, it was difficult for people, especially uneducated masses, to obtain or maintain papers.
Activists working in Murshidabad say that people were seen queuing up in local courts in Baharampur, Lalbag, Jangipur and Kandi to obtain affidavits correcting the spelling of their and their parents' name on land documents or identity cards. Many were queueing up in front of post offices to obtain their Aadhaar card in Bolpur and elsewhere in Birbhum district.
---
Also read: Not NRC, but Bengal's Congress-Left floating votes defeated BJP in bypolls
---
Support from civil society groups
With the helplessness and silence of authorities, it is up to civil society to rescue their own in West Bengal.
Seeing the growing panic among poor people in the state, a number of non-political social groups have been formed to fight against the NRC. They formed a common platform 'Nagorik Panji Birodhi Jukto Committee' and embarked on a long march from Darjeeling to Kakdwip (from the hill to the sea). A big rally is also planned in Kolkata on 9 December.
The ruling TMC, CPI(M), CPI and other opposition parties are also holding separate rallies in districts to oppose the NRC.
'Dalit Camera', a platform of the Dalits is recording and disseminating videos of NRC-related news in West Bengal. Many civil society leaders are criticising Mamata Banerjee for being silent on the NRC-related National Population Register (NPR) – the process is scheduled to begin across the country in April 2020. Already, work has begun to construct two detention centres in the state (at New Town, Rajarhat and Bongaon), but the state government and ruling TMC are silent.
---
Also read: This is how Mamata govt's land regularisation move will benefit Bangladeshi refugees
---
The BJP and the RSS, on the other hand, are working hard to convince Hindus that with the passage of the Citizenship (Amendment) Bill in Parliament, they won't have to worry about citizenship even if they are left out by the final NRC. "For the Hindus, there is nothing to fear, but we would like to keep the Muslims in perpetual fear, as in any case they are not our voters," Jay Prakash Majumdar, the state vice-president of BJP, told me.
But after seeing the harrowing experience of NRC in Assam, neither the Hindus nor the Muslims in West Bengal are feeling safe. They are not reposing their trust on the BJP's assurances, nor are the Muslims convinced enough by Mamata Banerjee's assurances.
And this is just one state, imagine a nation-wide NRC. How many deaths, sufferings or tests will India have to go through to please one party?
The author is a journalist and political analyst. Views are personal.