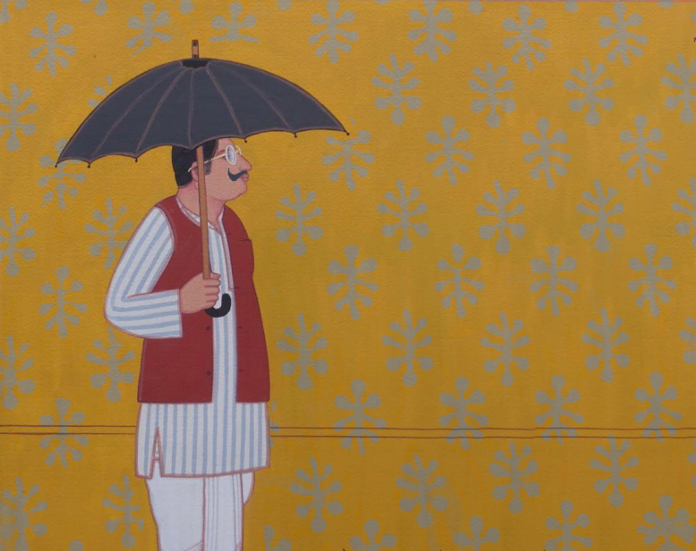 Text Size:
Dishing out mob justice, showing women their place has a powerful appeal whether in a pub in Mangalore or a train in Kolkata.
The Metro rail was once Kolkata's pride and joy. The city, after all, was the first in India to get one all the way back in 1984. Now, overnight, it's become a symbol of the city's shame.
The Ananda Bazar Patrika recently carried an eyewitness account about a young couple thrashed by their middle-aged and elderly co-passengers for being "too close" on the train. That has led to great soul-searching and hand-wringing all over the city.
Et tu Metro? Then fall Kolkata.
Suddenly, we are unable to recognise our city anymore. The Metro is appealing to us to not allow anyone to tarnish Kolkata's "cultural heritage". "It is difficult to believe that the city I have known for decade after decade has become so dangerous underneath the surface; so intolerant, so cruel! I am unable to believe it. It feels literally like a nightmare," laments Ujjwal Chakravarty in the Ananda Bazar Patrika.
Some are claiming this incident is just another sign that the moral policing of the khap panchayats and the Karni Senas and the Shri Ram Sene is now infecting even metropolitan Kolkata. From sword-wielding Ram Navami processions to PDA-phobic uncles on the Metro, it is but a hop, skip and hug away.
But it's not about Right-wing/Left-wing politics as much as it's about bhadralok gone wild. That's what really stings.
When suburban lumpen were the villains, Kolkata could feel superior. In 2013, a college student was gang-raped and killed in Kamduni village just outside the city in an area surrounded by fisheries, ill-lit and ill-served by police stations. Local boys gathered there and drank in the open, passing lewd comments on any young woman that passed by. Kolkata marched in shocked protest.
A 21-year-old college student was hacked to pieces in 2014, killed for protesting against gambling rackets and illicit liquor dens in his neighbourhood. A 39-year-old school teacher was murdered two years earlier for daring to take on criminal gangs who raped and tortured at will in his village. But these were on the outskirts of the city, in neighbourhoods Kolkatans might have heard about but rarely had reason to visit. The Metro did not stop there.
That gentlefolk, the kind that take the Metro, could suddenly turn into a flash mob seems unbelievable. But is it really? Or does it just prove what we always secretly suspected, that the bhadralok liberalism Kolkata snobbishly prides itself on can be a thin veneer at best?
There is really nothing to indicate the bhadralok is intrinsically liberal and tolerant. The quintessential bhadralok rarely gets involved because he does not want to get his hands dirty. That squeamishness is sometimes mistaken for tolerance.
But it's anything but, as is often evident when the bhadralok opens his mouth. When Suzette Jordan was raped after a visit to a nightclub in the heart of the city, a bhadralok minister wanted to know what a mother-of-two was doing at a nightclub.
As a young woman commented, the men who beat up the couple are also the ones that look the other way when a woman is harassed on the same trains.
Yes, Kolkata is still one of the safest cities for women in the country but National Crime Records Bureau statistics for 2016 say the state has the highest number of cases of domestic violence. The dadas in the neighbourhood, the aunties next door, the I-know-best uncles, even the student union leaders on campus, have always been moral police unto themselves. A young woman tells a story about how, as a student, she was harassed by dadas for wearing shorts and smoking in public in Kolkata. The difference is dadas dictated the norms in what they considered their own backyard while the Metro is public transport that supposedly belongs to everyone.
The heavy-handed Bengali soap operas, while apparently peddling stories of women's empowerment, trot out the same old tropes, where girls who go to "discs" or have a drink are women who will inevitably have their "modesty outraged".  Even that genteel word 'bhadralok' is a cutting-edge weapon used to enforce a 'Lakshman rekha' of propriety. We've all heard it. "You can't dress like that/you can't party like that/you can't argue like that/you can't stay out late like that, this is a bhadralok home/apartment building/housing complex."
When a mob decides to enforce their idea of what is seemly, it shows that the middle-aged bhadralok in Kolkata is just as frustrated at the sight of carefree young love as their khap counterparts elsewhere.
When it's discreetly out of sight, on the dark tree-lined streets near Victoria Memorial where you will find couples in a tight clinch every few feet, they pretend not to notice it. But when faced with it in the bright fluorescent light of a Metro compartment, the Bengali blood boils over.
The renowned poet Rabindranath Tagore might have famously told us 'jodi tor daak shuney keu na aashey tobey ekla chalo re (If no one heeds your call, then go it alone)', but in a Metro compartment in Kolkata, everyone is eager to answer the call of the mob. Dishing out mob justice, showing women their place, has a powerful appeal, whether in a pub in Mangaluru or a train in Kolkata. They might be pussy cats at home, but in the safety of a mob everyone is a Bengal tiger.
There are silver linings here. Unlike other parts of the country, the reaction has at least not been an angry bristling defence of the moral police. It was other passengers who came to the couple's rescue. The Metro railway authorities quickly tweeted, "Metro Rly IS AGAINST MORAL POLICING", and said they were investigating the incident though their CCTV cameras had not captured anything. However, their zero-tolerance stance was slightly dented when their official Facebook handle apparently posted a message asking, "What wrong has been done by the passengers?" calling the episode the "inevitable fallout of year-long vulgarity shown by a section of the young generation". That message was hurriedly deleted  but not quickly enough.
Now, young people are giving out free hugs as part of a '#HokAalingon (Let the hugs happen) campaign'. People are singing songs and quoting Bob Dylan to the media, saying the times they are a changing.
That's all very cool and exactly the sort of reaction Kolkata prides itself on. But it does not change the uncomfortable truth.  The league of extraordinary Bengali gentlemen isn't so out of the ordinary, after all. When push comes to love, they can be just garden-variety bullies. Then, they will go back to their fish-and-rice bhadralok lives without missing a beat.
Sandip Roy is a journalist, commentator and author.
---
Picture credits: Illustration adapted from a painting by Lalu Prasad Shaw on twitter | Siddhant Gupta
Check out My543, our comprehensive report card of all Lok Sabha MPs.