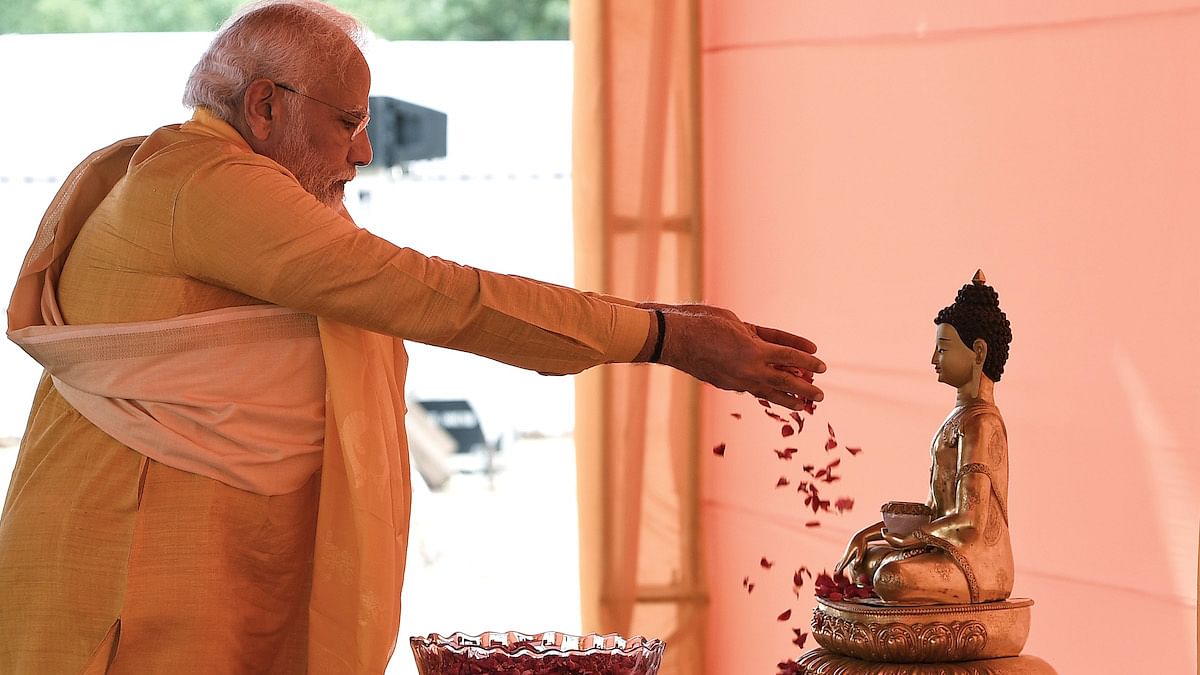 Both Rahul Gandhi and Prime Minister Narendra Modi have ensured that Nepal is not missed by those in India. A clip of Rahul Gandhi who was in Kathmandu to attend the wedding of Sumnima Udas, a journalist formerly associated with an American media house, had gone viral. Meanwhile, PM Modi visited Lumbini for the Buddha Jayanti celebrations. India and Nepal are working together to build the Lumbini Museum and India is going to set up the Dr. Ambedkar Chair of Buddhist Studies at the Lumbini Buddhist University. But what does Rahul Gandhi have to do with all this? There is a connection. According to the information available on the Internet, Sumnima Udas is the founder and executive director of the Lumbini Museum since 2018. Her name is listed in several other prominent places also. And her Twitter account reveals she is going to "set up" the Lumbini museum.
---
Also read: Modi walked into dragon's den in Lumbini. Why India wants to reclaim Nepal influence from China
---
Passport not a proof of citizenship
The Government of India has once again sent a missive to all its high commissions and embassies across the globe that the Indian passport is merely a travel document, and not a certificate of citizenship.
All's not well
Last week, three BJP CMs visited Delhi. Actually, they were summoned. The trio met senior leaders, both in the government and the party. During interactions, only two of the three CMs were told that the situation in their state needed to improve. They were also briefed on the dos and don'ts. However, the third CM present didn't receive any instructions; only his well-being inquired about. He happily assumed that the party high command was satisfied with his chief minister-ship. However, within 24 hours, the CM was asked to resign. You know it by now. Tripura CM Biplab Deb did not prove to be as lucky as the CMs of Karnataka and Himachal. Now let's see who's well-being is inquired about in the next round.
Broken hearts, broken chair
It seems that Biplab had run completely out of luck. Out of compulsion, he had to propose Manik Saha's name for the post of new CM. However, he truly wished that Jishnudev Varma, who belongs to the Tripura royal family, be his replacement. In the presence of Union minister Bhupendra Yadav as an observer, Biplab had no choice but to propose the name that had the high command's stamp. Things didn't settle though. An MLA, considered a staunch supporter of Biplab Deb, opposed Manik Saha's nomination and broke a chair as a mark of protest. Now, the high command has sought an explanation, both from Biplab Deb and the MLA who broke the chair.
Khama hani, hukum
Does the quashing of Jishnudev Varma's candidature for the post of Tripura CM hold any warning sign for the politics of western states? Several senior BJP leaders are considering it as a clear-cut indication. The message, according to them, is that because Jishnudev belongs to the royal family of Tripura, his candidature was not considered. Keeping some distance between the royalty and the democracy. Do you get it, hukum?
Innings declared on zero
A training camp of BJP's Rashtriya Yuva Morcha was underway in Dharamsala. But the gathering wasn't generating enough interest in the media. Amid this, an MLA claimed that former cricketer and India's head coach Rahul Dravid would be attending the event. Before 'Rahul's participation' could become "breaking news", the BCCI stepped in to deny it. But the MLA kept insisting that Dravid would come — 'you just wait'. Later, the national general secretary of Yuva Morcha, Rohit Chahal, had to clarify that the star cricketer won't turn up.
---
Also read: 'There are stray incidents but we're united': Tripura's new CM Saha to focus on state BJP unity
---
Unnao, insect, mantri
UP's Unnao district and the BJP just don't get along. Earlier, the party was having a tough time dealing with incidents of murder and rape in the district, and now, a viral video has added to its troubles. A clip of a man removing the shoe cover for UP cabinet minister Baby Rani Maurya has gone viral. Now the minister has issued a clarification that insects had fallen on her clothes and were being removed by the colleague concerned. Her answer itself shows there was some merit in the question. And insects? What were they doing there? Didn't they know that the minister herself was coming there?
Bharat Agrawal is Executive Director, Dainik Bhaskar Group, and a columnist.
By special arrangement with Dainik Bhaskar and translated by Ram Lal Khanna from the original in Hindi.