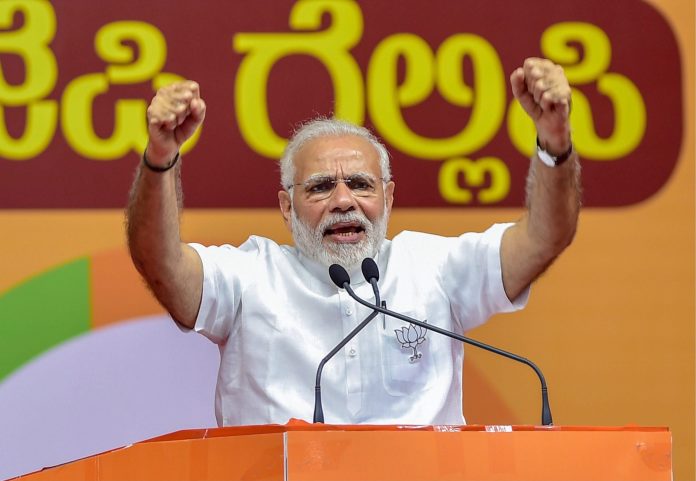 Text Size:
After a whirlwind tour of Karnataka, Prime Minister Modi, BJP's star campaigner, infuses life into Karnataka BJP and rubbishes all talks of hung assembly.
There is nothing like oratory, it is a skill that can turn a commoner into a king, said Winston Churchill. Narendra Modi's oratory is promising to do just that in Karnataka.
Prime Minister Modi's campaign has brought broad smiles on BJP workers' face.
Just last week when Modi was in Wuhan sipping tea with Xi Jinping, his party was discussing how many seats will former PM Deve Gowda's JD(S) will get and what will Gowda do in the event of a hung assembly in Karnataka?
On his part, Deve Gowda made the most of the free publicity he was getting and basked in the borrowed glory of newspaper reports that his party will decide the future of the political course in Karnataka. There were reports that Kumaraswami was in talks with some BJP leaders and had assumed the role of the king, with his father emerging as the king maker. An infuriated Deve Gowda admonished his son publicly and even announced that he will disown his son if he ever has any truck with the "communal" BJP. This changed the political discourse although everyone in Karnataka knew that these are mere empty threats and certainly not the first of its kind.
Earlier too, when Kumaraswami accommodated BJP and became chief minister in the first segment of the five-year term, Deve Gowda had threatened to split the party. But nothing of this happened and the spoils of power kept the father-son duo glued to the party chair.
But for more than a week JD(S) was in the news and was hugely enjoying the undue importance it was getting at the cost of BJP. It was then that Modi wound up his China tour and landed back in Delhi. From the airport's technical area he must have called BJP HQ in Bengaluru and jolted them out of stupor. The moment his tour programme was announced, the atmosphere was electrified.
Oratory has played an important role in catapulting parties to a position of strength. Yet, the contrary is also true. Many successful political leaders have not been good orators but have been good at working out a winning strategy like forging a winning alliance, or throwing up a catchy slogan like 'garibi hatao' or 'Congress ka haath, aam admi ke saath'. In spite of a master orator like Atal Bihari Vajpayee, the Jana Sangh and then the BJP put up a poor show in elections. In fact Vajpayee used to lament that people flock to my meetings, applaud and go and vote for the Congress (taaliyan mere samne bajate hain, lekin note aur vote Congress ko dete hain).
Modi-Amit Shah duo changed this equation. The orator in Modi and the strategist in Amit Shah has become a formidable combination in Karnataka, like elsewhere. The Deve Gowda show was stopped in the middle of its performance. Modi's blitzkrieg, back-to-back public meetings, massive attendance in rallies and master oratory has changed the political narrative in the state.
One Congress leader even said, strictly in confidence, that the Congress had a great chance of winning if Modi had decided to go on back-to-back international travel.
Modi's strategy in Karnataka seems to be working on three directions. First, he had to instill confidence among the cadre that the BJP is winning and forming a government with two third majority. The second strategy is probably to initiate damage control with regard to the sudden prominence that JD(S) got. This is a bit tricky. JD(S) could mop up all the anti-BJP anti-Congress votes. Modi played it safe. He did not criticise JD(S) but praised Deve Gowda and also 'advised' Congressmen not to show disrespect to a kannadiga who was former prime minister. Later in another speech he warned about the perils of a hung assembly. Though he would begin and end his speech with Kannada, in Belgavi, the highly volatile Karnataka-Maharashtra border district, Modi included a line in Marathi. The third strategy was to make the contest BJP versus Congress.
The political narrative is changing in Karnataka. The Congress not only faces anti-incumbency factor but also lacks a strategist and a good orator. Besides, it appears to be a house divided with some of the district level leaders sulking after faulty ticket distribution. Some of them could be correct as they are the ones who are facing the wrath of the farmers who feel cheated and are in dire distress. If the farmers' anger reduced BJP to less than hundred seats in Gujarat, it could dislodge Congress government in Karnataka.
Needless to say, Karnataka election promises to be an important pointer for the 2019 general election. This could well be the last election for JD(S). A Congress versus BJP contest in Karnataka resulting in BJP victory could raise a question mark over regional parties in other states also. The general election next year could witness a contest between BJP led NDA under Modi's leadership, a perennially losing Congress party and a faceless weak coalition of regional parties.
A year is not too long a time in politics to wait and watch.
The author is a security and strategic affairs commentator and former editor of 'Organiser'.
Get the PrintEssential to make sense of the day's key developments