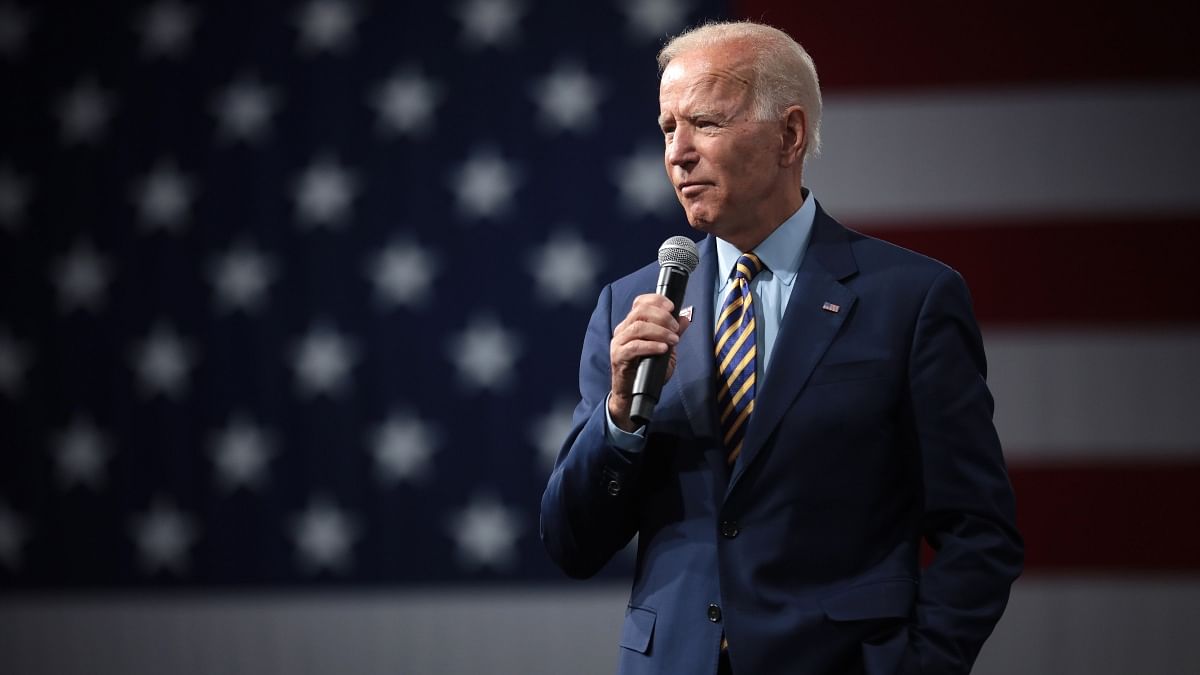 Democratic Party presidential nominee Joe Biden's clear message that the India-US partnership will be a "high priority" of his administration if he is elected is important in light of the tense border situation with China.
His remarks add to the strong support shown by the Republican administration of President Donald Trump both publicly and privately. Several members of the US Congress, both Democrats and Republicans, have also spoken in support of India after the brutal killing of 20 Indian soldiers by the Chinese on June 15 along the Line of Actual Control.
Biden also said this week he would lift the temporary suspension of H-1B visas imposed by Trump and hinted at a more inclusive and generous immigration policy. Given the state of the US economy, it was politically brave of him to speak in favour of foreign workers.
As a Democratic Party elder, Biden gets the big strategic picture that the India-US partnership is extremely important in maintaining the balance of power in Asia that favours democracies, especially now that China is flexing all its muscles at the same time. Biden's top advisers seem open-eyed about China.
---
Also read: Trump's reelection campaign is in crisis
---
"India needs to be a partner in the region for our safety's sake and quite frankly for theirs," Biden told a fund-raiser in his signature blunt style. "The partnership, a strategic partnership, is necessary and important." He said he was "proud" to have played an important role as senator in getting the India-US civil nuclear deal through the US Congress. The deal indeed changed the bilateral relationship in a fundamental manner.
Biden's statements should go some distance to calm nerves in New Delhi. There has been some concern within the BJP and its hyper supporters in the US about Democrats, especially the "progressives" in the House because they have criticised Prime Minister Narendra Modi's record on human rights, sometimes without an understanding of the ground situation in Kashmir. At the same time Modi's total embrace of Trump by his political managers irked many Democrats, creating an unnecessary perceptional problem.
Some of BJP's concern may be justified because the progressives do indulge in selective outrage against India but most of the BJP's anger simply comes from a place of: "How dare you?" – the posture of the insecure. The Democratic Party is not about to change one of its core tenets — advocating respect for human rights — however selectively it may practise it.
In fact, the left flank of the Democratic Party is pushing hard and succeeding to some extent to move the party away from the Bill Clintonesque centrism on social issues.
That said, it's important to examine how Biden and some other key Democrats see Modi, his domestic policies and the changing nature of India. And whether the less-than-warm feelings for Modi will affect policy-making if Biden were elected?
---
Also read: Biden threatens sanctions against China over 'death blow' to Hong Kong's autonomy
---
Modi supporters are especially irked by Congresswoman Pramila Jayapal and Congressman Ro Khanna, both Indian Americans, for being vocal against Modi's policies following the revocation of Article 370 last August in Jammu & Kashmir. Even though the revocation itself didn't raise as many questions, the curtailment of rights, imprisonment of political leaders and the long communication blockade did. The passage of the Citizenship Amendment Act (CAA) added to the bucket of criticism.
Jayapal, Khanna and a few others went "full human rights" on India last year, often speaking the language of paid lobbyists or groups with a clearly identifiable agenda. Jayapal even introduced a resolution on Kashmir last December, criticizing the Indian government's conduct. But also worth remembering is that Modi's Kashmir moves didn't get loud Republican support either.
What's disturbing to many Indians is that neither Jayapal nor Khanna speaks out when terrorists kill civilians in Kashmir. The recent case of a four-year-old boy killed by terrorists in Anantnag district along with a CRPF jawan, is only the latest. When Hindus are attacked in Pakistan or forcibly converted, the progressive lawmakers don't notice. Their keen sense of India and developments within seems to work selectively.
Nor have the two haven't spoken out since the Chinese brutalized and killed 20 Indian soldiers. It's noteworthy because Jayapal repeatedly refers to her Indian heritage — she was an Indian citizen until the age of 35 – and how growing up in India informs her life. Her parents still live in India.
Diplomatic efforts to brief Jayapal and Khanna on India's point of view are generally met with indifference or ignorance about basic facts. A good example is harking back to Pakistan's demand for "plebiscite" in Kashmir, something, which a cursory reading of history would explain as to why it wasn't held. But information flow to their offices seems to come mainly from Pakistani front organisations and Khalistani outfits.
Interestingly, the other two Indian Americans in the House – Raja Krishnamoorthi and Ami Bera –make an effort to stay abreast of developments in India and have taken up the India-China border situation.
Congressman Krishnamoorthi, the first Indian American to be a member of the House Select Committee on Intelligence, told a hearing last week, "India is one of our closest friends, and it is vital that we stand with India in the face of the Chinese government's border aggression. This aggression must be met with clear American resolve to stand by India and our other allies in the region."
Apart from the progressives, a few mainstream Democrats have also made moves that cause concern in Delhi. Senator Bob Menendez, ranking member of the Senate Foreign Relations Committee, chose to club India with China and Turkey in a bill on Covid-19 relief introduced on May 7 to say that governments in these countries had "taken measures that violate the human rights of their citizens without clear public health justification."
Clubbing India with China was jarring and ill-advised even if it were a single line in a 148-page bill. The bill hasn't gone anywhere but Menendez' stance is noteworthy. If the Democrats win the Senate this November, he would be committee chairman.
Biden too has been critical of CAA and Modi's Kashmir policies if the position paper on Muslims on his website is anything to go by. It is another piece of the puzzle that has riled up diaspora activists who are demanding a similar policy paper on Hindu Americans.
---
Also read: How Biden can punish Putin, if Trump does not
---
It's possible that the position paper entitled "Joe Biden's Agenda for Muslim-American Communities" is a vote-getting ploy to distinguish the candidate from Trump's anti-Muslim rhetoric. The paper has six lines expressing disappointment about "restrictions on dissent" and "shutting or slowing down the Internet" among other points – issues that have been criticised by many Indians themselves.
One can quibble about US politicians commenting on the internal affairs of India but Indians are free to surmise on race relations in the US. There's little point in wasting too much political capital and getting over exercised about the issue.
In the end, fears that a Democratic administration may not be as friendly to India as a Republican one, especially given the feelings around Modi, are somewhat exaggerated. All administrations will see the world through the prism of US national security interests and India's importance – with or without Modi – will weigh heavily.
What's more important is whether Biden can rally the various groups struggling for prominence and help unite a party clearly searching for its soul. He has deftly pulled a large number of supporters from the Bernie Sanders and Elizabeth Warren camps. Defeating Trump is a bigger goal than intra-party differences for most Democrats.
A former Obama Administration official told me Biden is well-positioned to handle the left field. Most of the battles will be on domestic policy and Biden has already drawn some red lines for the progressives. He is equally capable to shutting anti-India chatter down.
Democratic insiders are confident of managing their "fringe" better than the Republicans who gave in to Tea Party extremism and embraced Trump's divisiveness in order to win elections.
"The crazy left is not as extreme as the crazy right," one Democrat told me. More importantly, Biden is old school and moderate.
Seema Sirohi is a columnist based in Washington DC. She writes on US foreign policy in relation to South Asia. Views are personal.
The article first appeared on the Observer Research Foundation website.