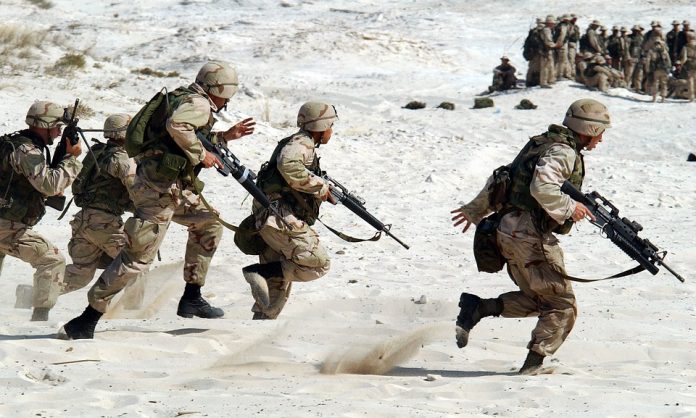 Text Size:
Pakistan's response to Trump's speech has hardened. But there is too much at stake for both sides to call for a break.
It has been an uneasy marriage for the past many years that has been further strained, but there is no sign of the United States and Pakistan walking out of the relationship as yet. Divorce is not an option for either nations, despite the growing estrangement fuelled by Donald Trump's implicit threat of taking the US Afghan war inside Pakistan.
Unsurprisingly, Pakistan's response too has hardened. It will not accept any more bashing in exchange for financial aid. But there is too much at stake for both sides to call for a break. The deepening Afghan crisis threatens regional security, and Pakistan's support is critical for the U.S. to extricate from the Afghan quagmire.
For Pakistan's civil and military leaders, the American allegation of harbouring Afghan insurgent groups is merely a scapegoating for the US' own failure in Afghanistan.
We have seen relations hitting its lowest ebb in 2011 following the raid by the US Navy Seal on the Osama bin Laden in Pakistan's garrison city of Abbotabad, and the airstrike on a Pakistan border post that killed more than a dozen army soldiers and officers.
Those incidents drove Pakistan to close down the supply lines to the coalition forces in Afghanistan. That resulted in a re-calibration of relations between the two allies – morphing from being a strategic alliance to a more of a transactional arrangement. Both civil and military aid from the US had already been curtailed during the second Obama term. Now, the residual transactional relationship has also come under strain after Trump's speech.
There is nothing in Trump's newly laid out US policy that can bring the 16-year-long Afghan war to an end. Instead linking Afghanistan with the US' South Asia policy is only likely to deepen regional tensions. Although Trump has said that US troops would not stay in Afghanistan for long, there is certainly no clear exit plan.
As in the past, the emphasis is on the military solution that may keep the US involved in the Afghan war forever. The new American strategy has come at a time when the Afghan Taliban insurgents have expanded their influence to over 40 per cent of the country, which is also plagued by rising internal political discord. The surge in US troops is not likely to shift the balance in the war significantly.
Not surprisingly, Trump reserved his strongest criticism for Pakistan. While acknowledging Pakistan's sacrifices and its efforts in fighting terrorism, he declared the country a part of the problem as well. It is, perhaps, for the first time that a US president has publicly threatened Pakistan of severe consequences if it does not take effective action against the alleged terrorist sanctuaries along its borders.
It is not clear what kind of military and economic consequences the US administration has been considering. But such threats would not help win Pakistan's support unless Islamabad's own national security concerns are addressed. Like the previous administrations, the Trump administration too believes in unquestioned cooperation, ignoring Islamabad's interests completely.
A major worry for Pakistan is Trump's policy of getting India more deeply engaged in Afghanistan. Islamabad's concerns about India's economic and strategic cooperation with Kabul may be exaggerated, but the previous US administrations were careful not to encourage New Delhi to expand its role in Afghanistan.
Pakistani officials contend that the Trump administration has crossed the red line by making India a part of its Afghan strategy. The Indian authorities may also not be too pleased by Trump's remarks about their country getting trade benefits from the US and not sharing the burden.
There is the implicit US threat of expanding action against the Afghan Taliban insurgents to the Pakistani border regions. There is also a possibility of drone strikes targeting alleged terrorist hideouts in the settled areas close to the tribal areas. That will surely make things difficult for Pakistani authorities to win public support for cooperation with the U.S.
The American leverage over Islamabad has certainly weakened over the years with Pakistan diversifying its relations to other regional powers. Its growing strategic partnership with China is not the only factor for Islamabad's display of firmness.
Despite the growing diplomatic chasm, there is also a realisation that complete breakdown of relations between Washington and Islamabad is not in anybody's interest. Pakistan still wishes to work closely with Washington to explore a political solution to end the war in Afghanistan. But it will not be easy for the two erstwhile allies to bring down the huge wall of distrust that has come up now.
Zahid Hussain, Journalist and author of "The Scorpion's Tail: The Relentless Rise of Islamic Militants in Pakistan-And How It Threatens America."
Check out My543, our comprehensive report card of all Lok Sabha MPs.