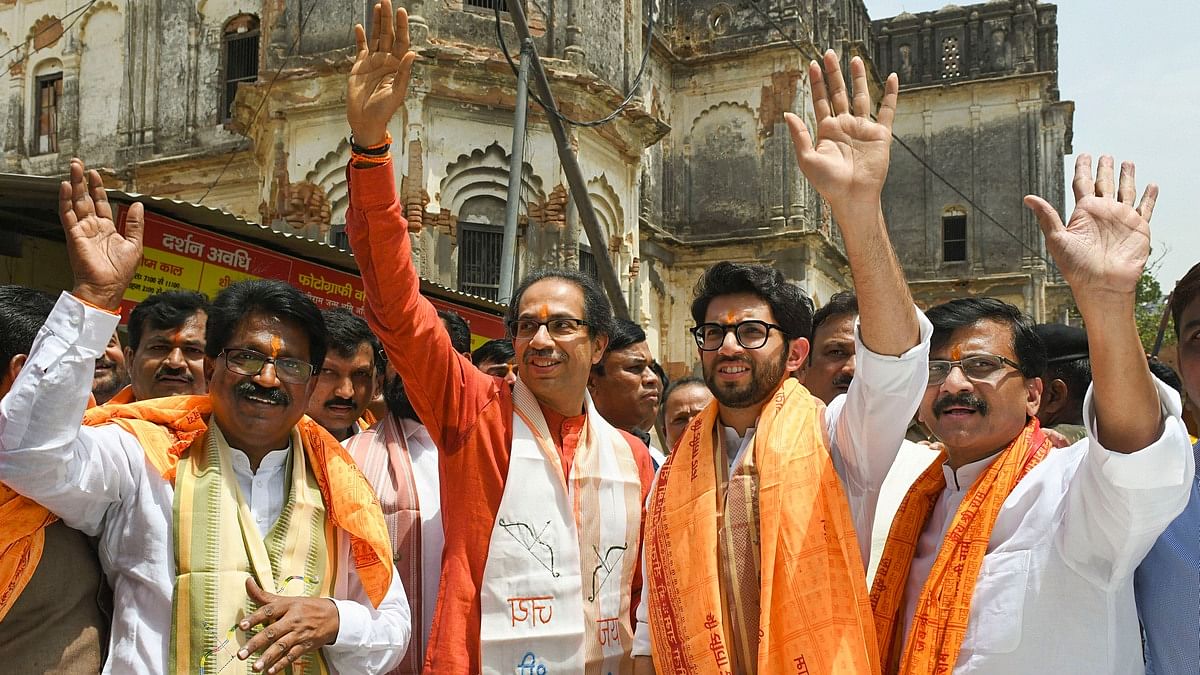 Living under the shadow of his father Bal Thackeray throughout his political career, Shiv Sena president Uddhav Thackeray has finally managed to break free and become a leader in his own right. In the ongoing tussle over the chief minister's post in Maharashtra, Uddhav has not only emerged as the clear kingmaker, but also acted upon the impulse to show to the 'big brother' BJP that his party is done playing second fiddle to it.
For his undisputed hand in how Maharashtra's politics has played out since the assembly election result was declared two weeks ago, Uddhav Thackeray is ThePrint's Newsmaker of the Week.
Uddhav Thackeray has never been considered a strong orator, at least not like his cousin and Maharashtra Navnirman Sena (MNS) chief Raj Thackeray, whom he pipped to become the political heir of Sena founder Bal Thackeray. But he is known for his listening skills. According to a Sena functionary, even in the meetings convened by him, Uddhav pays more attention to what others have to say.
---
Also read: Shiv Sena could 'split and 24 MLAs join BJP' if Uddhav Thackeray decides not to join govt
---
Not an easy journey
Uddhav's political journey has been an arduous one. "During the time (he was anointed) by Bal Sahab Thackeray, no one took Uddhav seriously. In a way, what former Congress president Rahul Gandhi is going through right now, Uddhav faced it for quite some time. But he managed to overcome that using his organisational skills," a Shiv Sena leader told ThePrint.
A wildlife photographer, Uddhav Thackeray, who has eight stents in his heart, is said to be 'a man of few words'. But it would seem even that part of his character has undergone some shift in recent times.
On Friday, he was especially outspoken, countering remarks and statements of BJP leaders – from Devendra Fadnavis to Nitin Gadkari – one after another. After media reports were filled with comments from the BJP that the Shiv Sena's demand to sit in the chief minister's office for half of the term was never accepted by the party high command, Uddhav came out all guns blazing. "I am not a BJP walah. I do not lie. They had promised us and are now going back on their words," he said.
He also slammed BJP president and Home Minister Amit Shah. "Until you accept that you lied about there being no talks on the chief minister's post, I will not talk to you. I don't need any certificate from you on who is speaking the truth. You feel there is no trust between us, then we too don't have any trust on Amit Shah and company."
He has spoken out against the Bharatiya Janata Party (BJP) government at the Centre led by Prime Minister Narendra Modi in the past too. His criticisms led Devendra Fadnavis, who resigned from the CM's post Friday, to accuse Shiv Sena of using words for Modi which "even the opposition parties" had not.
---
Also read: Nitin Gadkari as CM is floated as solution to Maharashtra political stalemate
---
At the crossroads
Many opposition leaders and some in the Sena said that Uddhav sticking to his stance will determine the course of his future politics. "There are many who still doubt him and think he will give in to the BJP's demand. There are many who also say that he hasn't seen his stance through," a Shiv Sena functionary said, without wanting to be named.
Some say Uddhav is also trying to pitch his son Aaditya Thackeray, the MLA from Worli, as the next to take on the reins of Shiv Sena. "Shiv Sena is known for its violence and Uddhav Thackeray has always portrayed an opposite image of the party. It is the MNS which is known for that now. Uddhav has emerged as a moderate leader and now, with this latest episode, as a decisive one. It would be interesting to watch whether he is able to hold on to this newfound prominence," a political expert said on the condition of anonymity.
Uddhav has played to his strengths, knowing very well that the BJP, with 105 seats in the 288-member assembly, won't be able to do much without the support of his party's 56 MLAs. Until Friday, he had mostly stayed behind the scene, allowing party leader Sanjay Raut to convey the stand of Shiv Sena, often through controversial statements, in the media. It is also believed that his wife has a great influence on his decisions.
His political manoeuvres have had good results in the past. Roping in election strategist Prashant Kishor, the man who was instrumental in charting Modi's 2014 election campaign, earlier this year proved fruitful for the Shiv Sena, but especially for the Thackeray family, which saw its first member in Aaditya take the electoral plunge for the first time and emerge victorious.
---
Also read: To keep BJP out of power or stay secular — Sonia Gandhi weighs options on Shiv Sena tie-up
---
Standing up to BJP
Shiv Sena under Uddhav Thackeray has come a long way from how it conducted its politics under Bal Thackeray. One of the standouts is the current, tough position it has taken against the BJP, with increasingly little signs it would budge. The Sena has criticised the BJP in the past too, only to come down from its position. But something is different this time around.
"There is one thing about Uddhav. He never forgets an insult. A few years back, PM Modi was coming to Mumbai and discussions were on where leaders will sit. It was being said that Uddhav will not be given the front seat. Eventually, he did not attend the function but he remembered it," a Shiv Sena leader recalled.
There may not be an incident like that driving Uddhav Thackeray's persistence these days, but as far as making a statement to the BJP goes, the Shiv Sena chief has done that without flinching or worrying where it might lead. "It is very sad that while cleaning the Ganga, their minds became polluted. I feel bad that we entered into an alliance with the wrong people," he said about the BJP Friday.