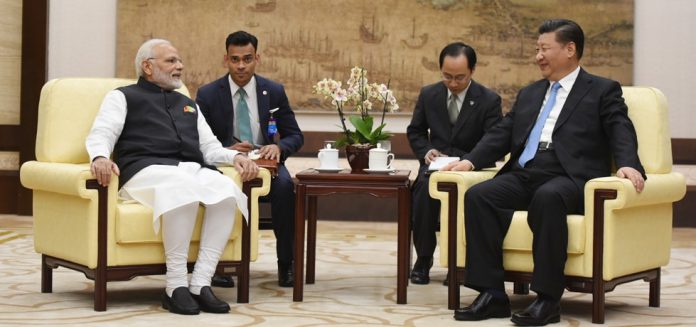 Text Size:
In a world increasingly enamoured of strongman leaders, the length of a bear hug between Modi and Xi seems to count for more than the number of agreements signed.
Prime Minister Narendra Modi and Xi Jinping are going to meet in Wuhan, not once, not twice, but six times in just 24 hours for "informal meetings".
That sounds like a six-stanza Bollywood song with costume and scenery changes for each meeting. One imagines an orchestra striking up as the leaders hug and smile and pose and then spin apart just to meet again around the next tree.
What's even more perfect is that the Modi-Xi bromance, which began on a swing in Ahmedabad, is now progressing to a boat on a lovely lake in Wuhan. All that's left is for one to sing 'Yeh chand sa roshan chehra (This face that glows like the moon)' to the other, who could then reply 'Taarif karoon kya uski jisne tumhe banaya (How do I praise he who has made you)'. Much praise is, in fact, in order.
With China's Communist Party amending its constitution to allow Xi Jinping to potentially become a leader for life, it means there will be no lame ducks on that lake in Wuhan.
Yesteryear's 'Hindi-Chini bhai bhai' feels like it has bloomed into a full-fledged photo-op bromance. An op-ed by Ram Madhav in The Indian Express says this meeting is not "outcome-centric" but "understanding-centric". The headline describes it as "Couple Therapy".
If that is true, they make for an odd couple. On Xi's 2014 visit to India, he and Modi strolled on the Sabarmati riverfront with matching ethnic parasols. They tried their hand at the charkha at the Sabarmati Ashram. They sat together on a golden swing. They seemed made for each other. Then, alas, China swung high and landed a punch on India's 56-inch chest. Chinese troops moved into a disputed area near the Bhutan-China border and started to build a road. When India lodged a protest, China threatened it would "teach India a lesson". Then came the clashes in Ladakh between Indian and Chinese troops.
There was a call to boycott Chinese fireworks during Diwali after China refused to allow the UN to sanction terrorist Masood Azhar and blocked India's entry into the Nuclear Suppliers' Group (NSG). Syed Akbaruddin, India's permanent representative to the United Nations, admits that India and China can be called "frenemies".
But Modi and Xi demonstrate that while their countries might rub each other the wrong way, the leaders can still play row-row-row-your-boat-together. In a world increasingly enamoured of strongman leaders, the length of a bear hug seems to count for more than the number of agreements signed. Modi, for example, has made bear hugs his trademark. When Xi Jinping visited Ahmedabad, hug-watchers noted he got a very firm handshake but no bear hug, unlike Japan's Shinzo Abe.
However, the question is, in the end, what do the hugs and boat rides eventually yield? Modi loves to play host and be hosted, but, already, sources are insisting to The Times of India that this week's meetings are not meant to go into the specifics of any issue that bedevils the India-China relationship, whether it's terrorism, NSG membership, or even the border dispute. It's informal chai pe charcha on a lake.
In the US, much was made of Trump's warm rapport with Abe as well. As The New York Times pointed out, that did not mean Japan was able to ward off American tariffs.
Now, Trump is preparing to meet Germany's Angela Merkel in Washington. The New York Times headlines it as "Merkel is Next to Visit Trump, Skipping the Bonhomie". The report warns against expecting a "sequel to the buddy movie" that played out when France's Emmanuel Macron visited. He got a 21-gun salute and had dandruff flicked off his suit by the American President, who wanted him to be "perfect". On the other hand, if Merkel and Trump manage to shake hands, that would be considered progress from the last time's touch-me-not vibes.
In the NYT report, Joseph Braml of the German Council on Foreign Relations is quoted as saying that "Trump lives in a zero-sum world – there are no friends, just interests".
China is the embodiment of that kind of clear-eyed China-first ruthlessness when it comes to foreign policy. China has happily out-manoeuvred India when it comes to acquiring assets, for example oil in Angola. There's no indication it will say "pehle aap" next time the opportunity arises, no matter the bonhomie between Modi and Xi.
Many had fantasies for a while about a world where 'Chindia', a word coined by Jairam Ramesh, was a reality. Robyn Meredith, the author of The Elephant and the Dragon – The Rise of India and China and What It Means for All of Us, says there is huge potential synergy. "India and China have embraced both capitalism and globalism at the same time," she says. "It's lifted 200 million people out of poverty. That's an enormous achievement." Both understand that the real ideology in Asia these days is money.
Even Bollywood got into the Chindia dream, sending Akshay Kumar and Gordon Liu from Chandni Chowk to China in what was billed as India's first kung fu caper. In it, Akshay Kumar, a cook-turned-kung-fu-champ, lugs sacks of potatoes around Delhi dreaming not of Dubai or the US, but China. "My destiny is China," he says. Later on, he articulates his vision even more clearly. "India and China can do it better," he declares.
Almost 10 years later, Modi and Xi are trying to prove him right. On a boat.
But it's just hard to tell anymore whether this is about India and China or Modi and Xi. 'Modi-Xi bhai bhai' does not mean 'Hindi-Chini bhai bhai'. Perhaps it's just best to put the two relationships in separate boats.
Sandip Roy is a journalist, commentator and author.
Get the PrintEssential to make sense of the day's key developments