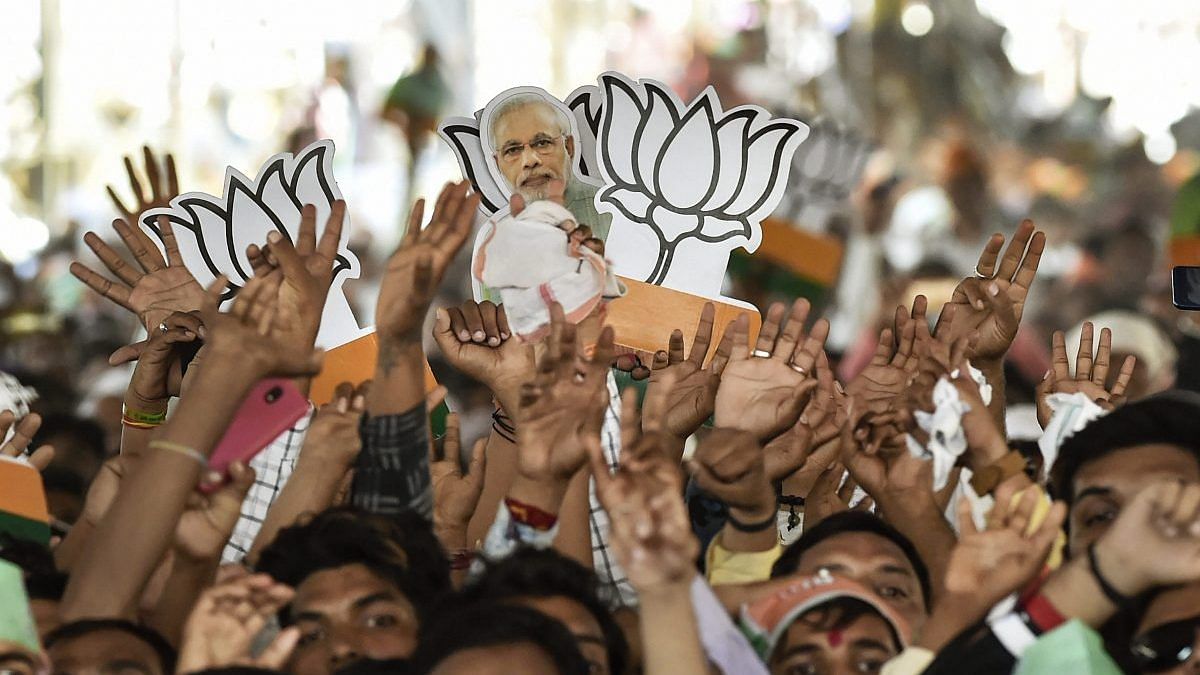 The BJP and its supporters are celebrating the hat-trick of recent 'victories' – the takedown of Article 370, the adoption of the Citizenship Amendment Act, and the Supreme Court decision that a Ram Mandir is to be built at the site of the demolished Babri Masjid in Ayodhya. In their view, these three historical wrongs have been finally corrected. And, many BJP leaders, such as Home Minister Amit Shah, are today presenting themselves as students of history, vociferously advocating that correcting these historical wrongs are critical to making a strong and prosperous India in the future.
While I am glad that Indian politicians often invoke history, but perhaps they have a very limited world view history. As philosopher George Santayana wrote, those who cannot remember the past are condemned to repeat it.
---
Also read: Hindus in Bangladesh don't face a situation as dire as I do: Taslima Nasreen
---
The ethnic Hindu
The BJP is building a new India, an India in which the complexity and diversity of Hindu religion are being flattened into a Hindu ethnic identity. Religious orthodoxy everywhere always seeks to centre their politics on moral principles rooted in interpretations of texts. One may or may not agree with them, but their principles are rooted in a cultural or religious tradition. In current-day India, the word Hindu, especially as it is being deployed by Narendra Modi and Amit Shah's BJP, has virtually no moral connotation.
Swami Karpatri Maharaj, a monk in the Hindu dashanami monastic tradition and a teacher in the Advaita Vedanta tradition of Hindu philosophy, who founded the Ram Rajya Parishad (RRP), wrote critically of the limited commitment of the Sangh Parivar to the Hindu religion. In his Rashtriya Swayamsevak Sangh aur Hindu Rashtra, he presents a scathing critique of RSS's commitment to the Hindu religion, and in Vicharapiyusa, he refutes the nationalist agenda of M.S. Golwalkar. In his view, the RSS parivar is primarily influenced by European nationalism and modernist ideas brought by Western orientalists and not by Hindu religious traditions. Karpatri Maharaj's criticism of the RSS is meaningful even today since we are hard put to find a philosophical document written by a current Sangh ideologue about what it means to be a Hindu.
It is becoming evidently clear now that in BJP's India, the word Hindu carries no higher principles, no utopian ideas, and no moral compass. All that is left of Hindu identity is an ethnic identity. Who is a Hindu for the BJP? A person who has a religious identity distinct from another religious identity (read largely Muslims and Christians) and whose forefathers were born in India. It seems that in the current BJP conception there are no principles of justice, no philosophy, no compassion associated with the word Hindu. Just 'us' versus 'them'.
---
Also read: Now Modi govt has proved that it not only talks like Pakistan, it thinks and acts like it
---
Rich dividends
Creating this new flattened identity has indeed paid rich electoral dividends for the BJP. This strategy allowed the BJP to avoid contending with the diverse religious traditions that encompass Hinduism, and neither does it have to address the caste discrimination rampant within some Hindu cultural traditions. By just sharpening the wedge between Hindus and Muslims, the BJP has managed to bring together a large section of Hindu society, which is under a permanent 'majority complex' and feels threatened by religious minorities.
Religious Hindus sense the disconnect between the politics of BJP's current dispensation and Hinduism as a religion or a way of life. In a forthcoming paper, Rahul Verma and I analyse survey data from the 2019 Lok Sabha election. We find that more religious Hindus do not necessarily favour the BJP today as they did in the past. The BJP's strategy of creating a Hindu identity whose sole fulcrum is anti-minority has paid off at the polls. A new Hindu majoritarianism (whose self-definition is just 'Hindu') is taking root. This majoritarianism is bereft of an association with any religious practice.
The BJP has convinced its supporters of three interrelated ideas that support the notion of this new Hindu identity. Its supporters are convinced that in a democracy like India, the will of the majority should prevail, minorities should adopt the customs of the majority, and that the government is to treat all religions equally.
In the aforementioned paper, Rahul Verma and I find that it is this new political majoritarianism that helped the BJP win the 2019 elections. The unifying force behind these ideas is the notion that India is a Hindu country. In today's India, minority religions should accept the idea that Hindus are the majority. In India, all religions will be treated equally (this very liberal idea at the heart of the BJP's platform is quite frankly a canard, especially because Muslims have no special privileges apart from a few constitutional rights granted to all religious minorities) but on terms decided by Hindus.
---
Also read: CAB protests a battle for India – either we are a secular state or we aren't India at all
---
The BJP has been successful in its campaign in delinking religious ideas and moral principles from what it means to be a Hindu. As an electoral strategy, this campaign has been successful. Its success, however, means that religious polarisation will engulf India. The ideological middle will shrink. I just wish that the BJP leaders were students of global history and paid heed to Santayana's warning. As any student of Spain and Germany will tell you, ostracising minorities is the first step towards a less tolerant, less prosperous, and less innovative nation. Accommodating and celebrating diversity is the key to progress. As India stands at a historic crossroads today, I hope we do not repeat the mistakes of the past in a way that our future is doomed forever.
Pradeep Chhibber is a Professor and Indo-American Community Chair in India Studies at UC Berkeley. Views are personal.