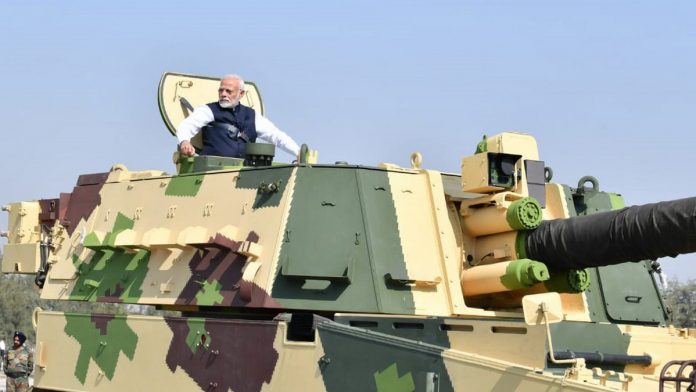 Text Size:
Outside his voting booth in Gujarat's Gandhinagar Tuesday morning, Prime Minister Narendra Modi couldn't resist contrasting the poll process and democracy with terrorism. "The voter's ID is more powerful than the IED of the terrorist," he said, all perfectly safe words, but the implication was clear.
Vote me in if you want a safe and secure India, or for the opposition if you don't.
In the shadow of the Sri Lanka Easter Sunday bomb blasts, which increasingly seems clear were carried out by the Islamic fundamentalist group National Towheeth Jama'ath – which is also believed to have links with the Tamil Nadu Thawheed Jama'ath– PM Modi's words are more than ominous.
---
Also read: Bollywood stars and their readymade support base: Why Indian politics can't do without them
---
Creation of fear
As he seeks a second term, Modi has resorted to the coarsest imagery to define himself. The Balakot strikes, which were aimed at avenging the Pulwama attacks gave him a renewed political lease of life. From all accounts, his personal popularity was down before Pulwama, owing to reports of rampant joblessness and falling growth rates – and he has, since, cashed in on the fear.
The fear of dying, not of natural causes and in the fitness of things, but from a sudden and horrendous terror attack that snuffs out precious life and permanently damages all those left behind.
Why, us? Families of terror attack victims across the decades never cease to ask themselves. The roll call of horror never stops. Its drumbeat can be felt across generations. Delhi, 1984. Gujarat, 2002. Mumbai, 1993, 2006, 2008. Kashmir, for decades. Pathankot, Uri, Pulwama.
---
Also read: 'Pakistan, terrorism, chowkidar' — Modi's favourite words in speeches after Pulwama attack
---
Creation of a saviour
Modi's strategy to win is clear. He has cast himself in the image of the saviour who will both save and redeem India. Save it from the bad people, both outside and inside the country.
So, Pakistani terrorists will be conflated not only with their masterminds in the Pakistani establishment, the ISI and army, but also, unfortunately, the people of Pakistan. Anyone who thinks differently is 'anti-national'.
As for the bad people inside India, the 'terrorist = Muslim' conflation happened a long time ago, since most terror groups and modules happen to be Muslim. In this Lok Sabha election, Modi has simply cut out all the complexities of whys and wherefores, and simplified the formula so it can fit into a tweet and reinforced.
So, when Pragya Thakur, the BJP candidate from Bhopal and chief accused in the Malegaon blasts said it was her curse that killed police officer Hemant Karkare in the battle against Pakistani terrorists that brought Mumbai to its feet, Modi did not utter one word.
The silence from Lok Kalyan Marg, where the PM lives in the heart of leafy Delhi, is not only all-pervasive, it chokes all those who dare to ask him any questions.
Modi responded to upset police officers by asking why the Congress had questioned the heroism of one of their own, Mohan Sharma, the inspector who was killed in Delhi's 2008 Batla House attack by an Indian Mujahideen terror module.
So, why didn't Modi defend Hemant Karkare who gave up his life fighting those very Pakistani terrorists whom PM Modi is keeping India safe from? In other circumstances, Modi would have embraced Karkare, called him a hero India was and remains proud of.
But Karkare made the cardinal sin of calling out the "saffron terror" of Pragya Thakur, an unfortunate phrase if ever there was one. After that, it didn't matter if he gave up his life fighting Pakistani terrorists or not. He had to be condemned, if not by words – as that would be too dangerous, as words have power – then by a silence so forbidding that it swallows up all critics.
---
Also read: Modi should know India's status as a nuclear weapon state demands responsible leadership
---
Creation of a hero
This has been that kind of week. Modi has spoken thousands and thousands of words, including on his willingness to use nuclear weapons against Pakistan, an irresponsible comment if there was one. Within 24 hours of BJP president Amit Shah describing the Indian Air Force as "Modi's air force," PM Modi turned his journey to cast his vote into a veritable roadshow, expressly against Election Commission rules.
And then there was Sunny Deol. The hero of action movies, like Border and Ghatak, in which the hero has no compunction fighting for Mother India with bullets and brawn – unlike the soft romanticism of Sunil Dutt, who predictably went on to join the Congress – is now the BJP candidate from the border constituency of Gurdaspur.
Certainly, Modi would have weighed in. If reel life is, indeed, real life, then voters will know that Sunny is the 'mukhauta' and Modi is the real face beneath. Perhaps, in this film, cardboard nuclear-tipped missiles will be fired, but they are expected to cause real damage in real life.
Get the PrintEssential to make sense of the day's key developments