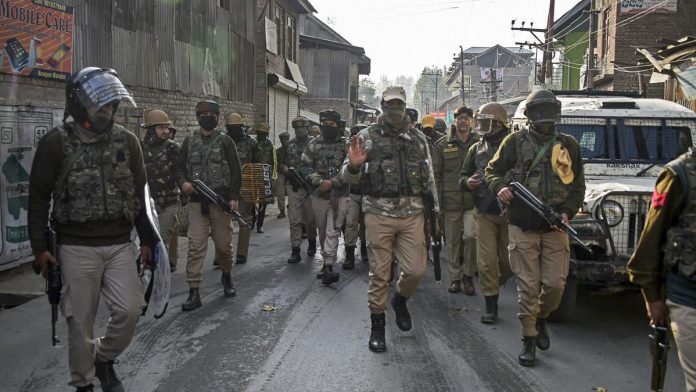 Text Size:
Unlike Vajpayee, Narendra Modi's BJP has shown no inclination for dialogue with Kashmir.
Prime Minister Narendra Modi mingled with 48 newly elected sarpanches from Jammu and Kashmir in Delhi Wednesday, but all we got from the meeting were three tired clichés masquerading as tweets:
1. The high voter turnout in the polls clearly displays immense faith that people of J&K have put in grass root democratic institutions of the country.
2. These elected sarpanches are extraordinary individuals who have shown immense courage in the face of heavy odds.
3. Had an excellent interaction with newly elected sarpanches of panchayats from across Jammu and Kashmir. Wished them the very best as they work towards fulfilling the aspirations of the people.
Only a week ago in Pulwama in south Kashmir, seven civilians were killed by security forces. It's not clear whether they were shooting to kill or firing in self-defence, or who is more scared these days – the stone-pelters or the security forces.
The 'chakravyuh' of dread is tightening across the Kashmir Valley. A new layer of rage and resentment is leaching into the old palimpsest of betrayal, corruption, fraud and cross-border terrorism.
---
Also read: Indian Army made way for government to resolve Kashmir, but politics failed
---
From the Prime Minister, though, there was not one word on Pulwama. No expressions of concern. No photos of full body embrace with the sarpanches – at least none on the PM's social media accounts – in sharp contrast to the pictures of warm hugs the Modi machine routinely puts out when he greets foreign leaders.
So when Sajad Lone, People's Conference leader and self-professed 'chhota bhai' or younger brother of the PM, added his voice to the chorus that things are falling apart in Kashmir and the Centre cannot hold, you know the tipping point is near.
"They have no strategy on Kashmir. Just like they had no strategy for Kashmir in 1989, 1995 or 2010. Today, as well, nobody knows what to do," Lone told ThePrint.
Lone's statement would be ironic if it weren't so tragic. For the last several months, since the BJP's coalition arrangement with the PDP fell apart, Lone has been the BJP's frontman, ally and chief ministerial candidate in J&K. But even he has not been able to escape the Pulwama brutalities.
It is quite clear that the BJP's world-view simply cannot comprehend the enormity of the tragedy that continues to unfold in Kashmir. There is no attempt to talk to your own citizens – quite the contrary, actually.
In fact, the BJP continues to be guided by Hindu Mahasabha leader Syama Prasad Mookerjee's remarks to a rally in 1941, soon after the Lahore assembly passed a resolution in favour of a new country called Pakistan, that if the Muslims wanted to leave, "(they could) pack their bags and leave India…(to) wherever they like". Later in 1952, when J&K got special status under Article 370, Mookherjee said, "Ek desh main do Vidhan, do Pradhan aur do nishaan nahin chalenge (In one country, you cannot have two Constitutions, two prime ministers and two flags)."
Few know that even Mookerjee was reprimanded by the Hindu Mahasabha for his proposal, after Gandhi's assassination in 1948, that non-Hindus be allowed to become members. He left the Mahasabha soon after his proposal was rejected.
---
Also read: Kashmir: Ten inconvenient truths no one wants to hear
---
Today, the BJP's driving force to dismantle the J&K Assembly's Article 35 (which comes up again in the Supreme Court in January) followed by Article 370 stems from that divisive anger.
When it walked out of the PDP coalition earlier this summer, BJP leaders would bombastically insist that the Kashmir solution could be found in a trice – namely, "eliminate the 400 or so terrorists found in south Kashmir."
Today, no one knows whether there are 400 or 4,000 militants in the Kashmir Valley. Certainly, several are home-grown. A survey by the J&K Police found that the pattern of recruitment is directly proportional to proximity with a man who has picked up the gun.
The study, which analysed 156 militants recruited between 2010 and 2015, found that only 2 per cent had studied at a madrassa, and as much as 64 per cent of new recruits in the Hizbul Mujahideen had "not indicated strong religious inclinations".
Instead, proximity was an important factor. As many as half (47 per cent) of the total number of militants had lived within 10 km of a terrorist who was killed; that figure rose to 82 per cent when the radius was enlarged to 20 km.
Unlike Atal Bihari Vajpayee's BJP, Modi's BJP has shown no inclination to dialogue with its own citizens. Lone told ThePrint that the brutalities in Kashmir would have an impact on the rest of the country as well. "Dialogue is the need of the hour. We cannot carry on like this," he added.
Equally, he said, the media's selective criticism of the political leadership in Kashmir cannot hold. For example, former home minister P. Chidambaram's expression of regret that he did not implement his own ministry's report on dialoguing the J&K's militants, is clearly a case of too little too late. Similarly, Congress leader Jairam Ramesh's tweet advocating "all of us" to feel "deeply, deeply anguished" by the tragedy that overtook Pulwama smacks of both vengeful politics as well as pure hypocrisy.
Neither Chidambaram nor Jairam Ramesh opened their mouths in the summer of 2010 when more than a hundred people were killed in clashes in Kashmir and the Congress party was in power.
---
Also read: Kashmir's young are disillusioned with Delhi's democracy project
---
Fact remains, today's Kashmir is perched on a terrible cycle of violence and anger. It needs a helping hand, a salve. Here's a two-day-old tweet:
"Do you have an idea for this month's #MannKiBaat on the 30th? Share it on the MyGov Open Forum. You can also dial 1800 11 7800 and record your message. The NM Mobile App has a section as well to share inputs."
Kashmir and the rest of the country will be watching whether he has any ideas on resolving the terrible problem at hand.
Get the PrintEssential to make sense of the day's key developments