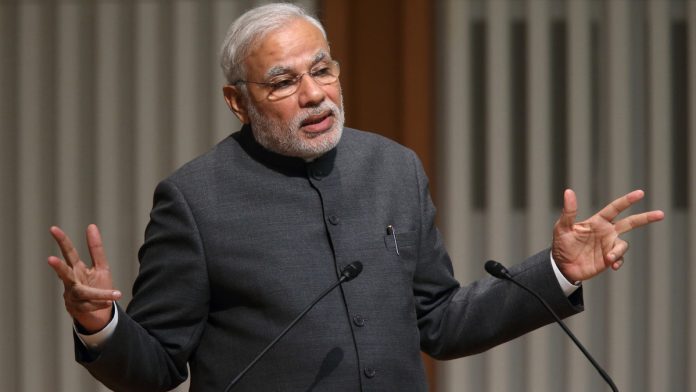 Text Size:
Narendra Modi has always been an early data crusader, and knows his target audience well.
Youth is the new Modi mantra.
Nothing else underlines this new school of thought than the new rap song unveiled earlier this week, called 'Modi Once More.'
Shot in black and white, the message of the music video is startling. Sure, it's a roll-call of government achievements, but you can also get that on MyGov.in. Of course, there's a dig or two about Congress president Rahul Gandhi, but with an election rearing up, that is certainly par for the course.
Move over 'Gully Boy' and Ranveer Singh. Modi's new rap song is a shock-and-awe attack at the gut of every Khan Market-wannabe. The plunging neckline of the young girl in the opening frame (not too low, parents are also watching), the black shades and Mohawk hairstyles of the young men are a calculated attempt to first tell you that this man, Narendra Modi, is determined to travel with you into the 21stcentury.
Second, forget about all those 'lynching' incidents from villages like Bisara near Dadri, Uttar Pradesh, Barbadda in district Dhanbad, Jharkhand and Lalawandi near Alwar, Rajasthan – that is not the real India.
Those alleged beef mobs are pockmarks on the rapidly modernising nation state. Fie upon them! All Modi ji wants is five more years. Then see if Bharat doesn't become Singapore or Shanghai or Sunnyvale, California.
In this rap song, the PM is very subtly introduced, in just three frames right at the end. When the last frame lights up in BJP orange, proclaiming 'Modi Once More,' those old enough know that it's a throwback to the Satyajit Ray children's film Goopy Gyne Bagha Byne. That's how good this video is.
Batman and his fight
Not to miss, meanwhile, the BJP's tweet in response to the extradition of two men allegedly involved in the AgustaWestland helicopter deal, Deepak Talwar and Rajeev Saxena, from Dubai Wednesday night:
Last time we saw such swift extradition, it was Batman extraditing Lau from Hong Kong and delivering him to Jim Gordon.

"Everything's impossible until somebody does it". This time it's PM Narendra Modi. 😎 #DisruptionOfCorruption https://t.co/bj6xKDb8tM

— BJP (@BJP4India) January 31, 2019
Last time we saw such swift extradition, it was Batman extraditing Lau from Hong Kong and delivering him to Jim Gordon. "Everything's impossible until somebody does it". This time it's PM.
Batman, alias Narendra Damodardas Modi? The metaphor is certainly striking.
Modi knows what his challenges are. He knows that Rahul Gandhi, not so young anymore but 20 years younger than him at any rate, is attacking him day in and day out and that the Congress leader's messaging is only getting sharper. (Gandhi's #NoMo tweet attack on the suppressed unemployment report Thursday, which stated that India's unemployment indices are the worst in 45 years, has been the most brutal so far.)
NoMo Jobs!

The Fuhrer promised us 2 Cr jobs a year. 5 years later, his leaked job creation report card reveals a National Disaster.

Unemployment is at its highest in 45 yrs.

6.5 Cr youth are jobless in 2017-18 alone.

Time for NoMo2Go. #HowsTheJobs pic.twitter.com/nbX4iYmsiZ

— Rahul Gandhi (@RahulGandhi) January 31, 2019
And then there's Priyanka Gandhi, the new untested, charming and much younger weapon of mass destruction in town.
Eye on numbers
Certainly, the PM is a master at using data, and knows who his target audience is.
He also knows that demonetisation has had a huge impact on the economy and exacerbated farm distress. He knows he has to sell a dream of a corruption-free India, like he did in the two songs in the run up to the 2014 election.
First was the Udit Narayan number in January 2014, uncomplicated and direct. 'Modi aane waala hai,' it said.
Then in March 2014 came a song similar to Manoj Kumar's 'mere desh ki dharti', 'Saugandh mujhe is mitti ki, main desh nahin mitne doonga':
In 2019, it seems, Modi's poll campaign is about to take a turn away from the "mere desh ki dharti" type of numbers. Certainly, you can't do without tipping your new NaMo merchandised hat to the travails of the farming classes, which still contribute 17.32 per cent of the GVA.
But make no mistake. It is India's youth that will shed its noblesse oblige baggage and take the nation forward. Demonetisation is the bitter pill that needed to be swallowed, even if it hurt the economy a percentage of the GDP or two.
That's why at the #NewIndiaYouthConclave townhall in Surat Wednesday in his home state of Gujarat (Surat is an interesting pick because it is among the most rapidly urbanising towns in India), the PM repeated his old distaste for dynasty amid cheers and hurrahs by a predominantly young assembled crowd.
Euphoric New India Youth Conclave in Surat. Watch the interaction. https://t.co/m5PWVFLBVD

— Narendra Modi (@narendramodi) January 30, 2019
"Nobody could have thought that four generations of people who ruled the country…that a 'chaiwalla' is challenging them… You people know that "they" are on zamaanat (on bail), and running around the courts. But they can do whatever they like, they will have to go inside (jail) one day."
The last sentence is spoken with clenched teeth; the young people respond with loud cheers. "They", of course, refers to the four generations of the Nehru-Gandhis and the latest entrants, Rahul and Priyanka. He is also referring to the cases that have been slapped against the Gandhi family (National Herald case) and that one day, sooner or later, they will have to pay for their sins.
The common thread in all these examples is the rapid urbanisation of India – according to the 2011 census, it was 31 per cent, but as several studies argue, if the 5000-mark population criteria is adopted, then 47 per cent of the population would be urban.
Moreover, as India's population booms, the statistics is simple. More than 50 per cent is under 25 years, and if you increase that to 35 years, then it becomes 65 per cent.
Modi has always been an early data crusader. He knows his target audience. As the rap number demonstrates, he is determined to hit that nail on its head.
Get the PrintEssential to make sense of the day's key developments