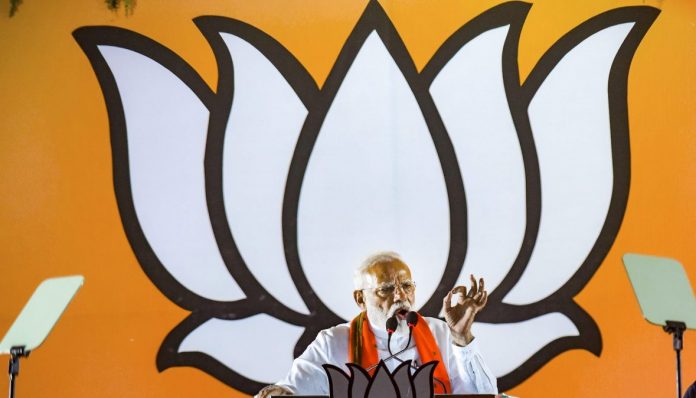 Text Size:
As the election campaign moves into the last phase, Prime Minister Narendra Modi has invoked issues both from the past, as well as from parts of India where elections are over to fight elections in other parts.
Modi's new tagline over the last week has been: "Hua toh hua (What has happened, has happened)." It's a phrase dripping with sarcasm, and he is using it to tear into the opposition.
He stops at nothing. He is determined to win. The long, seven-phase campaign has helped him on both counts. Let me explain how.
---
Also read: Is Modi correct in saying media is biased against him in his pre-election interviews?
---
In Bathinda, Punjab, Modi invoked Congressman Sam Pitroda's ridiculous remark regarding the 1984 Sikh riots – which took place in the wake of Indira Gandhi's assassination and in which more than 3,000 people were killed – and asked if this was the kind of party Punjab wanted to elect.
In Kushinagar and Deoria in eastern Uttar Pradesh, which goes to the polls on 19 May, Modi brought up the gangrape of a 19-year-old woman in Alwar, Rajasthan – the state had already gone to the polls on 29 April and 6 May and is now ruled by the Congress.
Taunting Bahujan Samajwadi Party (BSP) leader Mayawati with the infamous "guest house incident" of 1995, when Samajwadi Party workers had hurled sexual abuses at the Dalit leader, Modi asked why she was continuing to support the Congress government in Rajasthan.
"Hua to hua?" Modi asked. Is Punjab going to forgive the Congress for 1984? Should Mayawati be shedding "crocodile tears" for the Alwar gang-rape survivor, when she was herself abused by her current alliance partner, the Samajwadi Party?
In an election marked by several low blows, this one fell beneath the pale. Who reminds a woman of the trauma she has suffered and buried deep in an effort to forget, all for a few votes?
---
Also read: Modi-Shah's poison has met its match in Mamata Banerjee's poison
---
Prime Minister Modi isn't giving up. He leaves no stone unturned, excavates every wound, opens up every laceration. His ambition for power is unmatched.
Certainly, Modi knows that both Punjab and Uttar Pradesh are two states where the so-called "wind" or visible undercurrent in his favour may slow down. The argument that Punjab's Congress chief minister Amarinder Singh could eat up the BJP-Akali Dal alliance for breakfast, while the unbeatable caste combination of the Samajwadi Party and the BSP in Uttar Pradesh could halt Modi's juggernaut is valid, and Modi knows that.
That is why he is throwing everything he has into this last phase. Some of the mud may not stick – like the charge that Rajiv Gandhi used the INS Virat warship to holiday with his Italian in-laws, several retired naval officers have denied the accusation – but some of it, may. Certainly, there's no harm trying.
What is also clear this week is Modi's anger against what he called the "Khan Market gang" in an interview with the Indian Express. By this he means the entitled, self-serving, dynastic, largely English-speaking lot that feels most at home in the watering holes of an upscale market in the heart of Delhi (incidentally, named after Dr Khan, the elder brother of Khan Abdul Ghaffar Khan, the 'Frontier Gandhi'); people whose watches are set to London, New York and Paris, rather than Bhopal, Begusarai and Bathinda.
Unfortunately for him, Amarinder Singh comfortably belongs to both worlds – and despite his amiable Pakistani companion, he has never hesitated to call out the skullduggery of Pakistan's ISI and army. Amarinder will throw everything he has into Bathinda and the rest of Punjab's 12 Lok Sabha seats in an effort to arrest Modi's caravan.
---
Also read: If Modi fails to come back to power, it'll be because of himself, not the opposition
---
In this last phase, Punjab, eastern Uttar Pradesh and West Bengal hold the key. Whichever alliance wins these remaining 59 seats could sit on the throne of Delhi. Modi knows this and so do Mayawati and Mamata Banerjee.
Mayawati struck back against Modi's invocation of her trauma ("hua toh hua?", he had taunted her) Monday, saying UP's women didn't want their husbands to go near Prime Minister Modi as the women feared "that like Modi they might also abandon their wives".
The bizarre comment indicated that Modi's barb had hit home. Mayawati is not the type of person to be unsettled by ordinary men, but in a campaign defined by unseemly comments, this one certainly has. Just like Mamata Banerjee who refused to let BJP president Amit Shah's chopper land Monday, for no ostensible reason – Shah is now doing a roadshow.
At least for the moment, Modi has succeeded in throwing off two key rivals. Less than a week remains for both women to get back up and fight him. But as the Mahabharata always reminds us, all is fair in love, war and politics.
Get the PrintEssential to make sense of the day's key developments