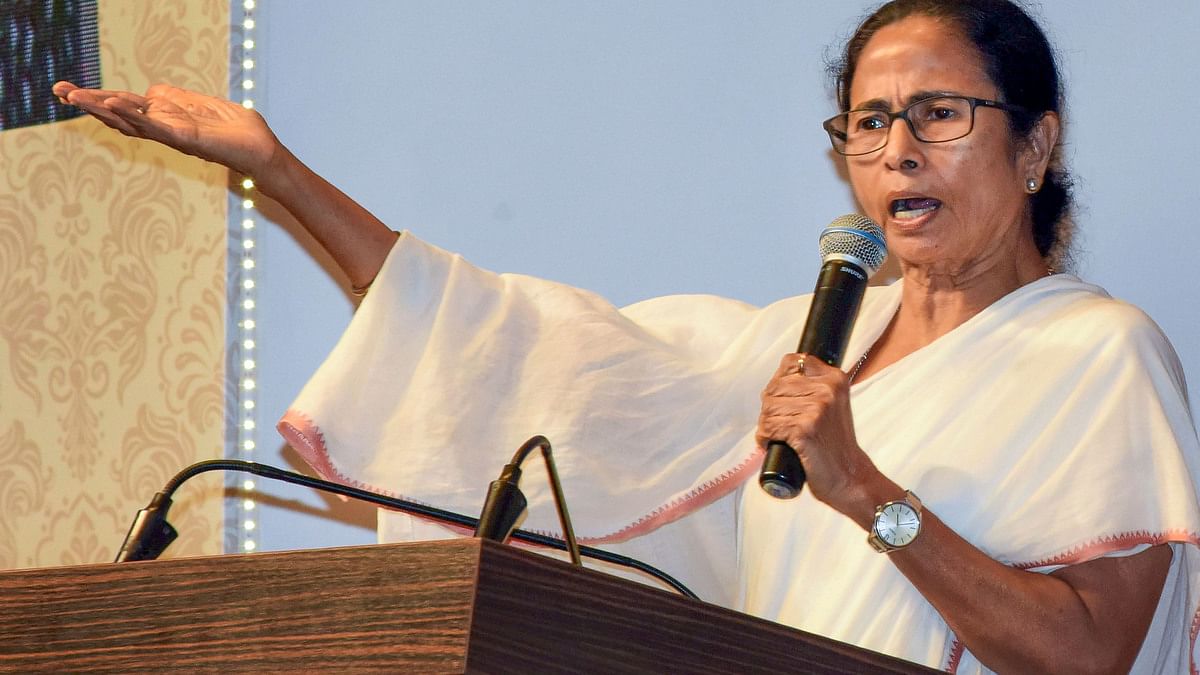 In her panic to create an alternative narrative to the BJP, West Bengal chief minister Mamata Banerjee is creating a new kind of divide – that of language. She recently said that those living in Bengal must speak in Bangla. She vowed to never let BJP "corner" Bengalis. But politics of language chauvinism is decades old in India– even for states like Tamil Nadu. Mamata cannot be silent on the issue of migrants –  which the BJP is exaggerating – but discriminate against a sizeable number of non-Bangla speakers in her state.
Only a few days back, Mamata Banerjee unveiled two busts of Ishwar Chandra Vidyasagar in College Street, at the heart of Kolkata. The act was dripping with symbolism. It was the same street where Amit Shah's massive roadshow took place, followed by clashes between the Trinamool Congress (TMC) and the Bharatiya Janata Party (BJP). It was the same street where the bust of Vidyasagar was vandalised and left headless. So, Mamata Banerjee reinstated not just a bust of the Bengali Renaissance icon this week but also a statue.
---
Also read: Those living in Bengal will have to learn Bengali, says Mamata Banerjee
---
Interestingly, a local Bengali daily conducted a random survey among the students and onlookers to find out how much they knew about Vidyasagar. They didn't. Most couldn't even connect him to "Barna Parichay", the alphabet guide to the Bengali language written and published by Vidyasagar way back in 1855 and now considered a classic.
Predictably, Mamata's attempt to thwart the BJP's Hindutva onslaught by giving a call to mobilise people of Bengal on the lines of linguistic nationalism would fall on the deaf ears of that motley crowd. Even the Bengali elite and middle-class educated society, known to give voice to any popular aspiration, has not stirred. In Kolkata's cosmopolitan heart, the Bengali language mixes with English, Hindi, Gujarati, and Nepali, among others.
It is true that in spite of winning 18 out of 42 seats in the state in the 2019 Lok Sabha election, the BJP is still perceived as a party of the Hindi belt in Bengal. But still, a large number of Hindus voted for the BJP this time. Now, Mamata is trying desperately to create a divide between Bengali and non-Bengali communities on the basis of linguistic identity, thereby trying to turn the table on the BJP. However, barring a few isolated corners, Mamata's appeal to rise against BJP-Hindutva-Hindi onslaught will have little effect. Most middle-class Bengali families have abandoned Bangla in their quest for learning English. The Bengali medium schools that used to impart good teaching are no longer there. People are flocking to English medium schools of even doubtful standards. They have little time to waste learning Bangla.
Bratya Basu, a reputed stage personality and a minister in Mamata's cabinet, concedes, "I don't think that Bengali society is excited about their Bangla language at all." However, Basu, like many others mourning the loss of "Bengali culture", feels there is an urgent need to do something to recover the lost glory of the Bangla language. "Tamil Nadu could protect their language, but we could not," he says.
---
Also read: Shaken by poll result, Mamata Banerjee goes on bizarre IPS, IAS posting-transfer spree
---
Enamul Haque, who has been actively campaigning since 1998 to promote the Bangla language, welcomes the initiative taken by Mamata. But he is still sceptical of her intentions. His organisation 'Bangla Bhasa o Prachar Samiti' (Organisation to promote Bangla language) works to promote Bangla outside Bengal as well. Haque agrees that in pockets of Bengal where Bangla is not the majority language, other commonly spoken languages should take precedence. But Bangla should be taught as well. "If in Darjeeling it is Nepalese, then in Islampur it should be Urdu, in tribal areas it should be Santhali in Alchiki script and at Burrabazar, Hindi should prevail," he says.
In 1998, his organisation campaigned to make Bangla mandatory with English and Hindi (if required) on all signboards in Kolkata. Later in 2000, Buddhadeb Bhattacharjee's government issued an order to introduce use of Bangla in government offices. The government eventually backed out of it. Similarly, the Left government's campaign to introduce Bangla as the main language in Calcutta High Court backfired as the advocates resisted it vehemently. While upholding the primacy of Bangla in Bengal, Haque said that the definition of a 'Bengali' person should not be an exclusionary one.
---
Also read: Amit Shah has more than rattled Mamata Banerjee in Bengal
---
For many non-Bangla speaking residents, Mamata's move smacks of parochialism and Bengali provincialism. Arun Som, a noted translator of Russian classics into Bengali, condemns the way the chief minister had abused the non-Bengalis. "Her comment, 'Amader khas, amader poris…' (You eat ours, wear ours) is deplorable," he says. The outsider-insider distinction doesn't work in Bengal.
In the 1960s, an attempt was made to polarise voters with the campaign "Amra Bangali (We are Bengalis)", but that was rejected forthright by Bengali society. As a rattled Mamata Banerjee and the TMC prepare for the 2021 assembly elections in the state, she would do well to remember this lesson from history.
The author is a journalist and political analyst. Views are personal.