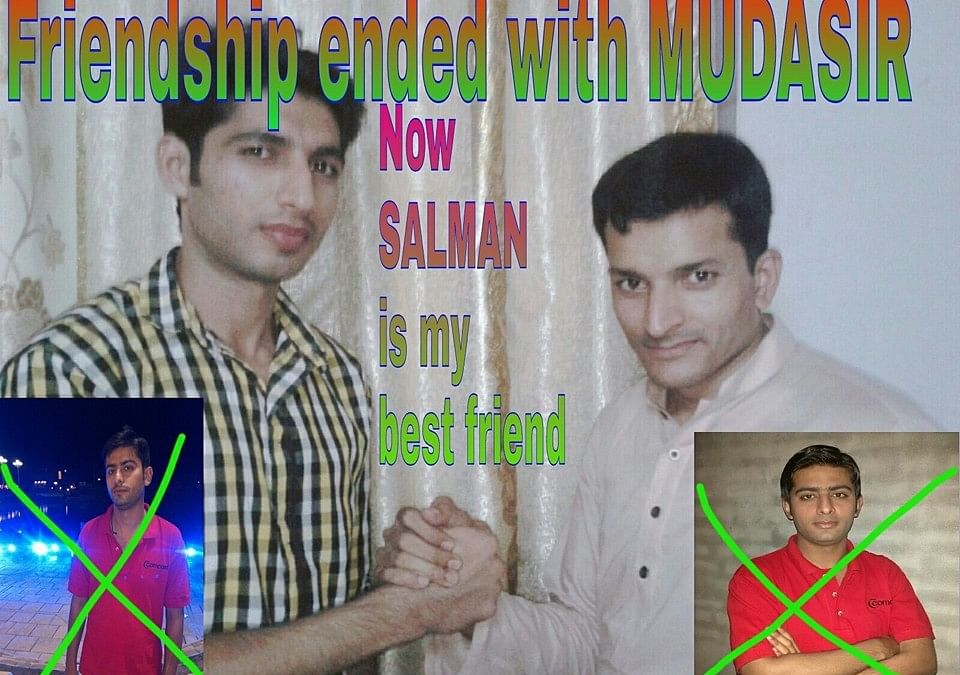 Two men in Pakistan were best friends, and then the friendship ended. But what rose from the ashes of this friendship were meme factories, giving social media users across the globe a 'line'—'Friendship ended with…' — that would come handy to describe a multitude of situations. Be it India-Pakistan, US-Pakistan, or US-North Korea ties; Donald Trump's election campaign; the biggest of controversies and cruelest breakups, or national and international politics, memers are always armed with this 'weapon'. On International Friendship Day, one of the greatest viral memes from Pakistan is making a new record, six years after it first appeared on the internet. It is set for NFT auction and joins a hallowed category of classic memes that have fetched whopping sums on the platform.
In 2015, a Facebook post by one Asif — announcing breakup with his best friend Mudasir while introducing a new friend, Salman — led to a spat, before it broke the internet. Since then, the memes around the trio are used to announce change in relationship.
There is no friendship without harmless spats, just like there is no Friendship Day without remembering 'Friendship ended with Mudasir, now Salman is my best friend'. When the chronicles of BFFs will be written, the names of Timon and Pumbaa, Veronica and Betty, Joey and Chandler, and Jai and Veeru will be listed alongside the duo of Asif and Mudasir from Gujranwala. That friendship ended, regained and has never been the same again. The world is witness to it all.
What began in 2015 as a mere Facebook outburst, is today a dramatic slogan of our times.
---
Also read: Who let the dog out? This Pakistani town went in a tizzy looking for commissioner's lost pet
---
How it all began and ended
Announcing the breakup using crossed photos of Mudasir, Asif was clear about the message he wanted to send across. "I DECLARE THAT I LEFT MY PAST BEST FRIEND MUDASIR_ISMAIL_AHMAD", for Mudasir had become very "selfish" and "proudy". Those who wanted to 'show attitude' to Asif were to be shown their place — "under the foot". Huh. Mudasir, however, maintained that he was "not proudy" and was even ready to forgive Asif for his online rant. But the plot thickened.
Things took a turn for the worse, before they became any better. Shots were fired at and a reply came from Mudasir this time. He complained to Asif's brother about the Facebook post. Mudasir's grudge was how Asif did not cross his face but only his chest, in the viral post. He never expected that from Asif. It was a Facebook post after all, not an id card for bank use that needed the face to be crossed out. The fight was on. Asif, in another Facebook post, called Mudasir 'cheap' for making an issue out of nothing because he believed his only goal was "Peace, Love and Friendship". Now tell us who said exes can be friends? But read further, before you answer this.
Something in Asif changed, and he decided it was time to regain his friendship with Mudasir. Was it a change of heart or the breakup going public, rather global, that turned things around? It was decided that there was no point in fanning the "flames of hatred and controversy," so Mudasir and Salman became Asif's BFFs. And they all live happily ever after.
---
Also read: Hindu boy in Pakistan forced to chant Allahu Akbar, but it's the President who made a boo-boo
---
The friendship message
The trio remain BFFs. Looking back at 2015 and the fame the memes brought Asif, he says none of it was expected: "I was just upset with Mudasir and wanted to convey to him how I felt. When I wrote 'Friendship ended with Mudasir and Salman is my best friend', little did I know that it would become such a rage." Excited about the NFT auction, Asif says it wouldn't have been possible without Mudasir and Salman. Over the years, he has enjoyed his meme being used all over the world, especially during Donald Trump's election campaign in 2015-16. In Pakistan, he says, his meme is used even to indicate change in the weather.
Though Asif is on TikTok as well, he prefers Facebook to connect. When the memes started going viral first, his Facebook was inundated with friend requests, comments and messages. BFF Mudasir even deactivated his account. "I never wanted to lose my best friend, that's why we buried the hatchet. It is easy to make friends but the real hard work is to keep the friendship going," Asif says. A rather important message on International Friendship Day by someone who is truly an icon, of ending, making up and reviving friendship — never let go of good friends. And he's not even too proudy!
The author is a freelance journalist from Pakistan. Her Twitter handle is @nailainayat. Views are personal.
(Edited by Anurag Chaubey)