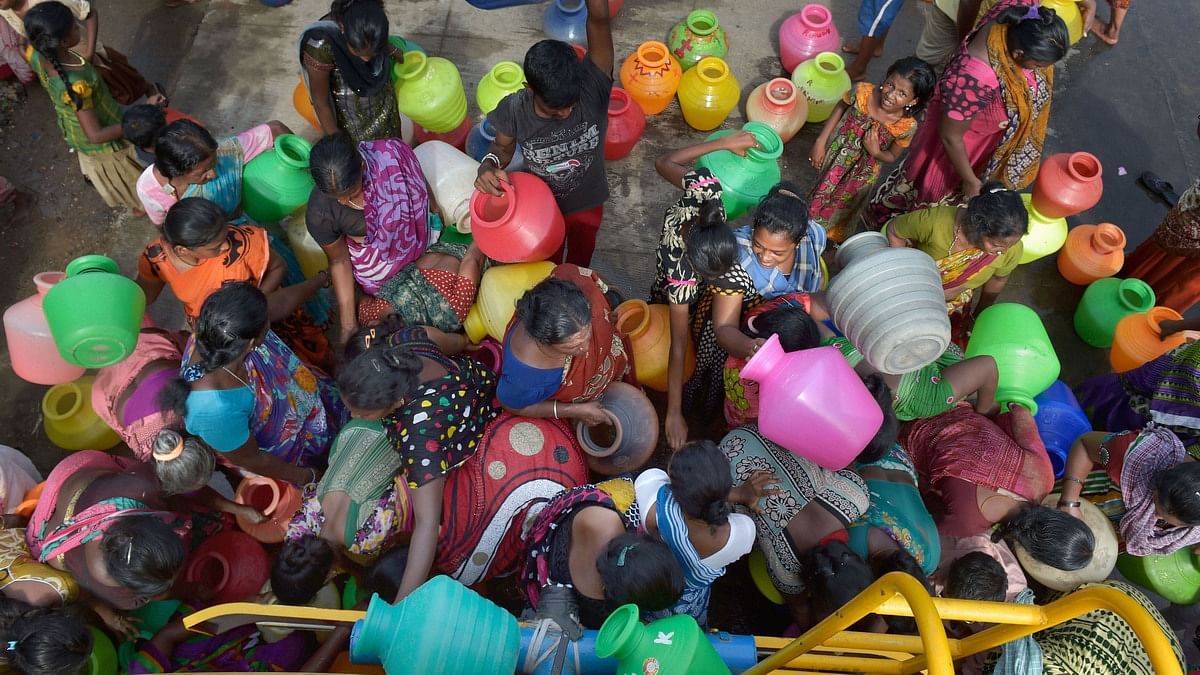 There is no question about the seriousness of the water crisis in India, and the failure of successive governments to meaningfully address the problem. Commentators often criticise the media for not focusing enough on "real issues", and, particularly around elections, criticise it for focusing too much on identity and too little on issues like water.
There is, again, no doubt, that the Indian citizen cares deeply about drinking water (and other floundering service delivery systems). But the Indian voter? She might not care as much.
First, the facts on the water crisis. About 600 million or 60 crore Indians face high to extreme water stress, and about two lakh people die every year due to inadequate access to safe water, according to the Niti Aayog. By 2030, the country's water demand is projected to be twice the available supply. Several big cities, including Chennai this year, are running out of water in peak summer.
Just 44 per cent of households have access to piped water, and piped water access has increased by barely four percentage points between 2004-05 and 2011-12, according to household survey data from the India Human Development Survey. The duration of water availability actually declined between two rounds of the survey. Women and girls spend about 52 minutes per day just collecting water (men and boys spend 28 minutes).
State governments, including in some of the most water-stressed states, regularly under-spend funds allocated to them for improving drinking water supply, according to data analysed by Accountability Initiative. Expenditure as a proportion of funds available has been steadily decreasing over the years; in FY 2014-15, of the total funds available for the National Rural Drinking Water Programme, 84 per cent was spent, which fell to 72 per cent in 2017-18 and then to 65 per cent in 2018-19. Drought-hit Maharashtra spent just 50 per cent of its available funds in 2017-18.
Despite this state of affairs, Indians still very much want the government to provide them with drinking water. Over half of all people – and more so among the rich – wanted the government instead of a private company to provide them with piped water, according to the large sample nationally representative Lok Foundation survey administered by the Centre for Monitoring Indian Economy (CMIE).
Voters often say that they care about water — though how much precisely varies. The Association for Democratic Reforms surveyed over 2.7 lakh citizens in 2018, and asked them to rank what according to them should be the government's top priorities from a pre-written list. Drinking water was the third most commonly listed priority, at 31 per cent, after employment and healthcare, and the government's performance on it was rated as having been "below average".
---
Also read: Modi govt plans to charge rural India nominal fee for piped water under Nal Se Jal
---
The most widely used dataset on Indian voter behaviour comes from post-election household surveys conducted by the Lokniti programme at the Centre for the Study of Developing Societies (CSDS). "Water" was the top issue for voters in the 2009 Lok Sabha election, but didn't make it to the top five in 2014 (data for 2019 is not yet available).
Water matters more in some states than in others. In the most recent assembly elections in major states, water was relatively most important in Maharashtra (although still very low as the key issue for less than 5 per cent voters), and least important, interestingly, in Tamil Nadu.
But the gap between what voters say are the key issues for them and whom they choose to vote for is wide and, at times, unfathomable. In 2019 Lok Sabha election, unemployment consistently ranked as the top issue for voters, yet despite the Modi government's poor record on job creation, it returned to power with a higher voteshare.
There has never been conclusive evidence about whether efficient service delivery leads to positive outcomes; voters might say that they care about water, road and electricity, but does this mean that they punish those who do not deliver?
---
Also read: Modi pointsman Bharat Lal sent to key water ministry in bureaucratic reshuffle
---
Former Reserve Bank of India (RBI) governor Raghuram Rajan has argued that politicians have an incentive for public provisioning to function poorly, because it makes the poor, whose votes they seek, dependent on them to grease the wheels of the bureaucracy. And there is evidence that this works: in constituencies with close victory margins, electing a ruling party legislator significantly improved employment opportunities and wages received by local households under the Mahatma Gandhi National Rural Employment Guarantee Scheme, research by economist Aditya Dasgupta shows.
But there is no clear evidence that good performance guarantees re-election. Tanushree Goyal of the University of Oxford examined 20 years of data from the Pradhan Mantri Gram Sadak Yojana and found that the provision of roads did not improve re-election chances for the incumbent at the state (assembly constituency) or national (parliamentary constituency) level.
The correlation between economic performance – rather than service delivery – and electoral outcomes is better studied. Political scientists Milan Vaishnav and Reedy Swanson find no broad trend between economic performance of a state and the outcome in state elections between 1980 and 2012. However, they find the lack of correlation salient only for the pre-2000 period. In other words, growth did begin to go hand-in-hand with electoral success since the 2000s, they argue.
There's hope yet, then, for water to swing election outcomes.
---
Also read: Indian doctors are buying water for surgery as drought worsens
---
The author is a Chennai-based data journalist. Views are personal.