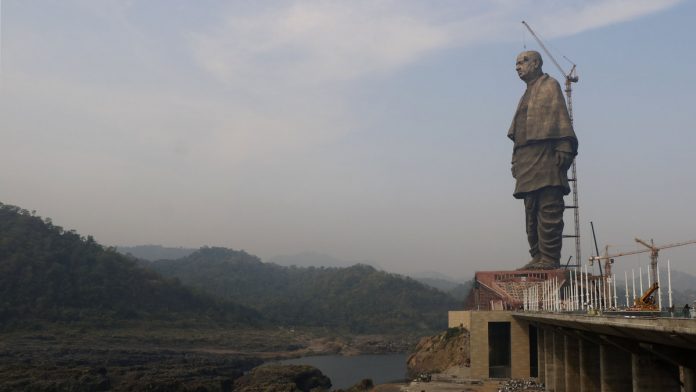 Text Size:
After Statue of Unity, it's time to talk about India's obsession with statues.
If it is the world's tallest statue of one of Indian republic's greatest leaders, and promoted by its most powerful contemporary one, it will, of course, receive a lot of public attention. But unless you are the Nizam of Hyderabad or some other reluctant prince who had to be, er, strongly persuaded to accede to the Indian Union, you won't be opposed to a statue of Sardar Vallabhbhai Patel.
You might, however, be either amused or dismayed by the BJP's appropriation of Patel and his misprojection as an anti-thesis of former Prime Minister Jawaharlal Nehru. The great leaders of India's independence movement did not operate in the small-minded manner as the current ones do — they certainly had differences of opinion, but were for the most part respectful of each other in public. Patel and Nehru had different backgrounds, worldviews and temperaments, but did not allow their differences to descend into the low politics of rumour and squabble. If Patel united the territory of India, Nehru united its people, and together with the other stalwarts of that generation created this great republic.
---
Also read: BJP wants to revoke Article 370, ironically Sardar Patel was its architect
---
Enough seriousness. The Statue of Unity is big and important, but it's not the only kind of statue there is. I'm sure you know that the Statue of Liberty is in New York and the Statue of Fraternity is in Paris, but did you realise that the world forgot about Equality? We did not. A religious trust is constructing the Statue of Equality in Hyderabad, to mark the 1000th anniversary of Ramanujacharya, at a cost of Rs 1,000 crore. At 216 feet, it will be the second tallest sitting statue in the world, clearly a feat that will be hard to equal.
In Kanyakumari, there is a monument they ought to call the Statue of Poetry, where Thiruvalluvar stands 133 feet tall, one for each of the 133 chapters in his great Kural. I'm not sure if the brochure says it, but this might be the world's tallest statue of a poet. It was completed in the year 2000 and started the whole trend of building Statues of Lofty (if you will pardon my grammar). Nineteen of the 20 tallest statues in India were completed in this millennium. Post-liberalisation economic growth might have led to the raising of these Statues of Prosperity.
---
Also read: Even if Statue of Unity becomes as famous as Taj Mahal, we may need 120 years to break even
---
Not all statues, though, need to be tall. Statues of Identity, for instance, are not tall but numerous and spread across the country. These include statues of Ambedkar, nowadays wearing a bright blue suit, of historical kings, regional leaders and movie stars.
Tamil Nadu stands out in this respect not only because you don't know when the movie star ends and regional leader begins, but more importantly because the state invented the two-dimensional statue, unflatteringly and erroneously known as a 'cut-out'. What possibly could those huge pieces of modern art be cut out of? No, these should properly be celebrated as Statues of Duality, for they save a dimension. They also save a lot of iron, steel, and imports from China (thus reducing the current account deficit).
Then there are Statues of Royalty. If the royalty happens to be British, then there's a good chance that the statue has been moved to a less prominent location. King Edward VII and his Horse now find themselves in Mumbai zoo. It must have been the steed that inspired this choice of venue. The kings of Mysore, on the other hand, are still respected and their statues remain at their original grand locations. The maharaja's sword, though, gets stolen once in a while. Unhappy with the municipality's failure to re-arm the much respected Wodeyar, a local marble-dealer has taken it upon himself to supply his former ruler each time he is in need of one.
---
 Also read: The inside story of how 'Statue of Unity' helped make Narendra Modi Prime Minister in 2014
---
Statues of Celebrity can be found everywhere. A few years ago, there was a controversy in Tamil Nadu when fans wanted to build a second temple for actress Khushboo. At Atarwalia in Bihar, a white marble statue of Sachin Tendulkar stands holding a trophy. Lest it be said that it is only us idolatrous Indians who do such things, people in Switzerland are planning to build a statue for Sridevi. They've already built one for Yash Chopra.
No classification of political statues can complete without mention of the Statues of Mayawati that she had installed in Uttar Pradesh. Since there are not as many Statues of Chattrapati as we would like, there are plans to build a big new one.
Finally, every town in India has a statue of Mahatma Gandhi, making his the Statue of Ubiquity. Seventy years after his death, Gandhi still has widespread currency, and is frequently used by those who need his cover. The best thing is, no one steals his stick.
Nitin Pai is director of the Takshashila Institution, an independent centre for research and education in public policy.
For ThePrint's smart analysis of how the rest of the media is doing its job, no holds barred, go to PluggedIn