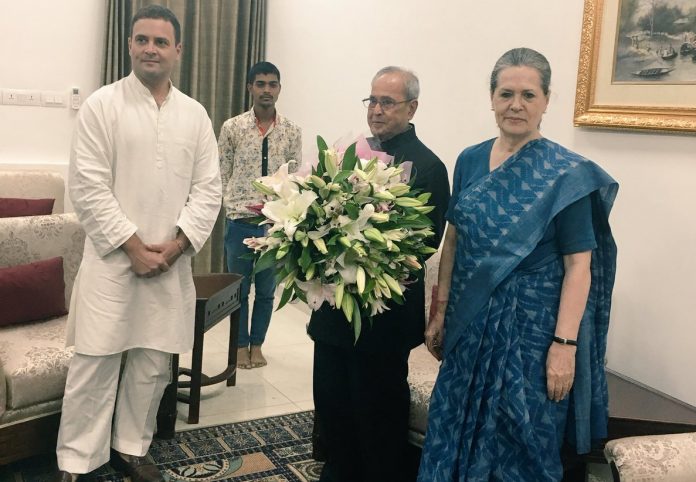 Text Size:
We need to wait till May 2019 to see if India requires the services of a man capable of managing contradictions, and clubbing nationalism and patriotism with plurality.
Thi ḳhabar garm ki 'ġhālib' ke udeñge purze; dekhne ham bhee gae the par tamāshā na huā (There were rumours that Ghalib would be torn to pieces; we too went to see, but the show did not take place) – Mirza Ghalib
On the face of it, citizen Pranab Mukherjee carried his Nagpur date with great élan, drawing praise from both liberals and right-wing protagonists. A closer look, however, will reveal that it was more of an "Act One, Scene One", with enough scope for drama and dramatic events till the 2019 electoral verdict is delivered.
The unanswered questions on why the RSS invited Mukherjee and why he accepted it so eagerly remain. But the RSS affection for Mukherjee is an afterthought, and part of a bigger design. We need to wait till May 2019 to see if the nation would require the services of a man capable of managing contradictions, and clubbing nationalism and patriotism with plurality.
In Delhi, what was stark was Rahul Gandhi's inexperience. Instead of getting Ahmed Patel to tweet ['did not expect this from Pranab da'], the Congress would have been better off sending an emissary like A.K. Antony or Manmohan Singh to 10, Rajaji Marg to ascertain the former president's views. Such a high-level interaction would have cleared misgivings and snuffed out the hype that the RSS and Mukherjee derived from the event.
If only, Rahul Gandhi would learn from his mother Sonia Gandhi's working style. When Sonia had just taken over as the Congress chief in 1998, she was upset to learn that former prime minister P.V. Narasimha Rao had made a submission before the constitution review panel set up by Atal Bihari Vajpayee. The panel consisted of known Sonia baiters such as P.A. Sangma. Fearing 'foul play', the Congress had decided to boycott the panel's meetings.
But instead of issuing any statement against Rao, Sonia turned to Pranab Mukherjee and dispatched the veteran leader to gauge Rao's mood. The Chanakya of Indian politics told Mukherjee that he had done nothing wrong and had gone to clear Indira Gandhi's name in the context of accession of Sikkim. Rao had apparently told the panel that it was grossly wrong to view Indira's move to induct Sikkim as an Indian state as one that had played havoc with constitutional provisions. Sonia quickly gave Rao a clean chit, saying she had always held him in high regard and her mother-in-law, too, had great regard for Rao.
Such counsel is absent in Rahul's Congress. The absence of a new Congress Working Committee (CWC) is hurting Rahul and it will continue to hurt. Even if it is packed with loyalists and lightweights, there is every possibility that a Digvijaya Singh, Shashi Tharoor, Prithviraj Chavan, Salman Khurshid, Ajay Maken, Abhishek Manu Singhvi or Jairam Ramesh would come up with a saner counsel. Unlike Sonia, Rahul has shown scant regard for informally summoning senior party leaders to discuss thorny issues of the day.
Some liberals have gone gaga over Mukherjee's Nagpur speech, but many of his formulations are problematic. The ease with which Mukherjee described Muslim rulers as "invaders" and gave the 'great son of India' tag to K.B. Hedgewar are some areas of concern.
The RSS is perhaps leaning on Mukherjee's image as a devout, practising Hindu. During Vajpayee regime, Mukherjee once got embroiled in a debate about Hindu gods and goddesses. Just as Murli Manohar Joshi and others tried to corner him, Mukherjee rattled appropriate shlokas, one after another, to prove his point in Parliament. When the House broke, a smiling Vajpayee told Mukherjee, "I had warned Dr. Joshi, he should not take punga with you in religious matters. He does not know you can recite the entire "Chandi Path" from memory."
Rasheed Kidwai is an Observer Research Foundation visiting fellow, and author of the recently released Ballot: Ten Episodes that Shaped India's Democracy (Hachette)
Get the PrintEssential to make sense of the day's key developments