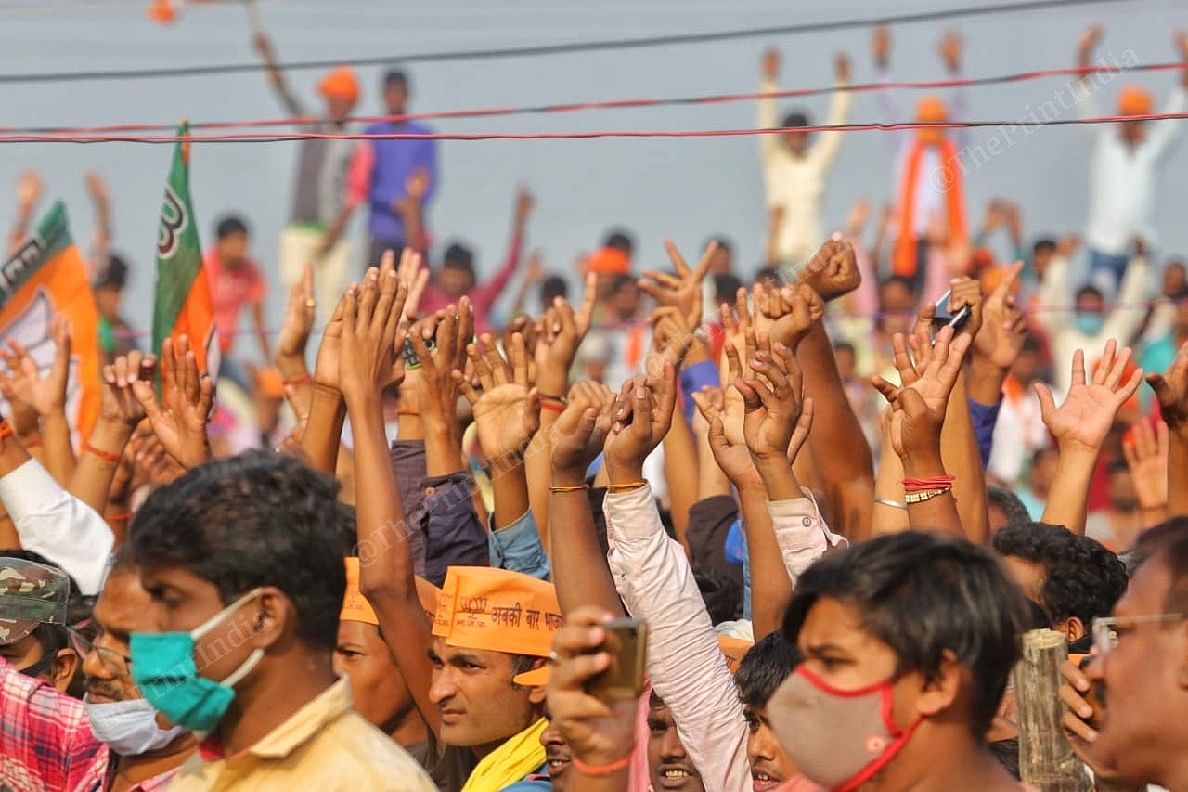 The speeches of a few religious leaders against the Muslim community in Haridwar and the speech of a 'saint' against Mahatma Gandhi in Raipur 'Dharam sansad' have invoked sharp reactions from media, politicians and people. Will they influence Hindu voters in Uttar Pradesh in the upcoming assembly elections?
There are about 159 million Hindus in Uttar Pradesh, which is around 80 per cent of the total population. While this large Hindu population, influenced by local factors, votes along the lines of caste, social relations and the 'image' of parties and contesting candidates, a section of the voters are also guided by their 'Hindutva identity'. There may be a difference in the degree of religious identification, but the support that the BJP has received recently is telling. In the last few decades, the Hindutva narrative has prevailed over a large section, but the Hindu community does not need obvious mobilisation for votes.
The state of Hindu voters in Uttar Pradesh is such that they don't need overt extremism and violent appeals to vote on the lines of their religious identity. Hindu mobilisation is achieved with just the optics of Yogi Adityanath as the Bharatiya Janata Party (BJP) leader in the upcoming elections. By just uttering 'shamshan-kabristan', 'Mandir-masjid' and Jinnah, the polarisation project is complete. Haridwar's 'Dharam sansad' rhetoric is not only unnecessary for this project, but also average Hindu voters do not appreciate calls for violence.
---
Also Read: Mayawati still has a 'pull' for Dalit voters. And now BJP is making inroads into Jatavs too
---
In the footsteps of Gandhi
Most voters who have already been mobilised with the Hindutva ideology or identify as Hindus don't need violent and confrontational rhetoric against the 'other' (Muslim and other minorities). So, the statement of the so-called religious leaders at the recent 'Dharam sansad' events will barely have an effect on voting patterns. Another significant factor here is that a majority of the Hindu community prefers to stay clear of extremities. Although they might not openly criticise extreme views, Hindu voters certainly do not appreciate it.
Most Hindus also consider themselves heirs of the national freedom movement led by Gandhi. People in rural Uttar Pradesh especially identify with the Gandhian form of national struggle. While many have been trying to push an 'alternative' view of the freedom struggle, the Gandhian form is still the mainstream narrative. Many may stay silent if Gandhi is criticised, but it doesn't mean they like it. In a recent event on the empowerment of marginalised communities in Kanpur, I met many so-called Hindutva followers who did not hesitate to associate themselves with Gandhi. Some openly shared their family association with the Gandhi-led national movement.
Although it would be wrong to dismiss the impact of events like 'Dharam sansad' on the 'Hindutva' mind, it might not make a tangible difference. The narrative against Gandhi might be appreciated among the 'Hindutva fringe' but not the mainstream.
---
Also Read: Who will this village in UP vote for in 2022 election? The one Duijji Amma picks
---
Beyond Hindutva
It's also important to note that voters don't only identify themselves with religion — there's also the rural-urban, caste, and district identities. All of these influence their voting behaviour. But the identity targeted by mobilisers is considered their dominant one — religion.
A local BJP leader in Kanpur told me: "Having Yogiji, one of the important Hindutva icons, as the face of our party in this election is already an advantage but we hope the development work that our government delivered in its tenure will also play an important role. We don't need any evocative act like that at Haridwar and Chhattisgarh 'dharam sansads' to mobilise Hindutva voters".
While it's true that the Hindutva identity will certainly play a big role in the upcoming Uttar Pradesh election, it may not take an aggressive turn like we have been assuming.
The author is Professor and Director at the G.B. Pant Social Science Institute, Allahabad. He tweets @poetbadri. Views are personal.
(Edited by Srinjoy Dey)