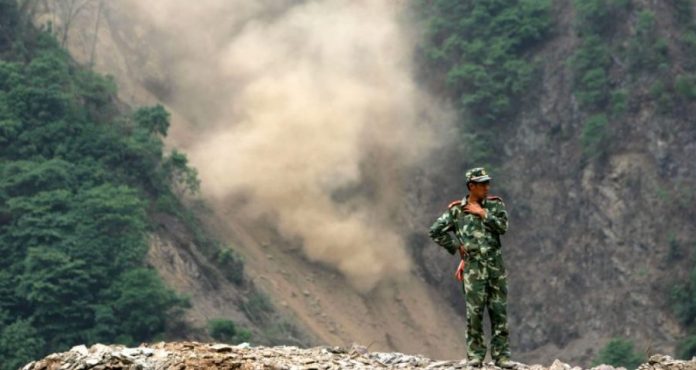 Text Size:
The Chinese buildup at Doklam signifies that encroachment and road-building will accelerate, and India cannot protect Bhutan, because it doesn't have a plan.
Thanks to diligent hard work by Col. (retd) Vinayak Bhat and ThePrint, the Indian public knows the result of our Doklam adventure last summer. Anyone studying China's national security policy knew the Chinese would return, with force. Nonetheless, I underestimated the Chinese buildup, expecting an additional border battalion.
Instead, Col. Bhat estimates that infrastructure for 4,000-5,000 troops, an entire brigade, is under construction, in addition to improvements in the Yadong salient that might house a division, where I expected a new brigade.
Responding to continued Chinese border provocations in the 2000s, the Indian Army requested seven to eleven additional mountain divisions, according to Mandeep Singh Bajwa, the leading expert on the Indian and Pakistani armies. As ThePrint readers know, two divisions were raised in 2008, followed by a two-division strike corps.
The government of India went wobbly after the first raising, with the Ministry of External Affairs warning against provoking the Chinese, and the Ministry of Finance saying we didn't have the money. Neither is true, but that's another discussion. Consequently, the raising of XVII Strike Corps was stretched out, and plans to go beyond four divisions dropped.
The Chinese had no reaction to this major increment to Indian strength. From 1963 itself, they have been remarkably indifferent to the post-1962 buildup, where we added eleven divisions to the China border. Today, they have only six border regiments and three regular brigades in Tibet. China believes, correctly, that India has no will to attack Tibet. The new buildup saw India add six brigades to Ladakh, Himachal and Uttarakhand, plus four divisions, plus four more brigades to the strike corps (two of these may not have been raised yet).
One reason for China's non-reaction has been the phenomenal expansion of its road and rail network in Tibet, permitting the rapid arrival of reinforcements. In the 1986-87 confrontation over Sumdorong Chu in the east, it moved eight divisions plus independent regiments opposite the Eastern Command in eight weeks. Today, it speaks of the first division reinforcement arriving in 36-48 hours.
The Chinese have become the world's best engineers, replacing the Americans. Since 2000, they have built a railroad to Lhasa and Shigatze with a spur to Yadong, to be completed in 2018, aim to complete Shigtaze-Gyirong (on the Nepal border) by 2020, begun studies for an extension to Kathmandu-Pokhara and then to the Indian border, are building an east-west line paralleling the Arunachal border to Nyangtri in the east (also for 2020 completion), and begun work on linking Nyangtri to Chengdu.
From the Chengdu end, 350 kilometres of railroad will be completed by 2018; the whole will be operational by 2030. They are working on two lines to better link Xinjiang and central China. This will permit rapid transfer of troops from Xinjiang and central China's strategic reserves to our eastern border. In the west, they have opened a new railroad Kashgar-Hotan, which eventually will ease their logistic problems on our Northwest front.
They now have the second largest navy in the world, are ridding themselves of obsolete combat aircraft, and have reorganised their entire army for information-driven mobile warfare.
On our side, we've cut the defence budget to 1.56 per cent of our GDP. This has added to a 30-year equipment modernisation backlog. We've depleted our war reserves for the new raisings, and are struggling to rebuild ammunition and parts restocks to be capable of 10 days of combat.
The air force is losing squadrons every year because of faulty procurement decisions. In terms of blue water ships, the Chinese now have three times as many as India, and are stepping up new warship construction to make it six times as many by 2030-35. We are sitting on the sidelines as China is taking over Burma, Bangladesh, Nepal, Sri Lanka and Pakistan.
In Pakistan, they are investing $90 billion in power and infrastructure, equivalent to 30 per cent of Pakistan's GDP. It is like $1 trillion in India. Their Navy now exercises in the Baltic, the North Pacific, and has even sent a five-warship task force to America's doorstep off the Aleutians. China's GDP is $13 trillion to our $3 trillion, and US's $20 trillion. In 1978, India and China's GDP was about the same.
At Doklam, we humiliated the Chinese. We had no choice, because they are out of control not just against India, but against the US in the China Seas, South-East Asia, Japan, and South Korea. What New Delhi failed to understand is that our success was only the start of confrontation, not the end. The Chinese buildup at Doklam signifies that (a) encroachment and road-building will accelerate, and (b) India cannot protect Bhutan. Bhutan's best interest is in accepting China as its new overlord. As usual, we have no plan to counter.
Ravi Rikhye has written about 16 books on defence, and coauthored about ten others. He is completing a book which examines the two-front war question in detail. 
Separate fact from fiction, the real from the fake going viral on social media, on HoaXposed .