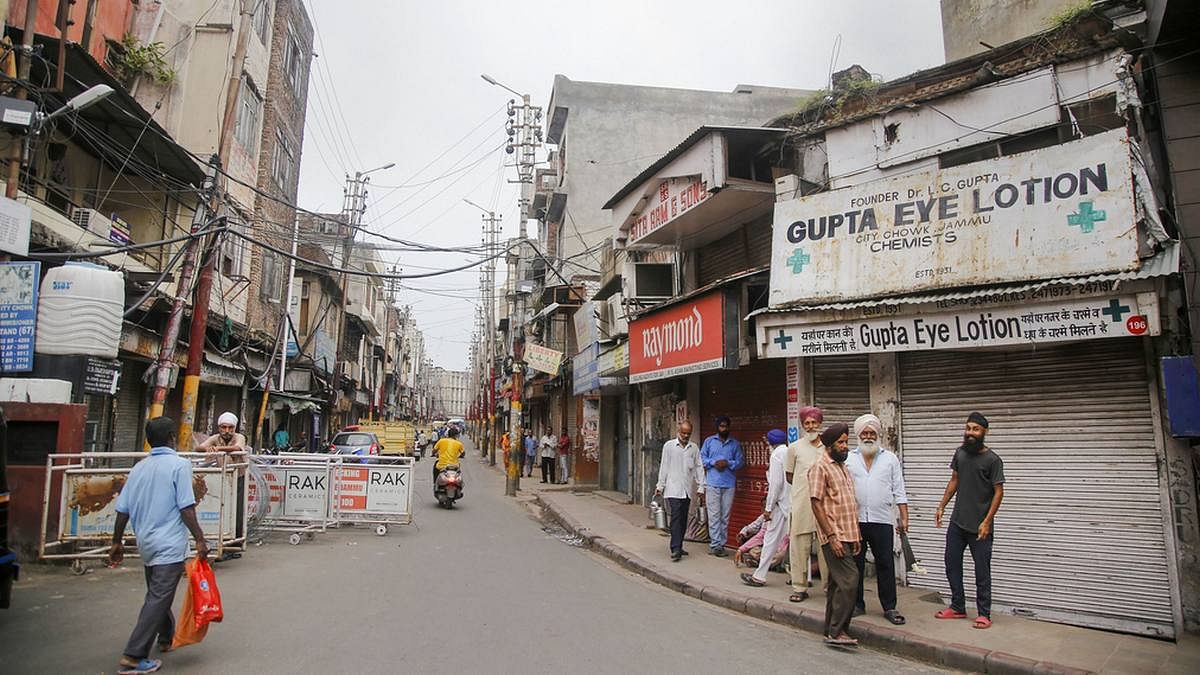 Some of us recently reattempted a 'Restore Democracy Yatra' from Jammu to Srinagar to protest against the Narendra Modi government's dilution of Article 370 stripping Jammu and Kashmir of its special status. However, the security forces abruptly prevented the yatra from proceeding beyond Ramban, a town midway between Jammu and Srinagar.
It has been five months since the government's Article 370 move, but there is no sign of 'normalcy' yet. Many civilians from Jammu to Kashmir are in severe financial distress. According to a report of the Kashmir Chamber of Commerce and Industries, businesses in the Valley alone have made a loss of Rs 18,000 crore since 5 August and nearly 5 lakh people have lost employment. The situation will be much worse if we include the populations of Jammu and Ladakh in the calculation.
While the macro picture is alarming in Kashmir, here we will focus largely on the economic distress in the Jammu region. But it is equally true that Kashmir has experienced much more economic distress than Jammu in the last five months. Kashmiris have been more overwhelmed by a sense of betrayal and by the continued mutilation of civil liberties.
---
Also read: J&K's delimitation was Modi govt's top priority 5 months ago. Now it's nowhere in sight
---
Thousands of jobs lost
Shops in Srinagar remain open only for three to four hours a day while internet services continue to be suspended in the union territory of J&K. The last three months have also seen transportation come to a standstill, and this has resulted in a domino effect where every single business has been affected. A cloth merchant said in an anguished tone: "The extent of financial loss is so severe that we can't even quantify." Naseer, a daily wage labourer in Srinagar who earned Rs 500 per day for 25 days a month before 5 August, now barely gets a week of work. Basheer, an auto driver in Srinagar, has lost more than Rs 1 lakh in the last four months. The disruption in the tourism sector has led small hotel and restaurant owners to retrench two out of every three employees.
A dhaba owner in Qazigund, a town in Anantnag district, reopened his shop in November but said his sales have dropped to 10 per cent.
Apple trees have already been damaged because of early and heavy snowfall. It'll take another decade for new trees to grow.
Over in Jammu too, hotel, fruit and transportation businesses have been the most affected, according to I.D. Khajuria, president of the Forum for Peace and Territorial Integrity. He said: "Revenues of 300 hotels and 1,240 taxis in Jammu have dried up. More than Rs 3,000 crores worth of business between Jammu and Kashmir has been affected."
---
Also read: Not a happy new year for many Kashmiris as SMS service resumes only for BSNL users
---
Modi govt's xenophobic agenda
People's testimonies from the Jammu region present paint a dark picture of the adverse impact of the Article 370 move. Jaspreet Singh, a transport businessman in Udhampur of Jammu region, said: "I used to take many orders on WhatsApp and do online bank transfers. All of that is dead in the last four months. The business is down by 75 per cent."
Rammanohar, a Kashmiri Pandit contractor, angrily said: "All the contractors have been without the kind of work we had prior to 5 August."
Kailash, a daily wage labourer, is barely able to earn Rs 200 per day, as opposed to Rs 500 per day he used to earn earlier. He has borrowed nearly Rs 10,000 from money lenders in October, but is unable to repay. Anand, a Reliance Jio employee, has neither received his salary for the last three months, nor any Diwali bonus.
Mohan, a small restaurant owner, had to shut his shop and was sitting idle on a Wednesday afternoon in Udhampur. Deeply perturbed, he said: "Just a month or so before 5 August, online food services such as Swiggy and Zomato had started. Then, suddenly, the BJP government stopped internet. Now, why would people go to a restaurant when cash in everyone's hand is so low?"
Jaspreet chipped in, and with total dismay, the two said: "This is an example of dictatorship. How can they take a decision about us without even asking us? Now, we are rendered voiceless as they have also arrested our political representatives."
Asha, a grocery shop owner in Udhampur, has demanded Rs 10 lakh as compensation for the losses she has incurred in the last few months.
While some Hindus expressed shock and anger at the Modi government's decision about Jammu and Kashmir, some other Hindu traders have been more charitable towards the BJP. Some of these traders felt that nothing has changed for them. However, when asked about the prices of goods and employment opportunities, the common response of these Hindu traders was: "Things have become very expensive. There is no employment opportunity for the youth now. If people from the rest of India come, they will take away our jobs." It appeared that even those in the Jammu region who welcomed the Article 370 move were affected by the Modi government's hidden xenophobic agenda.
Ashfaque is a fruit seller in Ramban. With Army men standing barely 90 metres away from him, he offered us tea, recounting the trauma of the last four months. On 3 August, he had bought 20 crates of mangoes, 20 kg of papayas and several kilograms of tomatoes. But two days later, the entire town suddenly came to a standstill and his shop remained closed for a while. All the fruits rotted away, and he incurred a loss of at least Rs 60,000 in just a week after 5 August. He kept facing mounting debts, which have now reached Rs 1.25 lakh. Despite incurring massive losses, Ashfaque said: "It's true that I have lost so much. But I am still in the Jammu region. I am more concerned about my brothers and sisters in Kashmir. They would have lost at least three times more than what I have lost."
During his 2018 Independence Day speech, Narendra Modi had hailed 'Digital India', saying that common service centres providing digital services to people were "rendering 'anytime-anywhere connectivity'" to every citizen in villages through "optimal utilisation of information technology". But he conveniently forgot to add that these services were hardly applicable to Jammu and Kashmir.
Vinod and Javed, both in Ramban, run small shops for photocopying, printing, scanning and selling mobile phone accessories. Before 5 August, they offered other online services such as submitting college forms, applying for certificates online, etc. "Most of my work was online and it's been over 100 days that my business is completely down", said an angry Javed. A college student at the bus stop in Ramban indicated that several students, including him, weren't able to download admit cards or application forms. An upset Javed said: "I had voted for the BJP but never thought that it would be so unkind to us."
Junaid runs a small tea shop in Ramban. He had taken a loan of Rs 1.2 lakh from the J&K Bank to start a dairy farm. Since his shop has reopened only recently, he hasn't been able to save and repay the monthly instalments of his loan. On the contrary, he may have to pay fines in addition to making his monthly payments.
---
Also read: Fears of Udta Kashmir, no English school, concentration camp in J&K communication black hole
---
Zero accountability
Yasin, belonging to the Gujjar community, is a seasonal school teacher who earned Rs 4,000 a month. He hasn't been paid for six months and has resorted to grazing sheep. He said: "Now there is no clarity on whom to ask about our pending salaries. I can't even find and apply for jobs online." Referring to a broken bridge over the Chenab river, he said: "When building a small bridge takes them three months, setting up industries for the local community in such a hilly terrain is a joke. The government hasn't employed anybody from the local community even for the highway construction work."
The National Highways Authority of India is building a proposed four-lane highway between Jammu and Srinagar. However, its completion has already got delayed by five years. Bilal, a journalist, said: "Crores of rupees have already been spent." Speaking about the lack of accountability and the environmental hazards the highway has created, he explained: "When they break the mountains, the debris must be deposited in a designated site. But that doesn't happen. All the chemicals from blasting the mountains have been going unchecked to the Chenab river, thus polluting it.
"The Ramban region had a fishing community dependent on trout in the Chenab. But the trout have slowly died, leading to the loss of livelihood for the fishing community," he added.
Tariq, who holds an MA degree from Jammu University and now runs a grocery shop, also talked about the environmental impact of the highway. He said: "When the government itself is so unaccountable, we can't even imagine what will happen if big companies start work here." Now that the J&K assembly has been dissolved, the administration's accountability has become negligible.
---
Also read: Article 370 to CAA: Domestic affairs from 2019 will guide Modi govt's foreign policy in 2020
---
A broken backbone
The publication of most newspapers was stopped in Srinagar after 5 August. The problems were three-fold. Journalists couldn't move around, there was a clampdown on all communication mediums, and news was being censored. Anuradha Bhasin, Jammu-based executive editor of Kashmir Times, said she had no idea about the whereabouts of the agency's correspondents in Srinagar, and was unable to bring out the paper's Srinagar edition for quite some time after 5 August.
There was only one media control room in Srinagar equipped with four computers and one landline phone. All journalists were supposed to send their reports only through this centre, which was monitored by the government. A journalist would have to wait for his or her turn for two or three days.
Most newspapers are carrying government advertisements and apolitical news even now. Kashmir Times, the only newspaper that has dared to take an independent stand, has now been barred from receiving government advertisements, depriving it of a major source of revenue. It is also being punished for Bhasin approaching the Supreme Court challenging the "restrictions" imposed in the region after 5 August.
It is quite clear that the backbone of a vibrant economy dependent on tourism, sale of apples, saffron, walnuts, shawls, carpets, etc., has been badly broken, and will take years to recuperate.
Disclaimer: Barring the names of I.D. Khajuria, Anuradha Bhasin and Bilal, all other names have been changed on request, to maintain the individuals' anonymity.
Rajendran teaches at Azim Premji University, Bengaluru. Sandeep is a social activist and is with Socialist Party (India). Rajendran tweets @rajendran_naray. Views are personal.
---
Also read: Citizenship, Article 370, SC-ST Act: Muslims, Kashmiris, Dalits protest in silos in India
---