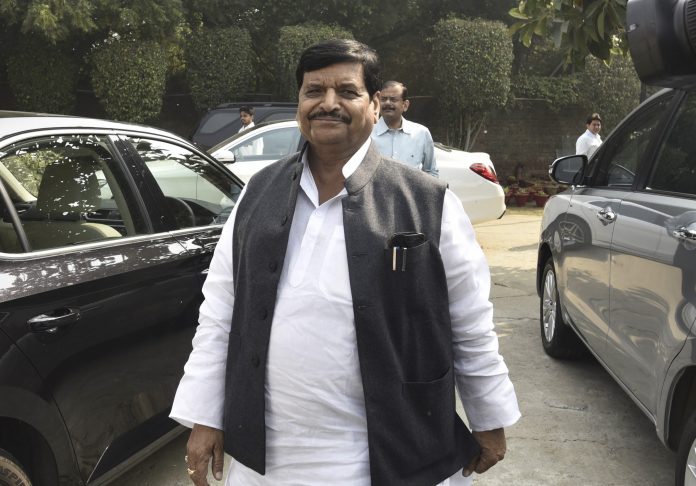 Text Size:
This has been the best news for Akhilesh Yadav in a while.
Shivpal Yadav's decision to parts ways with the Samajwadi Party (SP) is the best news Akhilesh Yadav could get before the 2019 Lok Sabha elections.
Along with Azam Khan, chacha Shivpal has been the reason why the SP has not been able to expand its votes outside the Muslim and Yadav communities.
The SP, for several years, has had the image of a party associated with corruption and criminality. When the SP is in power, people say, law and order is the worst. Organised mafia, criminal gangs, illegal mining, kidnapping and rape-murder – these are the things that have for long been associated with SP-ruled Uttar Pradesh. Nobody epitomised this image more than Shivpal Yadav.
---
Also read: Shivpal Yadav finally takes an exit route from SP, forms Samajwadi Secular Morcha
---
Shivpal is the brother of SP patriarch Mulayam Singh Yadav. Perhaps, life has been unfair to Shivpal. He helped build and run the party with his elder brother all these years. He comes across as a simpleton when you meet him. It wasn't Mulayam so much but Shivpal who helped raise Akhilesh as a child. He swallowed his pride when Mulayam passed on the baton to his son. As for the bad cop image of the kingpin of crime and corruption – he did whatever he did in service of his elder brother, "Netaji" Mulayam Singh Yadav.
Both brothers thought they would run Akhilesh's government through remote control when he became the chief minister in 2012. And that's what they did, until the SP was reduced to five Lok Sabha seats by the Modi wave of 2014. That's when Akhilesh realised he'll have to assert himself and be his own man. He was thinking of his future. Father and uncle were thinking of their present.
The times they are a changin'
Indian politics has seen nothing like the father-son war that ensued. Akhilesh stopped taking orders from his father and uncle. He started doing things his own way after 2014, building brand Akhilesh. The times had changed, the world had changed. Narendra Modi had changed the rules of the game.
For Mulayam and Shivpal, elections were won through strongmen who played Robinhood in their fiefdoms. They had a 'mini CM' for every region of the vast state of Uttar Pradesh. Akhilesh centralised power. Tensions in the family built up towards the 2017 Vidhan Sabha elections. Shivpal wanted to have his own people get tickets and win elections, and rumour had it that he was plotting to use the MLAs to sideline Akhilesh as Netaji was ageing.
Akhilesh did everything he could to not let go of the party's control. He humiliated his own father, did a poor alliance with the Congress party, and the matter went up to the Election Commission. Akhilesh won because he had the support of most MLAs, MPs, and party leaders. He had their support because he had built popular support for himself. Nowhere across the state was anyone sympathising with Mulayam or Shivpal. Even the elderly Yadavs felt Akhilesh was a better bet for their future.
---
Also read: How Akhilesh Yadav could change the SP's Yadav-party image
---
Akhilesh has tried to create a modern image for himself, a technocrat-politician who may be weak in his understanding of the caste relations in a corner of the state but knows the UP state budget's break-up by heart. The one big impediment to this image was chacha Shivpal.
Announcing his decision to float a new political front, Shivpal said he had been humiliated, had been waiting to be given a role and responsibility in the party. Having tasted defeat before the Election Commission in 2017, having lost control of the party, he was willing to eat the humble pie, make peace with Akhilesh as the boss, and even take orders. But the problem was not Shivpal. It was his image.
Khan saab, aap bhi
Voters other than Yadavs and Muslims think positively of Akhilesh and separate him from his party. But the party is bad enough for them to stay away from.
In election year, CM Akhilesh sent ambulances and police control room vans into villages that had never seen them. But voters would complain that government jobs go only to Yadavs who have Shivpal at their service. This image of a party of, for and by the Yadavs came in the way of Akhilesh's efforts to catch up with post-Modi politics.
Shivpal's exit will now help people see it as slightly less of a Yadav party. There are so many Yadavs, of the same clan and otherwise, that even if a few more leave the party it will only help Akhilesh. No, it won't cost him any votes on the home turf— the potato belt in western UP. In Etawah, Mainpuri, Kannauj and Farrukhabad, Yadavs see Mulayam as their patriarch. Shivpal was the protege, and now it is Akhilesh. Without Netaji's endorsement, Yadavs won't desert Akhilesh. Shivpal's exit will help Akhilesh win more votes than he could possibly lose.
---
Also read: What exactly is Mayawati up to
---
If only Azam Khan could leave as well, Akhilesh's modernisation project would be complete. Just as the Yadav domination of the party alienates others for reasons of caste, the presence of Azam alienates Hindus for reasons of religion. Azam, also sidelined, has worked on his foot-in-the-mouth problem since 2017. No longer does he make weekly news with outrageous statements. He must miss seeing himself in the headlines. He lived for it.
Nevertheless, like Shivpal, it's too late for Azam to correct his image. Shivpal has named his new front the Samajwadi Secular Morcha, the word secular suggesting an effort to woo the Muslim vote. Along with another humiliated uncle, Amar Singh, this effort has the whiff of Amit Shah trying to cut the SP's votes. Au contraire, it will help the SP. Akhilesh can only hope Azam too leaves for the 'Samajwadi Secular Morcha'.
Get the PrintEssential to make sense of the day's key developments