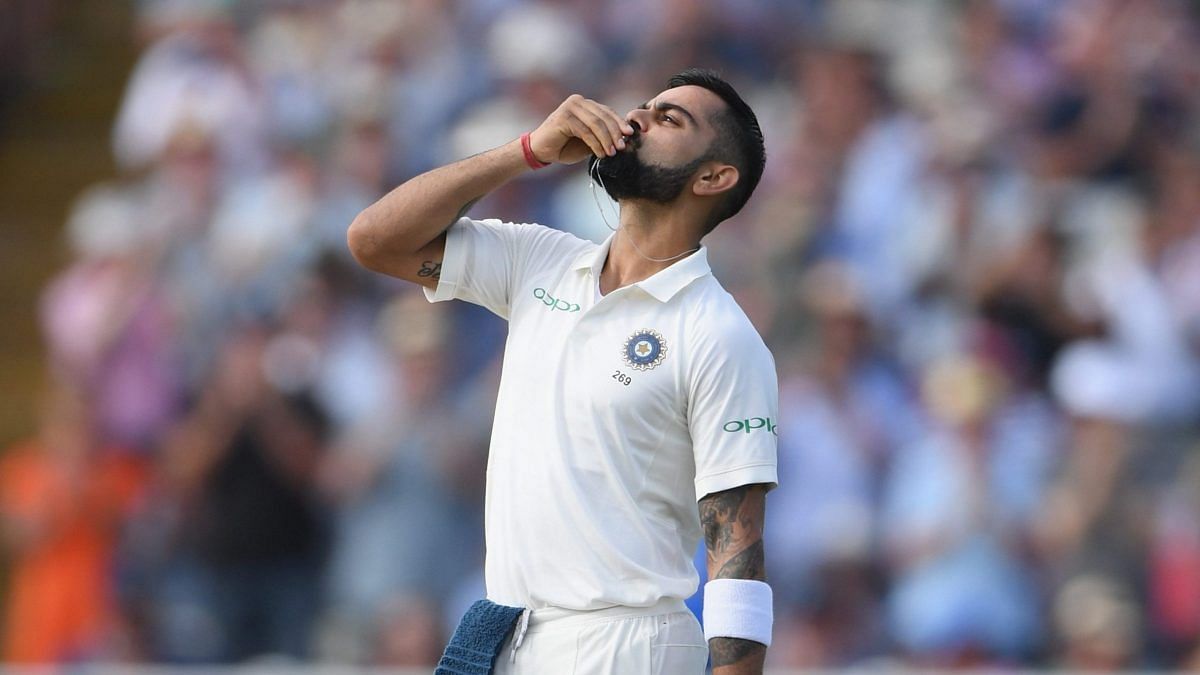 It is January 2012, and India are getting hammered in their first Test match of the year at the Sydney Cricket Ground. Australia, led by an imperious Michael Clarke, are batting the visitors out of the game. Having failed with the bat in the first innings, 23-year-old Virat Kohli is being made to run ragged in the outfield, with Aussie supporters at the edge of the boundary line constantly riling him up. With the tide of the game firmly against him and his team, Kohli loses his head and produces a moment of defiance.
There are no swear words from the flamboyant batsman this time, as have been customary after every pulsating century. No, Kohli does not cast a deathly stare towards the home fans, either. Instead, with his back to the crowd, Kohli raises his left fist and nonchalantly flips his middle finger — an unprecedented sight for an Indian cricketer in the gentleman's game.
More than eight years on, Kohli's petulance from Sydney remains largely forgotten, a faux pas as rare as a mistimed cover drive. From a precocious and frequently overzealous youngster, the Delhiite has matured to become the most bankable cricketer in the world, both on and off the field.
Forbes' list for the 100 highest-paid athletes for 2020 ranked Kohli in 66th place, with estimated earnings of $26 million. Kohli was the only cricketer, and sole Indian, on the list.
As Virat Kohli turns 32 today, let's trace how he became the world's most marketable cricketer by wedding his sporting excellence to his immense star power.
---
Also read: Virat Kohli can earn Rs 2 cr per sponsored post on Instagram, Dhoni Rs 88 lakh, study says
---
In a league of his own
While bespoke marketing campaigns often hold the keys for athletes to transition into branding sensations, there remains one common factor behind the commercial success of every sportsperson — performance on the pitch.
During the 2010s, Kohli amassed a mind-boggling 20,960 international runs, studded with 69 centuries, numbers nobody else could equal over the same period. Although India is no stranger to batting geniuses, Kohli's accomplishments stand out because of his ability to blend emotions with excellence, creating moments that are instantly memorable.
Whether bowing to acknowledge the presence of his idol and former teammate Sachin Tendulkar in the stands en route to a scintillating display against Pakistan, offering a flying kiss to his wife and Bollywood star Anushka Sharma after hitting yet another hundred, or urging Indian fans not to jeer the much-maligned Steven Smith during an intense World Cup fixture against Australia, Kohli does not just dominate games, he decorates them. His intensity, his body language, and his proclivities for camera-friendly gestures mean that Kohli is always hogging the limelight, with or without his monumental batting records.
As a result, Kohli is seen as marketing gold dust for the biggest companies in the world, who naturally want to capitalise on his magnetic personality to connect better with their customers.
But the overwhelming demand for associating with his name has not undermined Kohli's ability to pick and choose what he really wants to endorse. In becoming the face of cricket, Kohli has quickly realised the importance of selecting endorsements that fit his profile and resonate a carefully calibrated message.
---
Also read: Even big men cry: How cricketers like Virat Kohli are batting for inclusive masculinity
---
Curating the perfect image
Cricketers do not earn a salary anywhere close to elite international footballers or National Basketball Association (NBA) players. This is because cricket at the highest level mainly involves playing for national teams where contracts are not nearly as lucrative as in club or franchise-based competitions. This means that even for the best in the world like Virat Kohli, income from endorsements and profits from investments vastly outstrip his cricketing pay cheques.
Kohli's marketing commitments and finances are managed by Cornerstone Sport & Entertainment, whose founder Bunty Sajdeh (a superagent of sorts) also looks after the interests of Indian stars such as K.L. Rahul, Yuvraj Singh, Sania Mirza, among a long list of others.
"When I first saw Virat, during an Under-19 match in Malaysia, he didn't actually get that many runs. But what struck me was the way he spoke confidently to everyone around him and took charge of situations," recalled Sajdeh in a 2016 interview, remembering to add that he had signed up Kohli even before the latter had emerged as a regular for Team India.
Sajdeh, whom Kohli fondly calls "Jerry" (in a nod to Tom Cruise's sports agent character in Jerry Maguire), has been instrumental in ensuring that Kohli's endorsements express a coherent image of the player, an image that can be encapsulated in three core attributes: passion, fitness, and consistency.
A quick glance at the leading brands Kohli advertises — Puma, Boost, Herbalife, Tissot, Philips, Audi, Google Duo (to name a few) — puts this into perspective, while also shedding light on how Kohli has a definite target audience in mind across most of his commercials: that of the urban (and preferably sport-playing) youth.
Kohli, along with Sajdeh, also understands the importance of forming a personal brand in collaboration with established international ones. This is why in place of renewing his deal with sports manufacturing giant Adidas in 2017, Kohli opted for Puma, which agreed to launch Kohli's own athleisure line called 'one8' (after Kohli's jersey number of 18). Kohli penned a deal in excess of Rs 100 crore with Puma, widely regarded to be the single-largest endorsement scoop for an Indian athlete. One8 combines Puma's design with tailormade customisations for Kohli across apparel, footwear, and equipment, much in the same way that Nike has done for basketball legend Michael Jordan over the years through the rise and rise of Air Jordan.
Always conscious of the impact his profile has on the zeitgeist and vice versa, Kohli stopped shooting ads for Pepsi as well as fairness creams in 2017, realising such endorsements involved tacit support for unhealthy diet and colourism. This marked a welcome departure from industry trends where celebrities rarely make an attempt to align the values of their brands with their own beliefs and morality.
Known for wearing his heart on his sleeve, Kohli's marketability has always been championed by the feeling that what you see is what you get. Even in his investments, be it in fitness centres like Chisel, fashion outlet Wrogn, franchises like FC Goa in the Indian Super League, or his own restaurant in Delhi where he helps out with the menu, Kohli has come to embody a form of authenticity that is at the heart of his perfectly curated image — one that combines trailblazing cricketer with comprehensive statesman, producing an ideal role model in the process. In a country where more than a billion people regularly expect their heroes to do no wrong, Virat Kohli has proven to be incredibly reliable in getting most things right.
---
Also read: Covid pandemic has changed Indian cricket scene, but this is why IPL will survive the slump
---
Towards international superstardom
"The sport I play, everyone can see on screen. I feel if you just be yourself and honestly put 100%…people connect to you more. I am from that kind of background; I have never tried to be someone else," is Kohli's description of his attitude, at a time when he is among the most recognisable figures in India.
Unlike Sachin Tendulkar, whose cricketing story incorporated the ambitions of an economically liberated and aspirational India, or Mahendra Singh Dhoni, whose journey from railway ticket collector to World Cup-winning skipper entrenched the tale of the small-town boy upon India's collective imagination, Kohli's stardom is built on more nuanced grounds. Neither the God of Cricket nor Captain Cool, Kohli has been the protagonist of a different story for a different India. An India that is assertive yet introspective, rooted in its origins but open to embracing a multitude of possibilities.
Ultimately, Kohli's marketability as a cricketer is deeply connected to what Indians — especially the youth — can relate with and approve of. The next challenge, therefore, for the Virat brand is to successfully translate this domestic aura on the international stage, following in the footsteps of players such as LeBron James, Michael Jordan, and Kohli's favourite, Cristiano Ronaldo.
Due to cricket's limited viewership (as compared to football, tennis, or even basketball), this will prove difficult, but thanks to social media (Kohli is the most followed Indian on Instagram) and the burgeoning popularity of Kohli's chosen brands on the international market, it is not altogether impossible.
As an astute businessman, Kohli will be aware that, as this decade unravels, his cricketing genius will begin to wane, meaning he must enhance his international appeal in order to perpetuate his massive commercial heft.
Given his propensity for hunting down whatever targets are set for him, it will come as little surprise if by the end of the 2020s — with a lot of planning and a bit of luck — Virat Kohli elevates himself to the status of a global superstar, progressing from the world's most marketable cricketer into the world's most marketable athlete.
The author is a postgraduate student at the University of Sussex, UK, and freelance journalist writing on sport, politics, and culture. He tweets @MarikPriyam. Views are personal.