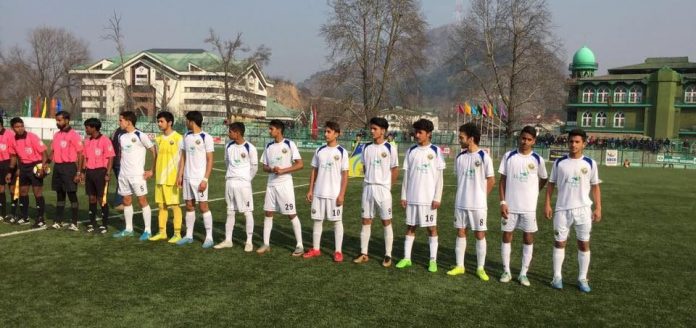 Text Size:
Out of the troubled soul of the Valley, a local Muslim partnered with his Hindu friend to raise Real Kashmir Football Club.
A hotelier and his media entrepreneur friend got together to make a football team, and sell a dream. In no time, the team won and the dream soared. No, this is not a Merseyside or a Catalan football tale, nor is this about an über rich Chinese club.
It is a home-grown tale of a couple of Kashmiris dreaming big. Despite its name and a connection to the other side of Glasgow, Real Kashmir Football Club has made followers of the beautiful game sit up, and dream with them.
On the day when most of the world awaits the inaugural match of the quadrennial fiesta of football, a troubled corner of India revels in its own big story of being a part of this global phenomenon. Real Kashmir F.C., barely two years old, with limited resources but propelled by ambition and dream, are now in the top-tier of Indian football, the I-League.
They won 3-2 against Delhi-based Hindustan F.C. to top the 2nd Division of I-League. A footballing baby, Real Kashmir F.C., will now rub shoulders with the big boys of Indian football. It is not just a celebration of the rough pitches scattered all around India. It is a Kashmiri tale of resilience, enterprise, and a socio-political declaration of intent.
Their dream matches the beauty of football. Out of the troubled soul of the Valley, a local Muslim partnered with his Hindu friend to raise Real Kashmir F.C..
Shamim Meraj, from a media-owning family, and Sandeep Chatto, a hotelier, joined hands to sell a Kashmiri football dream to the Valley. Their football project was getting its final shape in the weeks before Burhan Wani met his end, after which Kashmiri youth recoiled in unprecedented numbers. Despite the hopeless social and political odds, this Kashmiri Hindu-Muslim duo persisted with their dream. Two years down the line, it paid off with a ticket to the biggest stage of Indian football.
The sociology and political circumstances under which Real Kashmir F.C. was born, and grew, reads like a fairy tale. The difficulties encountered cannot be underestimated. Led by a Scottish coach from the blue side of Glasgow, the Kashmiri players are joined by a Nigerian, another from Ivory Coast, a Singh, a Thapa, a Sarma and a Bhutia, among others from the rest of India.
The Kashmiris include graduates for whom football is the only source of income. There is an embroider, who supplements his income through his sporting passion, while another is a night watchman's son. They are all a part of this footballing fairy tale. The harder part is now to sustain it, and spread it beyond the Pir Panjal mountains.
Real Kashmir F.C. provides India, through football, an opportunity to integrate beyond the oft-repeated slogans, on the grass of Bakshi Stadium in Srinagar, its home ground. Kashmiri football fans will get to see the best players from across the country during home matches. Fans in other parts of the country will get to watch Real Kashmir F.C. players when they travel for outstation matches, to Aizawl, Shillong, Imphal, Kolkata, Kozhikode and Chennai. A genuine integration story.
This is where the rest of India comes into play. A football team is not merely a bunch of boys or girls kicking a ball into a net, but it is an enterprise. Salaries are paid, so there has to be revenue to supplement investments made by partners. Grounds have to be maintained, transport expenditure is enormous with a veritable baraat going for each match. All of this costs money, which is where the Indian and Kashmiri corporate sector must pitch in to spread this dream. That is how football has made global powerhouses of European and South American countries, by investing.
It would be naive to believe that the success of Real Kashmir F.C. will tackle the crisis of stone-throwing youth, but it is certainly true that each match played will inspire at least some to give football a try rather than picking up a stone.
On 15 July 2018, the World Cup winning team will get its hand on the most coveted trophy in global sport. By which time, a player would have had a dream run in the month-long fiesta, an underdog team that has weaved another fairy tale. That is what football is about, making people dream, which is what a team from Kashmir has done. Now it is for the rest of India to make the dream enduring.
Manvendra Singh is BJP MLA and president of the Rajasthan Football Association
For ThePrint's smart analysis of how the rest of the media is doing its job, no holds barred, go to PluggedIn