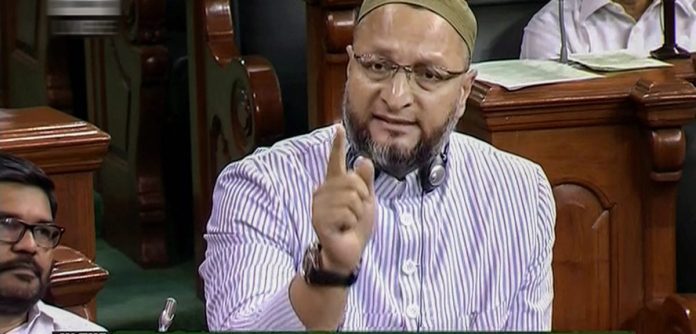 Text Size:
Decision-makers in the BJP may blame the MLAs now – and the MPs in 2019 – but they may just be the fall guys.
BJP president Amit Shah may like to take a lesson or two from Asaduddin Owaisi of the All India Majlis-e-Ittehadul Muslimeen (AIMIM) in how to beat anti-incumbency against legislators.
BJP strategists are at their wits' end as rebel MLAs threaten to blight the party's poll prospects in Madhya Pradesh and Rajasthan. Prime Minister Narendra Modi devised a successful strategy to beat anti-incumbency by denying tickets to unpopular lawmakers in Gujarat. Shah is now replicating it in other states, triggering a rebellion.
On Friday, Rajasthan BJP expelled 11 rebels, including four former ministers. Madhya Pradesh BJP has expelled 53 rebel leaders, including many former ministers and MLAs. The Congress is also fighting a similar battle, but the revolt in the BJP is making headlines as its scale is unprecedented under the Shah regime.
---
Also read: Owaisi says Muslims, Dalits have been squeezed between BJP & Congress and used for votes
---
And that's where the AIMIM, a small party with a lone MP and seven MLAs in Hyderabad, stands out. It has repeated all its legislators in the Telangana assembly elections this year. Most of them have been AIMIM candidates in the past three-four elections.
Some may attribute this to the concentration of Muslims in these constituencies and the AIMIM leaders' hard line and often-polarising stand on issues concerning the community. But, the comparison between the BJP and the AIMIM – bizarre as it may sound – is important to understand how the latter beats anti-incumbency against its MLAs.
Asaduddin Owaisi does it by enforcing accountability on the elected representatives. Go to the AIMIM office at Darussalam in Hyderabad between 10.30 am and 2.30 pm on any day, except Fridays. You will find all seven AIMIM MLAs and corporators seated in chairs in a row, at the service of hundreds of people who come there every day for an on-the-spot redressal of their complaints. These are frantic hours for the MLAs, signing recommendation letters, dialling authorities and noting down the demands for road, water, and whatnot – all under Owaisi's watchful eyes.
On an October afternoon in Tolichowki locality of Hyderabad, burqa-clad women were venting it out on the local AIMIM MLA – Kausar Mohiuddin. They held a microphone one by one, seeking explanations from him on why they were not getting pensions, two-bedroom houses under a government scheme, water, roads, medicines, among other necessities. The MLA gave dates for the resolution of their problems or explained the reasons for pending work. Owaisi intervened every now and then to give the legislator a piece of his mind if he fumbled in his responses.
One can't expect Amit Shah or, for that matter, Shivraj Singh Chouhan or Vasundhara Raje replicating the AIMIM model of fixing accountability on the BJP MPs and MLAs. But denying tickets to truant legislators as a poll-winning strategy is tantamount to manipulation of voters. Sushma Swaraj wasn't seen in her Vidisha Lok Sabha constituency for two years before her announcement last week that she won't contest the next elections. People are expected to put behind the elected representative's apathy and neglect and vote for the new BJP candidate in Vidisha. Trust many of them to do exactly that in 2019.
---
Also read: BJP MPs are complaining about Narendra Modi-Amit Shah style & 2019 is around the corner
---
Mass leaders – be it Modi at the national level or Chouhan, Raje or Raman Singh in their states – and robust organisations such as the BJP under Shah are sine qua non for a party's electoral success. But the same factors tend to undermine the effectiveness of legislators whose "Modiji jita denge" belief or their inability to deliver in a centralised power structure severs their links with the people. They also tend to compromise on the interests of the people, who vote for the personality cult of a Modi or a 'Mama' or a 'Maharani' but end up venting their frustration out on the local MPs and MLAs who are either callous, incompetent or have little say in the governments run by charismatic leaders.
The BJP has kept its MPs on their toes in the last four-and-a-half-years. They had to go to their constituencies regularly but that was to either talk about Modi government's programmes and achievements or to counter the opposition's narrative. These MPs – or, for that matter, MLAs – were nowhere to be seen when a voter had a complaint against, say, her ration shop dealer or a thaanedar or a local revenue official.
Parties with mass leaders have a tendency to overlook this trust deficit between the people and their elected representatives. Rajasthan chief minister Vasundhara Raje sought to address it by visiting divisional headquarters, accompanied by officials, to bring the government at people's doorsteps. She received several thousand complaints; most of those files are gathering dust now. It was one of her major missteps that contributed to the current backlash against her. There were no MLAs to serve as buffers because they never had a say in the administration.
---
Also read: What Modi can teach maharani, mamaji and chawal wale baba this election season
---
Telangana chief minister K. Chandrasekhar Rao, credited for statehood to Telangana and a number of popular government sops, was so confident about his popularity that he went for early elections. Now, KCR is suddenly jittery as reports suggest a strong anti-incumbency against his MLAs. Again, he has himself to blame because his MLAs and even ministers, like their Rajasthan counterparts, had no say in governance.
Decision-makers in the BJP and KCR's Telangana Rashtra Samithi (TRS) may blame the MLAs now – and the MPs in 2019 – but they may just be the fall guys.
Separate fact from fiction, the real from the fake going viral on social media, on HoaXposed .