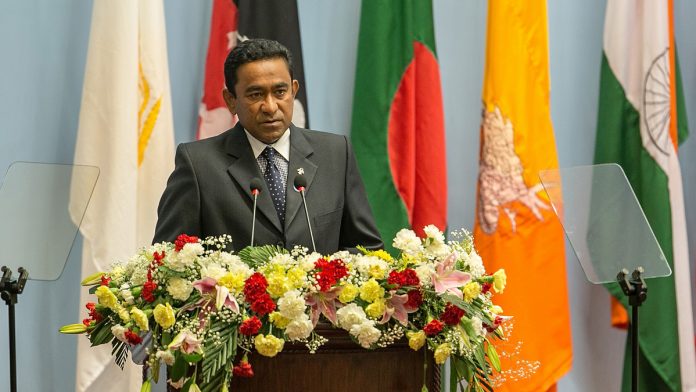 Text Size:
Should Abdulla Yameen create chaos, New Delhi must be ready to intervene and uphold democratic verdict.
It looks like a fairytale ending. The people of the Maldives came together in large numbers and threw the tyrant out.
Let's make no bones about it: Abdulla Yameen, the man who was ousted this weekend and the Maldives' incumbent president, is every bit of the bad guy of the story. He came to power under shady circumstances, indulged in an 'orgy of corruption', not least by selling out his country's islands; was involved in refuelling North Korean ships in violation of United Nations sanctions; encouraged misogyny, and otherwise presided over a repressive regime that jailed or exiled every significant independent voice.
China's growing influence, especially Xi Jinping's Belt and Road Initiative, came in handy. Not only did he benefit from huge inflows of Chinese money (that trapped the Maldives in debt), but also used the relationship to quite brazenly thumb his nose at India and the United States. Transferring airport contracts from an Indian company to a Chinese one is one thing, leasing islands to Beijing for 'tourism' and maritime surveillance is quite another. We know from the story of China's first aircraft carrier and its activities in the South China Sea that it doesn't take too long for innocent purposes to turn into quite un-innocent military platforms.
---
Also read: Tiny Maldives boots out pro-China president in election surprise
---
Yameen calculated that his ability to manipulate Maldivian politics would enable him to stay in power with China providing him protection from external powers. Well, he got it wrong.
Unlike fairytales though, there are no 'endings' in real life. The fact that the tyrant has been dethroned does not mean that the people will 'live happily ever after'. The evil that Yameen has done will live long after him. The challenge for the new government of the Maldives, as for India, the United States and the European Union is to manage the consequences of the Yameen regime's doings in such a way that the promise of this election is fulfilled.
Although Yameen has conceded the election, he has until the middle of November to transfer power to Ibrahim Mohammed Solih, his soft-spoken successor. There's a lot that can happen in the next 50 days: Some money will certainly be wired abroad, documents might be destroyed and worse, some individuals' lives might be at risk, as the Yameen regime tries to cover its tracks.
There is also a small but non-zero risk that Yameen will instigate civil unrest or a coup with his loyalists in the security forces. Should this happen and the president-elect and other leaders call for international help, New Delhi must be prepared to intervene forcefully to ensure that the democratic verdict is upheld. Now that the Maldivians have indicated where they stand and there are legitimate leaders who can appeal for assistance, New Delhi should not shy from using force, if necessary. Yameen knows this and is unlikely to try such tricks, but it also depends on his estimation of his own prospects under the new government.
That brings us to the other reason why real life differs from fairytales. If even a tenth of the allegations against Abdulla Yameen is true, the man deserves to go to prison. Whether or not he will get what he deserves will be intermediated by pragmatic politics: The new government might have to cut him some slack in order to forestall more political instability. I would put the chances of him getting a safe exit as rather high, unless New Delhi pushes for his punishment. And the Indian government will push only to the extent that it wishes to antagonise Beijing. Following the Wuhan summit though, the Modi government is likely to be reluctant to do that and instead be content with the success that has, to all appearances, landed on its lap.
---
Also read: India's loss in the Maldives is China's gain, and it is showing
---
While the Solih government will eschew the provocative anti-India positions Yameen took, it is by no means certain that it will become 'pro-India'. For one, it has the obligation to sort out the tangled web of contracts that were signed under the previous regime. The big ones with Beijing airports, ports, infrastructure and housing projects are visible. And the smaller ones with scores of foreign companies, some of which have a Chinese connection or patronage, are less so. It is unclear if the Maldivian government has the sheer capacity required to renegotiate them all. What Malaysia, Sri Lanka and Pakistan can attempt, the Maldives cannot. Without resolute backing from New Delhi, Washington and European capitals, Mohammed Nasheed's campaign talk of renegotiating deals with China may remain just that.
The developments in the Maldives are not unlike what happened in Sri Lanka in January 2015, when a united opposition under Maithripala Sirisena unseated Mahinda Rajapaksa. At that time I wrote, "One should not take election rhetoric too seriously, and as we well know, political parties say one thing in the opposition and do the other thing while in power. While it served Mr Sirisena well to paint Mr Rajapaksa as a sell-out to China during the campaign, it is entirely a different matter for him to renege on deals made by his predecessor. The geopolitical underpinnings of Sri Lanka's relations with China do not drastically change merely because one president is replaced by another."
I'm not sure they change for the Maldives either. For now, let's cheer the Maldivians for their wisdom, courage and example.
The author is the director of the Takshashila Institution, an independent centre for research and education in public policy.
Get the PrintEssential to make sense of the day's key developments