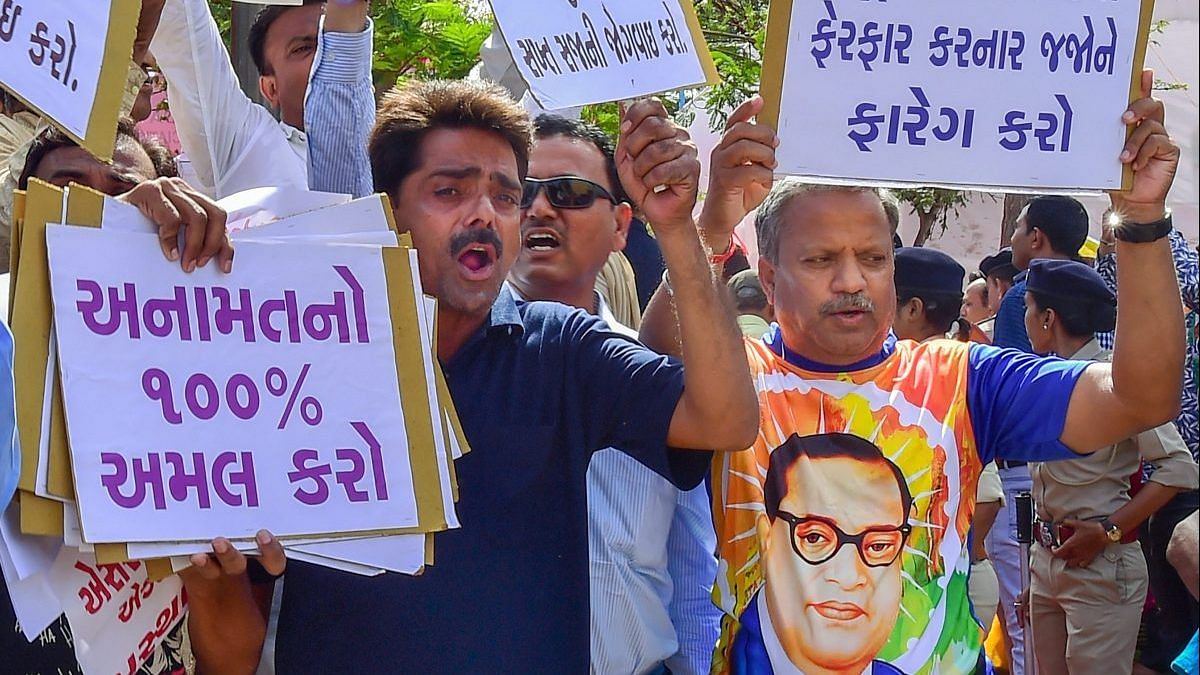 You dumbass 'ch***r', if you don't stop your activities among 'ch***r', we will kill you."
These were the unforgettable words I heard over our newly installed family landline phone back in the late 1990s. My father was being threatened for starting the move to celebrate Ravidas Jayanti in the Punjab village and for opposing 'upper castes' grabbing land allotted to Dalits.
Three decades later, such poisoned barbs continue to be hurled at me. In the 10 years of running the anti-caste platform Ambedkar's Caravan, I have witnessed such attacks on a daily basis. I have been called ch***r, gutter-cleaner, jehadi mulla, Pakistani, and Christian commie.
This is somewhat ironical because the internet and social media have been widely welcomed by Dalits who saw these as democratising platforms, offering the opportunity to connect with and mobilise like-minded people and fight caste discrimination. From MySpace to Orkut and Facebook to Twitter, Dalit-led anti-caste movements have been present on all social platforms. And I have been associated with all of them. During this period, many authors have written extensively on the 'Digital Dalits' and the 'Dalit Twitter' phenomenon, but there seems to be a vacuum when it comes to writing about the price Dalits have to pay for being vocal on social media and how abuses and taunts take a toll on them.
Sure, other activists or influencers also face various forms of discrimination, pressure, and stress. But for Dalit activists, there is an additional layer – that of being in the lowest position in the caste hierarchy for about 2,500 years.
---
Also read: Every second ST, every third Dalit & Muslim in India poor, not just financially: UN report
---
Everybody loves a helpless Dalit
The first one to be blamed for any crime and the last one to be trusted – this is the norm for Dalits in India, and the media plays an important role in shaping this image. By showing only poverty and atrocities, mainstream media loves the weak and meek Dalit, and shies away from the assertive and articulate voices. This is why social media was the sought-after escape for Dalits, offering them a level-playing field. But the oppression and abuse followed us here as well. From posts being removed to calls for de-platforming and bans, Dalits face such challenges every day.
According to a recent report from the US-based Equality Labs, which analysed more than 1,000 hate speech posts, 13 per cent posts on Facebook were casteist and 37 per cent were Islamophobic. Nine per cent of these hate speech posts remained on the platform even after being reported for violating 'community standards'.
"Indian casteist hate speech is part of an ecosystem of violence designed to shame, intimidate, and keep caste-oppressed communities from asserting their rights and participating as equals in society," notes the report.
---
Also read: 'You don't look Dalit' and other things 'upper castes' must stop saying to Dalits immediately
---
Social media isn't social at all
I get a lot of abusive comments on a daily basis. I received several abusive comments for my recent article in ThePrint, which, ironically, was about things the 'upper castes' should not say to Dalits.
"You look like a Dalit and you will," was one such response.
Even though the Supreme Court has made it illegal to call someone 'ch***r', it is widely used in the real and digital world to abuse Dalits.
"Ch***r always remains ch***r, even after converting to Buddhism."
In fact, a 2010 TV show on Sony, Mahi Way, which was produced by Yash Raj Films Television and is available for streaming on Netflix, had one of its characters use the word as abuse for a 'bartender escort'. Neither the show nor the producers faced any repercussion or backlash.
When I travel by air for work, people express their surprise.
"I wonder how those who beg for freebies can fly in planes".
Then there are posts like these:
Why don't u quit twitter and start clearing sewers

— Rakesh (@Rakesh75822583) June 24, 2019
You rightfully belong to the gutter and would be better off cleaning the gutters than being on twitter

— Rakesh (@Rakesh75822583) July 2, 2019
Come on ambedkar… Clean toilet and gutter… Dont spread collected poop on twitter☺️😊

— Kattappaa (@hindu_kattappa) April 9, 2019
@AmbedkarCaravan bhai Gutter saaf karwani hai.. kitna lega?

— You (@indolent_dv) February 1, 2018
Even public figures with a 'blue tick' handle on Twitter make repeated attempts to have my account blocked or suspended. Bollywood actress Koena Mitra has posted that she "must have reported this account (@AmbedkarCaravan) 10 times in last 2 years", tagging @TwitterIndia.
Madhu Kishwar, a journalist and academic who has been accused of circulating fake news, too targetted my account. "Because @AmbedkarCaravan is not about Ambedkar. Those behind it have agendas to destroy Ambedkar legacy".
These efforts have led their followers to act accordingly and file FIRs, or raise demands like 'put in jail', 'must be nailed and hanged'.
And such efforts never stop.
Request everyone to mass report @AmbedkarCaravan . The blue tick handle is playing caste politics over caste of martyrs.

— औरंगज़ेब🇮🇳 (@__phoenix_fire_) September 20, 2016
Once, the Mumbai Police responded to a photo I had posted to say: "Posting or sharing such type of content is an offence. Please do not share such photos online."
The picture I had uploaded was of a protest in Gujarat by Dalits over assault on community members for skinning dead cows. The Mumbai Police not only responded with a warning but later blocked me.
Last year, after English news channel Times Now's show blamed me for the 'Bharat Bandh' violence, there was a significant rise in abusive comments. The show claimed that two of my tweets on the call for Bharat Bandh had led to the violence, which is rubbish. By revealing my identity without showing my side of the story, the channel also violated my privacy. Upon learning that I live abroad, people on Twitter began tagging the police and ministers in the European country where I currently live.
---
Also read: Forget about Dalit voters. Tell us why upper caste Hindus voted for BJP like never before 
---
Secret lives of Dalits on social media
All this is done to harass Dalits to such a level and create so much fear that they quit posting their views on caste discrimination and on atrocities they face on a daily basis. It is also agonising for the family members of the activists.
Many Dalits have left social media forever because of this onslaught. I too have gone offline from time to time to keep myself sane and calm. First you are made to feel worthless; then as a Dalit activist, you are not allowed to speak on caste issues; and then made to accept that someone who has no experience of caste discrimination will frame policies for your development.
This is not only annoying but downright depressing too.
Many Dalits on social media use aliases and cannot afford to reveal their names because of the threat and abuse that would follow, and the glaring possibility of harm in real life. They have mostly picked assertive names for their handles, which represent Ambedkar and other prominent Dalit-Bahujan leaders.
The trauma and anguish that follow after watching videos of Dalits being beaten and killed that routinely go viral on social media have made us numb. On top of that, the abuse that comes with the territory now.
---
Also read: Inter-caste marriage isn't the problem, marrying a Dalit man is
---
Mental health detox
To help Dalit-Bahujans handle such repeated forms of harassment and casteist abuses in all spheres of lives, a few Dalit-Bahujans have come together to start a mental health support group called Blue Dawn.
I am convinced (just as Ambedkar and Malcolm X were about the Blacks' situation in the US) that as long as Dalits stay in their ghettoes and accept their lowly position in society, everything would be fine. Any attempt to go beyond the social position as perceived by the 'upper castes' to find a voice would be crushed.
"It is your claim to equality which hurts them. They want to maintain the status quo… The moment you start to raise your level, the conflict starts." – Ambedkar had once said.
Among his many sayings and remarks about Hindu society, one was especially defining. He had said that Hindus are 'sick men of India, and that their sickness is causing danger to the health and happiness of other Indians.'
There seems to be no escape from caste discrimination. There is little or no hope that using social media can bridge the gaps between different caste communities in India. In fact, the divide is increasing with misinformation, lies, and manipulation. Social media is perpetuating a society of intolerance and casteist bigotry.
The author is the founder-editor of Velivada, a web publication, and runs the online web portal Ambedkar Caravan. Views are personal.