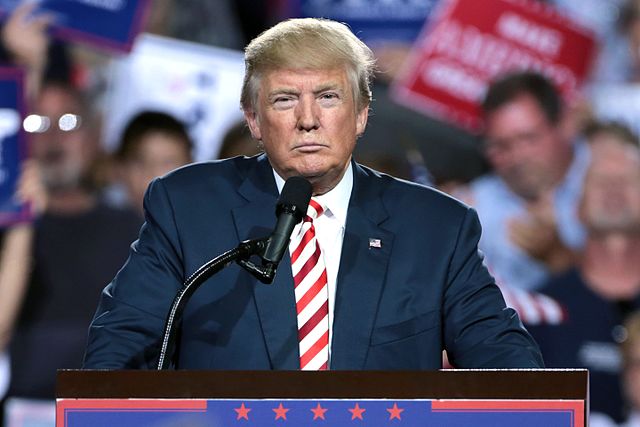 Text Size:
India must preserve its burgeoning ties with Washington without alienating its other international partners.
Despite the convulsions that have marked US foreign policy during Donald Trump's presidency, US-India relations appear to have survived relatively unscathed thus far.
However, a spectre haunts the bilateral relationship – namely, the threat of US sanctions on India if its purchase of Russia's S-400 strategic surface-to-air missile (SAM) system is successfully concluded.
The challenge for New Delhi is not simply to ward off US penalties but to preserve its burgeoning ties to Washington without alienating its other international partners. This is being put to a new and difficult test by the US Congress's enactment of the Countering America's Adversaries Through Sanctions Act (CAATSA), which, despite having misgivings, Trump signed into law in August 2017.
Possibility of sanctions
The CAATSA legislation codifies the sanctions that former president Barack Obama imposed on Russia in 2014 for its annexation of the Crimean peninsula, and requires the executive branch to impose a number of further punitive measures.
Section 231 requires that the president impose sanctions on any entity that "engages in a significant transaction with… the defence or intelligence sectors of the Government of the Russian Federation".
---
Also read: US taxpayers, not Donald Trump Jr, paid Rs 20 lakh for his business trip to India
---
And Section 235 describes the sanctions that may be imposed, which include, but are not limited to, prohibiting "any transactions in foreign exchange that are subject to the jurisdiction of the United States and in which the sanctioned person has any interest" and forbidding "any transfers of credit or payments between financial institutions or by, through, or to any financial institution, to the extent that such transfers or payments are subject to the jurisdiction of the United States and involve any interest of the sanctioned person".
These two sections of the law now endanger India's long-standing defence relationship with Russia for many defence goods, including its latest effort to procure the S-400 SAM. On the surface, there is no easy way out of this conundrum. India aims to negotiate the purchase of at least five complete Russian S-400 systems with a price tag of close to $6 billion – almost the textbook definition of "a significant transaction" envisaged in CAATSA.
A window of waiver
Secretary of Defence James Mattis took the lead in urging Congress to exempt a small set of US partners –in particular, India, Indonesia, and Vietnam – from the sanctions obligations associated with CAATSA.
Congress responded in Section 1294 of the John S. McCain National Defense Authorization Act for Fiscal Year 2019 (NDAA) by permitting the president to exercise the waiver authority established in CAATSA if he can certify that the waiver is fundamentally in US national security interests, that the countries offered relief are taking demonstrable steps to reduce their defence dependence on Russia, and that they are cooperating with the United States in advancing critical strategic interests.
But there is not yet any evidence that Trump will do so.
US' opposition to S-400 systems
Trump is opposed to the proliferation of S-400 systems globally. The S-400 represents a conspicuous danger to US military operations at a time when US forces are threatened by formidable anti-access and area-denial "bubbles" around the world – a peril that the Trump administration resolutely seeks to defeat in the manner laid out in its National Defence Strategy. In addition, Trump cannot understand why America's friends would want to buy weapons from any other country.
---
Also read: Donald Trump thought Narendra Modi is single and wanted to 'set him up'
---
That there are divisions within the US government does not increase India's chances of escaping this unpleasant dénouement. Of the constituencies involved in decision-making on this matter, only the Department of Defence has argued on the record for a waiver relating to India's impending purchase of the S-400.
India's three options
There are three possibilities that notionally offer a way out:
Option 1: Scuttle the S-400 purchase in favour of other alternatives
New Delhi's ability to acquire stealth strike fighters from the United States – the only country that currently produces advanced fifth-generation fighters such as the F-35 – would be undermined by its possession of the S-400 because Washington understandably fears that the F-35's stealth characteristics, information management systems, and electronic warfare capabilities might be compromised by any synergistic operations that would inevitably occur if India had already integrated the S-400 into its air defence network.
Washington would prefer that no foreign country have access to such vulnerability data to begin with.
And this comes at a time when India is exploring the acquisition of a US fifth-generation fighter capable of "kick-down-the-door" penetrations of enemy airspace on day one of a war – a requirement of some urgency given that China is already developing similar aircraft and Indian cooperation with Russia has failed to produce an acceptable competitor.
The Trump administration's solution to the S-400 complication has, therefore, centred on urging India to jettison the deal with Russia and buy a US system instead.
Option 2: Defer payment for the S-400 until circumstances change 
What about a less appealing but possibly more productive alternative, such as simply slow rolling the conclusion of the S-400 deal with Russia until conditions change for the better? Because the penalties imposed by CAATSA kick in primarily when a significant financial transaction is complete, India could seek to defer any monetary obligations until its dialogue with the US administration on securing a CAATSA waiver finally bears fruit.
It is also unclear whether there is sufficient money in the IAF budget to pay for the S-400 in part or in whole during the current fiscal year.
Option 3: Make a deal with Trump
Unfortunately, there are still enough significant irritants present in the US-India relationship – in many cases on the issues that matter most to Trump – that a costless waiver for India will prove hard to obtain. India's bilateral trade policy disputes and its overall trade restrictiveness, its discomforting interactions with Iran and North Korea, its unhelpful interventions in the ongoing dispute between the United Kingdom and Mauritius over the Diego Garcia island, and other obstacles produced by its bureaucratic intransigence have only magnified the challenge.
The final approach worth contemplating, therefore, is offering Trump a deal. It would probably require India to move forward on one of the several major defence acquisition programmes it has discussed with the United States over the years, thus enabling New Delhi to secure the capabilities it has always wanted while giving Trump an incentive to speedily issue the waiver that India needs. Both sides could thus come out ahead.
For such a workaround to attract Trump's attention, however, India's proposal must be lucrative enough to the United States and remarkable in its potential geostrategic impact. And the details should emerge close to fully formed from a quiet dialogue between Indian and US policymakers at the highest levels. Quickly resolving some of the more pressing trade disputes would only help this process further.
There are many reasons why India ordinarily would be resistant to such an approach, not least of which is its aversion to anything that smacks of bargaining or transactionalism.
But India does both extraordinarily well when it needs to.
This article is an edited extract of the article titled "How Can U.S.-India Relations Survive the S-400 Deal?" that appeared in the Carnegie Endowment for International Peace website.
It has been republished here with permission. You can read the full article here.
Get the PrintEssential to make sense of the day's key developments