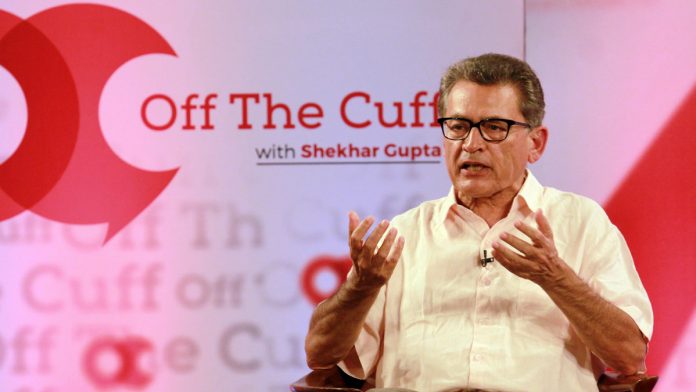 Text Size:
Mumbai: Former McKinsey managing director Rajat Gupta who spent two years in prison on charges of insider trading Thursday said the purpose behind writing his memoir, Mind Without Fear, is not to seek redemption or show how he was not guilty, but simply to tell his side of the story.
Gupta was in conversation with ThePrint's Editor-in-chief Shekhar Gupta and national and strategic affairs editor Jyoti Malhotra at ThePrint's Off The Cuff event in Mumbai.
Gupta, who climbed to the pinnacle of the US corporate ladder to become the first non-American to head McKinsey, was convicted of a securities fraud in 2012 as part of an insider trading ring by Raj Rajaratnam, a hedge fund manager.
"I can start by saying why I didn't write this book. I didn't write this book to re-litigate my case or show how I am not guilty or seek redemption. That is really not the purpose," said Gupta, who helmed the management consultancy firm for nine years from 1994 to 2003.
The former McKinsey executive said there is "no grand strategy" behind this book, which simply seeks to tell his side of the story as he did not testify at his trial, and that people can draw whatever conclusion they like.
"Two-thirds of the book is about my life and my own life philosophy. The last time I had an adverse situation was when I lost my parents. After that, for 40 years I lived a charmed life," he said.
"But, there are a lot of wonderful lessons in that and I wanted to communicate that to the people."
---
Also read: Rajat Gupta: Even before my trial, Preet Bharara ensured people thought I was a criminal
---
'Succumbed to fear, so didn't testify'
Gupta said he always wanted to testify at his own trial, saying he is the only one who knew the whole story.
"My lawyers continuously advised me not to testify. They said this is not a good strategy. I was in the consulting business. I gave advice to my clients and I expected them to listen to me. I don't know anything about the legal system so I said okay, there may be something," said Gupta, who served on the boards of companies such as Goldman Sachs and Proctor & Gamble.
"But I felt inside that I should testify and I kept saying that."
He said after the prosecution wrapped up its case in the first three weeks of the trial, Gupta's lawyers informed the judge that he will testify in the coming week. But, by then, he added, he was beaten down by the whole process, with "lie after lie" by the prosecution and "rehearsed witnesses" such as the then Goldman Sachs CEO.
"That weekend when I went to prepare, the lawyers were still advising me not to testify. I succumbed to fear and that is why the book is titled Mind Without Fear," said Gupta, who was also kept in solitary confinement on two occasions.
"I led most of my life without fear, took risks, but that moment it failed me. That's why I didn't testify."
'McKinsey's reaction unwarranted'
Gupta, who worked with McKinsey for 37 years, said the company's reaction after what happened to him was "unwarranted" and "went against the core McKinsey principles".
He said he called the then McKinsey managing director two days before he was charged because he had seen it coming, and resigned as a consultant to the firm.
"These charges had absolutely nothing to do with McKinsey and yet they did a couple of things. One was that they proactively went around telling many clients who were good friends of mine saying 'Rajat has nothing to do with us'. And they had no need to do that. I had retired already. I took a little bit of offence at that," Gupta said, adding that more importantly, they struck his name off the company's directory.
"I was struck out. I am always going to be an alumni of McKinsey. They can't wipe it out. Then they took away my office and my secretary, which is a tradition that former MDs get an office and a secretary. They went fundamentally against the core McKinsey values," he added.
Gupta said he first got a call from McKinsey saying the board would like to hear his side of the story before deciding how to react, but never heard back from them on it.
He also expressed a grouse that McKinsey reacted even before he was convicted and at a time when the former MD was simply charged.
"People like Bill Gates said you have to stay on the board because I believe in the principle that you are innocent till proven guilty. I was just merely charged at that time not proven guilty," Gupta said.

Get the PrintEssential to make sense of the day's key developments