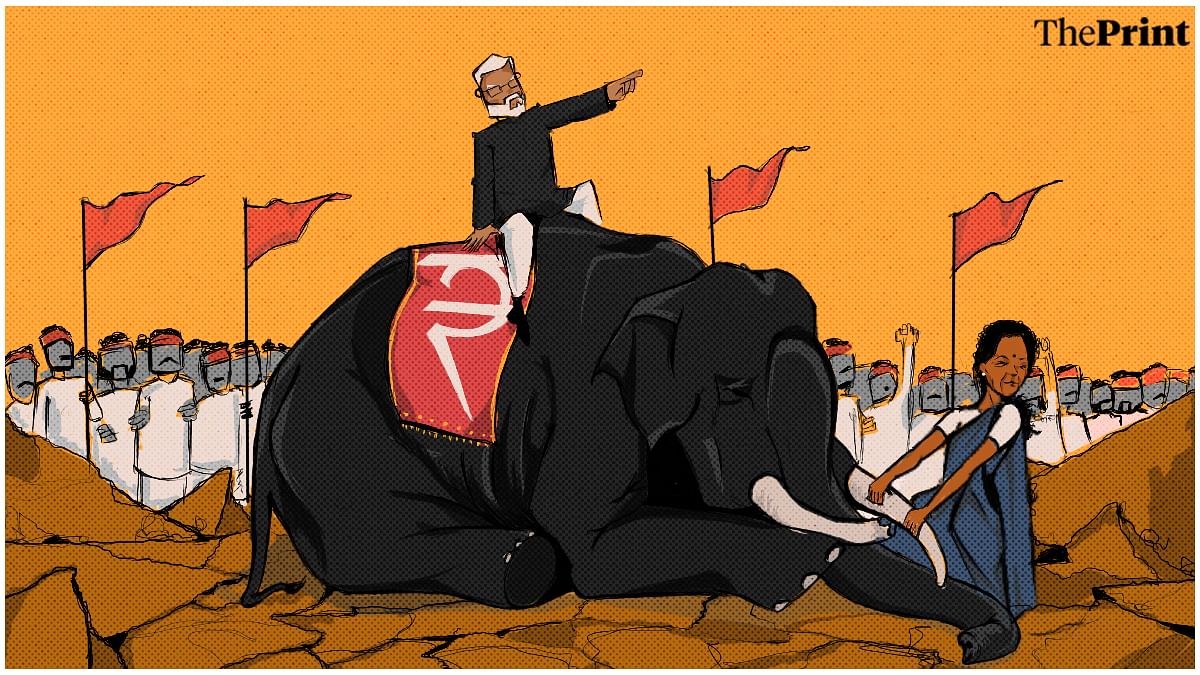 The many years I spent covering and travelling to countries where people weren't quite as free to speak against their rulers as in a reasonable democracy taught me an important lesson: One thing that blooms in tough times is a sense of humour and irony. If anything, hesitations and fear get the creative juices flowing. Some of the best cracks at the Soviet regime were heard on the streets and in the shops of Moscow, but in whispers.
Yesterday's whispers are today's WhatsApp forwards. Since no one quite knows who first invented the joke, there is safety in anonymity to begin with, and in numbers later. The flavour of this season is the state of the economy, never mind the latest desperate steroid shot of Rs 1.45 lakh crore worth tax-breaks, even as Nirmala Sitharaman's budget unravels press conference-by-press conference.
Among the many memes and cracks on the Modi government's shambolic economics that landed in my inbox — and probably yours too — was about a maharaja and the elephant he loved. Unfortunately, it fell mortally sick. The heart-broken maharaja said he'd behead anyone who first reported to him that the elephant had died.
The inevitable happened. But no one would dare to tell the maharaja. Finally, the mahout gathered courage and, trembling, informed the boss his elephant wasn't eating, getting up, breathing or responding.
"You mean my elephant is dead?" the maharaja asked.
"That, only you can say, maharaj," said the petrified mahout.
Now our economy, we are told here, is the 'elephant' of this story. So many ministers of this government are announcing that the 'elephant' is probably dead in their own different ways. But nobody is willing to announce clearly that it is dead.
Now, to borrow from Mark Twain, reports of the Indian economy's death are greatly exaggerated. But it is deeply and perilously sick.
The markets, untameable, unlike many other institutions, are voting with their feet. In that sense, the market is the mahout of this story. Nearly Rs 11 lakh crore of investor wealth has been lost since June, also wiping out most of the new capital the government gave its PSU banks in the first round. The only good news is inflation, but it is now so low, it conforms to the dictionary definition of that mostly malapropistically-used expression in Indian English: Doldrums.
The government's responses fall in three categories: The first, that this is all rumour-mongering and disinformation by Modi-haters.
The second is yet another press conference by the Finance Minister, where she makes a couple of more announcements. The latest was more substantive, a mega, one-off tax-slash without a game plan. A great headline for the Houston weekend, and a couple of days' celebrations at the markets. But, unless the government is bold enough to cut its own expenses to pay for this bonanza, it will either be funded by printing more currency, or indirectly taxing the poor. Good money will go down the tube and the crisis will worsen.
The third, and the most important, is that these are early days in this term. Modi is first fixing some of the biggest challenges of the past 70 years. First step towards a Uniform Civil Code with the criminalisation of triple talaq, Article 370, and soon enough, may be as early as November, the building of the Ram Temple will also begin.
Then, the argument goes, the toughest but most essential things done, Modi will take charge of the economy directly. And you know when he does that, no miracle, or even that $5 trillion by 2024, is unachievable. I can only sincerely hope, and pray, that these voices are proven right.
Another view is that probably things will not improve dramatically on the economy anytime soon. But, as we said in National Interest in May 2018, since Modi's mass popularity isn't just unassailable in the old, American Teflon-coated sense, but in a sui generis cast-in-titanium one, he will ride it out. His voters will sacrifice for him.
This was articulated most brilliantly by Haryana Chief Minister Manohar Lal Khattar at ThePrint's 'Off The Cuff' conversation with me and my colleague Chitleen Sethi in Chandigarh earlier this month. He said when there is a nationalist upsurge, people readily accept economic sacrifices.
When nationalism is so strong, he elaborated, even a setback becomes a unifying factor. Example: How the entire country, awake to watch the Chandrayaan-Vikram landing until 2 am, rallied together even in the heartbreak of its loss.
What this means is that periodic bursts of other such events and headlines can keep people, and Modi's popularity, on a high, even if the economy struggles. Watch the mood, for example, on the 'Howdy, Modi!' night in Houston.
---
Also read: The economy is India's most potent weapon, but it's losing its power
---
The rise, rise and rise of Narendra Modi has shattered conventional political analysis. India has forgiven him for the unmitigated folly of demonetisation. The jobs situation has been bad, but it hasn't hurt him electorally. Travelling during the elections, it was striking how many ordinary, poor people said they were hurting, but what was a little personal sacrifice "desh ke liye (for the nation)?"
It isn't impossible that they will continue to shower him with the same affection. The headline management, spectacle and smart new schemes (I say so without any sarcasm), like Nal Se Jal (water on tap) and Ayushman Bharat, in addition to the already existing, successful ones such as LPG, toilets, rural housing and Mudra loans, will all help. But there is a catch.
In his first term, he was able to fund these, despite indifferent growth, essentially through the additional excise duty (around Rs 11 trillion) in 4.5 years. To create additional money now without growth will be impossible. And, if crude prices rise — unlikely but not impossible — it will destroy this political economy.
Right-wing 'socialism' or socio-populism rules the world now. So, you could keep taxing, spending, distributing efficiently and winning. If growth, however, collapses or even stagnates at the 1980s level, as T.N. Ninan had warned on this page earlier this month, there won't be that much to tax. This budget raised capital gains tax and introduced a tax on share buybacks by listed companies, which was partially rolled back Friday.
The last time we had a leader enjoy such popularity was Indira Gandhi. In early 1972, after Bangladesh's liberation, she was at her peak. She could do nothing wrong. She launched herself on a series of economic blunders in her hard, destructive Left turn. It was, actually, quite popular among the poor then, as appearing to hurt the rich usually is.
This logic has also inspired Nirmala Sitharaman's budget, with the effective tax going up to 42.7 per cent. Everyone knows it will bring little extra revenue. Tax collections, if anything, are falling. But the rich are angry and complaining. So, the poor must be happy. What worked for Indira in 1969-73 must also work for us now.
Except, the same Indira, who could do no wrong in 1969-73, was doing nothing right by mid-1974. Her nationalisations and nationalism had combined to ruin the economy. She made a terrible blunder in nationalising the grain trade, egged on by her Soviet-inspired advisers, and it wrecked the rural economy so badly, it became the first time she blinked, and rolled back a socialist disaster. Compare that a little with Modi government's panicky Rs 1.45 lakh crore corporate tax write-off. This is a loss of nerve.
Mrs Gandhi's decline was spectacular. The Arab-Israel Yom Kippur war, followed by the operationalisation of OPEC and the oil price shock came at the wrong time for her, as Black Swan events usually do. By mid-1974, hers was a lost cause. Pokhran-1, the annexation of Sikkim, nothing could rekindle the fire of mass-sacrificing nationalism. Not with rising unemployment and inflation rate exceeding the 30 (yes, 30) per cent mark.
Maybe Modi is indeed a once-in-a-millennium, cast-in-titanium phenomenon and he will defy this history. Or, maybe, as his most committed loyalists say, he will take charge of the economy and work a miracle. We can only hope the second proposition becomes a reality.
---
Also read: To avoid sinking to 1980s levels, Modi must take direct charge of economic policy
---