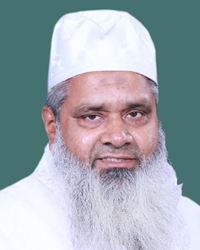 Maulana Badruddin Ajmal

Age: 68 Education: MA (Islamic Theology and Arabic)

02

Number of Terms
59%

80%

Attendance/ National Average

65

65.3

Debate Participated/ National Average

00

2.2

Private member Bills Introduced/ National Average

397

285

Question Asked/ National Average
Source: PRS Legislative Research. Data for full-term ministers not recorded.
Subject-wise LS Questions by the MP
Finance
Agriculture
Defence
Railways
Education
Health
Employment
Environment
Energy
Social Justice
Welfare
Miscellaneous
Explanation of graph
Classification of questions only a broad indication.
"Miscellaneous" signals that fewer MPs raised these topics in general
MPLADS Expenditure
Explanation of graph
Source: mplads.gov.in. All figures as of 25 Jan 2019
State Avg is average expenditure of all state constituencies
Entitlement > 25 crores (carry over from previous LS term)
Entitlement < 25 crores (by-election/seat vacant)
Entitlement = 0 (no data available)
Constituency Indicators
Explanation of graph
Source: NHFS-4 at district-level (except where otherwise noted)
District data approximated for each constituency based on multiple factors.
Literacy rate percentages from Census 2011.
Underweight children data (constituency level) from tool developed by Harvard, IEG, Tata Trusts, NITI Aayog experts
0 implies no data available
Check out My543, our comprehensive report card of all Lok Sabha MPs.