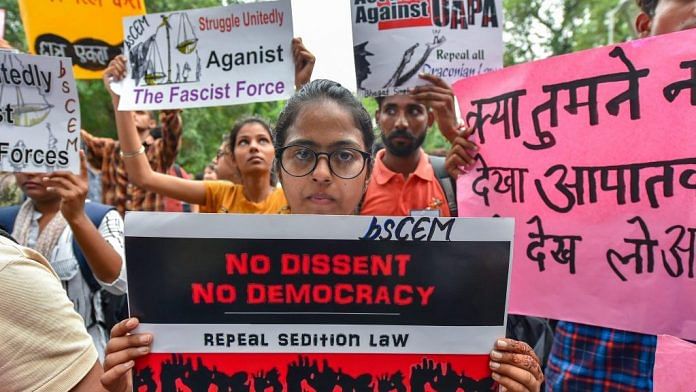 New Delhi: Attorney General of India K.K. Venugopal Thursday advised the Supreme Court not to review its 1962 judgment in the Kedar Nath case that upheld the constitutional validity of Section 124A of the Indian Penal Code (IPC), which lays down the punishment for sedition.
But Venugopal conceded that guidelines were required from the top court to stop the misuse of the law. As an example of such misuse, he cited the arrest of MP Navneet Kaur Rana and her MLA husband, Ravi Rana, last month — after they announced, and then cancelled, plans to chant the Hanuman Chalisa outside Maharashtra CM Uddhav Thackeray's residence. 
"Misuse has to be controlled. This court should lay down guidelines. My lords have seen what is happening in this country. Recently, someone was arrested because they wanted to recite Hanuman Chalisa. They have been released on bail, though. But these are the instances which your lordships must consider and lay down guidelines to be applied in cases of Section 124A," Venugopal said.
He added that the court must specify what is permissible under "freedom of speech", and what is not permissible and can be covered under sedition.
Venugopal made his submissions before a three-judge bench led by Chief Justice of India (CJI) N.V. Ramana and comprising justices Surya Kant and Hima Kohli, which is seized of a batch of petitions questioning the validity of Section 124A of the IPC. Venugopal is appearing in the case in his personal capacity, and does not represent the Centre.
Although the petitioners have in their pleadings asked for matter to be referred to a larger bench — since the Kedar Nath judgment was delivered by a five-judge bench — their counsel Thursday argued there was no such requirement and that a three-judge bench was competent to hear the issue.
However, Solicitor General Tushar Mehta, who is representing the Union of India, sought more time to file an official response to the petitions. Mehta said he was awaiting a response from the competent authorities.
The bench agreed to accommodate Mehta, but chose not to give him much time. "Notices were issued almost 10 months back; in some matters, notices were issued much earlier," CJI Ramana said, expressing displeasure at the Centre's stand during the hearing.
The bench then allowed Mehta to file his response by Monday, and fixed a date of 10 May to hear the petitioners. It clarified that the petitioners would first have to satisfy the bench with their argument that the petitions "need not be" referred to a seven-judge bench, and how the present composition of three judges is competent to hear them on the issue of Section 124A's constitutional validity.
The court asked both the petitioners and Centre to file their written submissions on this limited issue by Saturday morning.
---
Also Read: Sharad Pawar calls for repeal of sedition law, says it's misused against critics of govt
---
Kedar Nath was 'authoritative', overruled 'dangerous' Privy Council judgment
Venugopal made his preliminary submissions at the court's instance. The 1962 Kedar Nath judgment (Kedar Nath Singh vs State of Bihar), he said, was an authoritative pronouncement that traces the entire history of the law on sedition. It had overruled a judgment of the British Privy Council that stated that any speech against a government, irrespective of its violence, would attract Section 124A.
"This was extremely dangerous because you could not even criticise a government. But Kedar Nath did not accept this view and opted for a Federal Court judgment that had a binding effect on all courts as per Article 374 (2), which says that Federal Court judgments will be treated as Supreme Court of India judgments," Venugopal contended, referring to the Federal Court of India that preceded the Supreme Court. 
In the Federal Court judgment , delivered prior to the Privy Council ruling, it was held that speech in any form — including at a protest or on a road or at a rally — would attract Section 124A only if it incited violence or resulted in public disorder.
Speaking on the current practice, Venugopal said the states are abusing the law by using it for religious strife and other incidents, even though it may not result in public disorder. "In such cases the question that arises before the court is that can a statute, which on its face is valid, but is misused and abused and implemented in a manner which violates fundamental rights, then is the law bad," he asked the court.
(Edited by Rohan Manoj)
---
Also Read: 'Criticism of govt not sedition': What Kedar Nath ruling that SC quoted in Vinod Dua case says
---