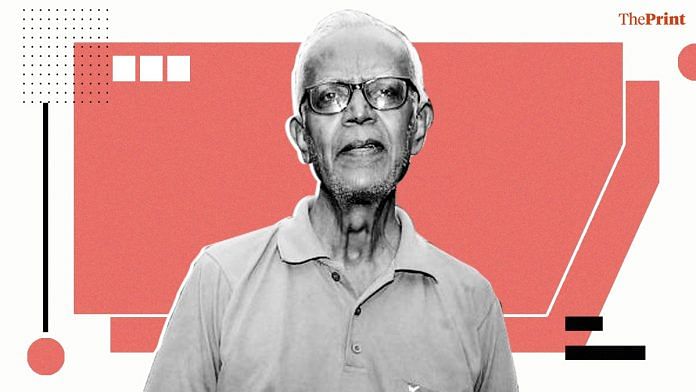 Text Size:
New Delhi: Organising events for the banned CPI (Maoist), keeping in touch with all the accused in the Bhima-Koregaon case, and possessing Maoist propaganda — these are the allegations the National Investigation Agency (NIA) has levelled at Stan Swamy, 83, a Jharkhand-based Jesuit priest and tribal rights activist who was arrested Thursday night.
The NIA filed a charge sheet in the Bhima Koregaon case Friday, naming Swamy, who has been questioned multiple times in connection with the two-year-old case, and seven others. He has been booked for alleged criminal conspiracy and sedition, and under the Unlawful Activities (Prevention) Act, among other charges. 
He is the 16th person to have been arrested so far in the Bhima Koregaon case, which pertains to allegations that provocative speeches about caste at a 31 December 2017 event in Pune sparked clashes in parts of Maharashtra on 1 January 2018. The event, Elgar Parishad, was held to mark the 200th anniversary of a battle where an army comprising Dalits, fighting under the British flag, defeated a much-larger force of the Brahmin Peshwas.
Investigators in the case — first Pune Police, then the NIA, which took over the case earlier this year — have also alleged a Maoist angle to the event.
Swamy, who hails from Kerala, has denied ever visiting Bhima Koregaon, and rejected the allegations of Maoist links too. In a message circulated ahead of his arrest, he suggested his arrest was related to his work, much of which has seen him dissent with government policies. 
His arrest has been widely criticised, with the human rights group People's Union for Civil Liberties (PUCL) condemning it as an "inhuman and insincere act of the NIA authorities".
---
Also Read: NIA probe into Bhima-Koregaon being used to crackdown on dissidents, say over 1,000 academics
---
'
Received Rs 8 lakh to further CPI (Maoist) propaganda'
A source in the NIA cited the agency's investigation so far to claim Swamy received Rs 8 lakh to facilitate activities of the CPI (Maoist), including meetings, and arms and ammunition training.
The NIA has claimed in the charge sheet, sources said, that Swamy is the convenor of the Persecuted Prisoners' Solidarity Committee (PPSC), "a frontal organisation of CPI (Maoist)".
"Stan Swamy is CPI (Maoist) cadre and was actively involved in its activities. He was in communication with other CPI (Maoist) cadres and propagated (the message) among cadres that the arrest of urban CPI (Maoist) cadres from different parts of the country, particularly in Maharashtra, has caused a huge irrevocable damage to CPI (Maoist)," a second NIA officer said.
"He received funds from other Maoist cadres for the furtherance of the activities of CPI (Maoist). The incriminating documents related to communications for furthering the activities of CPI (Maoist)… Propaganda material of the CPI (Maoist) as well as literature were seized from his possession," the NIA officer added.
The role of "various frontal organisations of CPI (Maoist) has also emerged during the investigation", the officer said. "It has been established that the members of the CPI (Maoist) were using these organisations to further their agenda," the officer added. 
A veteran tribal rights activist
Swamy is a veteran tribal rights activist who has worked for over five decades in Jharkhand, fighting for the rights of the adivasi community. 
He was part of the Jharkhand Organisation against Uranium Radiation (JOAR), a campaign against Uranium Corporation India Limited in 1996. The extensive campaign had helped stop the construction of a tailing dam in Chaibasa that would have displaced adivasis in Jadugoda's Chatikocha area.
Swamy has often raised his voice against alleged police excesses in Jharkhand, and what he describes as the government's failure to properly implement the fifth schedule of the Constitution in the state.
The fifth schedule stipulates that a 'Tribes Advisory Council (TAC)' composed solely of members from the adivasi community advise governors of tribal-inhabited states on their well-being and development.
Swamy has claimed that none of the governors — the discretionary heads of these councils — has ever reached out to adivasis to understand and work on their problems.
He has also taken exception to how the Panchayats (Extension to Scheduled Areas) Act [PESA], 1996, has been "neatly ignored" and "deliberately… left unimplemented in all the nine states" with a tribal population.  
The Act, according to him, was the first to recognise the fact that the adivasi communities in India have had a rich social and cultural tradition of self-governance through the gram sabha. 
In 2017, he mobilised the adivasis to fight for the rights granted to them under PESA, and this lead to the Pathalgadi movement. Swamy and many others were booked for alleged sedition for the movement under the state's erstwhile BJP government, but the cases have been revoked under the current JMM-Congress dispensation.
Swamy has also been a vocal advocate for the release of undertrials he says have been unfairly lodged in jails and labelled Maoists. In 2010, he published a book about this, titled, 'Jail Mein Band Qaidiyon ka Sach (The truth of undertrials)'. 
In the book, he states that the family income of the youths arrested was less than Rs 5,000 in 97 per cent of the cases, and they could not afford lawyers to represent them.
He claimed 98 per cent of those arrested were falsely implicated and had no links to the Naxal Movement. 
Swamy has also sought to represent those who are yet to get rights to land under the Forest Rights Act (FRA), 2006, which seeks to recognise forest-dwelling communities' claim to land they have inhabited for generations.
He wrote in 2018 that, between 2006 and 2011, about 30 lakh applications for title deeds were made under the FRA all over the country, of which 11 lakh were approved and 14 lakh rejected, while 5 lakh remain pending.
In a September 2018 interview to Caravan magazine, he alleged that those who raised questions were being termed anti-national.
"If you take up these issues, these are the things you have to face. The mahaul (current environment) in Jharkhand, adjoining states, and the country is that if you raise questions and find facts, you are anti-development. If you are anti-development, you are anti-government. If you are anti-government, you are anti-national. That is the logic being followed here," he said.
---
Also Read: Historians' silence on Bhima Koregaon allowed BJP to brand it as 'urban Naxalism'
---
'
NIA wants to establish I was linked to Left extremists'
Just before his arrest, Swamy wrote a message for activists, lawyers and journalists, where he said he had been interrogated by the NIA for 15 hours in five days (27-30 July and 6 August). 
He claimed the NIA had presented before him several extracts allegedly taken from his computer that suggested he was connected to Maoist forces. He said he had told the investigators that the extracts were fabrications stealthily put into his computer
He also wrote that the nature of the present NIA investigation against him has nothing to do about the Bhima Koregaon case, but to "somehow establish that I am personally linked to extremist Leftist forces".
Swamy was earlier summoned to the NIA's office in Mumbai, but he had expressed his inability to travel long distances on account of the Covid-19 pandemic.
The activist is one of eight people named in the supplementary charge sheet filed by the NIA Friday. The others named are Anand Teltumbde, Gautam Navlakha, Hany Babu, Sagar Gorkhe, Ramesh Gaichor, Jyoti Jagtap, and Milind Teltumbde. 
According to the charge sheet, speeches made at the Elgar Parishad promoted enmity between various caste groups and led to violence.
---
Also Read: '350 inmates in 6 rooms, only 3 toilets': Letter describes Gautam Navlakha's jail in Raigad
---
Subscribe to our channels on YouTube & Telegram
Why news media is in crisis & How you can fix it
India needs free, fair, non-hyphenated and questioning journalism even more as it faces multiple crises.
But the news media is in a crisis of its own. There have been brutal layoffs and pay-cuts. The best of journalism is shrinking, yielding to crude prime-time spectacle.
ThePrint has the finest young reporters, columnists and editors working for it. Sustaining journalism of this quality needs smart and thinking people like you to pay for it. Whether you live in India or overseas, you can do it here.