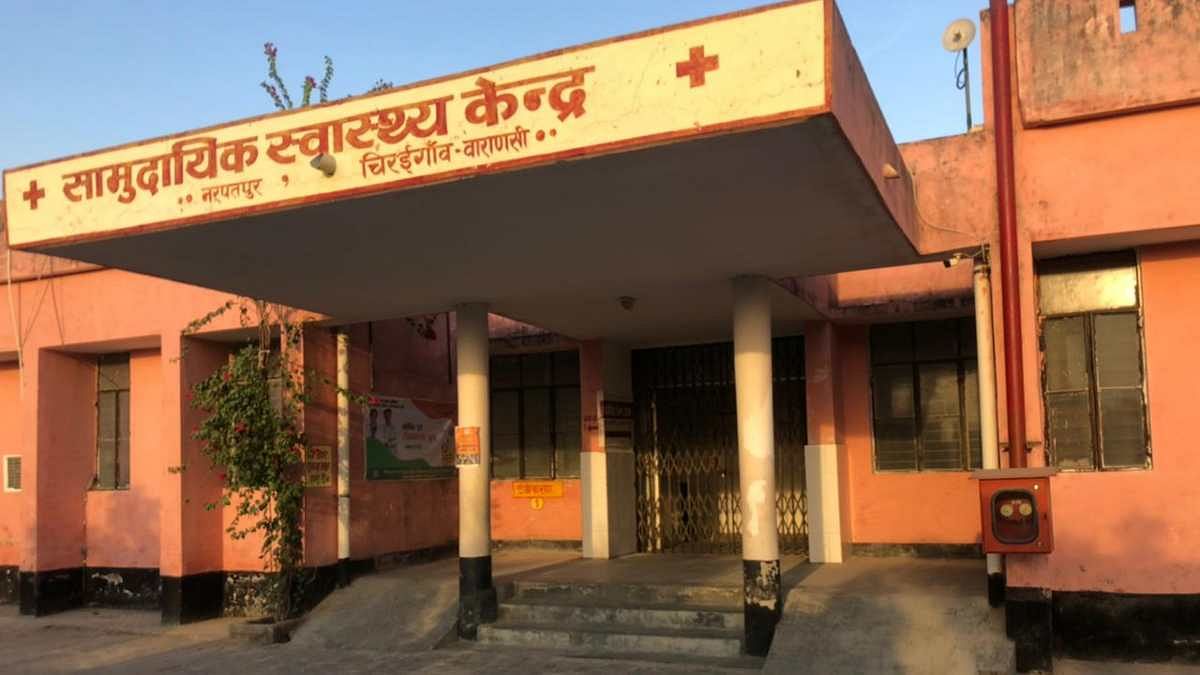 Varanasi: Satish Mishra, 46, a resident of Tilamapur village in Varanasi's Chiraigaon block, has confined himself to the second storey of his house for the past one week.
On Sunday, when ThePrint visited the village, Mishra refused to come downstairs as he was having a fever, cough, and body ache.
Speaking to ThePrint over the phone, he said, "I have been sick and, therefore, isolated myself. I have been taking the Covid kit medicines."
Mishra, whose wife is the village head, didn't test himself yet, just like many of his fellow villagers, who died of fever, cough, and breathlessness in the past fortnight. Asked why he didn't test himself for Covid, Mishra didn't specify the reason.
Talking about the deaths, Mishra said, "I don't have the register of the dead, but I am being informed about a death everyday in the village. There was no testing, so we don't know what is the cause of those mysterious deaths."
Mishra added all these deaths were of those who suffered from fever, cough and breathing problems.
In Tilamapur, one of the 760 villages of Varanasi, most households have at least one family member suffering from fever or cough, according to villagers.
The adjoining Ashapur village, too, witnessed "over a dozen deaths" in the last 15 days due to "fever and cough".
Village head Santosh Pandey said: "Even young ones are dying. Recently, 40-year-old Kailash Tripathi and his wife died because of fever. After that, (neighbour) Rafiqer's wife and son also died of similar symptoms."
He added: "That is when people understood that these deaths have something to do with the coronavirus. In the previous wave, we thought that this was some kind of conspiracy. But now it's real. Even 30-year-olds are also dying. The death count must have reached 13 by now."
Situated 25 km away from the main Varanasi city, both the villages are now engulfed with news of deaths. The lanes of the villages appear ghostly with not a single resident out on the streets.
Varanasi is among the four high-burden districts of Uttar Pradesh — with 16,830 active Covid cases as of 25 April. 
UP continues to be the second-worst affected state with more than 2.97 lakh active cases as of 25 April. According to the district health bulletin Sunday, Varanasi reported eight Covid deaths in the last 24 hours.
---
Also read: With panchayat polls, UP's Gorakhpur has more Covid cases in its villages than in towns
---
'Not a single doctor to attend to this crisis'
Sudhir Singh, the pramukh (in-charge) of Chiraigaon block, answers 100 calls every day from villagers looking for hospital admissions or medicines.
"I will WhatsApp you the name of the medicines. Start medication at home. There is no hospital, no one is helping, try to understand," Singh was telling a caller Sunday when ThePrint visited his office.
"I have not been able to even have a meal of the day. I am receiving 100 phone calls every day for bed and doctor consultation. There is no hope. No doctors are available and we are losing our younger ones," he told ThePrint.
"The number of calls has increased after 19 April, the day this block went to panchayat polls. Panchayat candidates have called their voters from Gujarat, Delhi, Maharashtra, etc. There has been no testing, no screening. Every village has patients complaining of fever, pneumonia, typhoid, but there is not a single doctor to attend to this crisis," Singh said.
Abysmal testing
The block has one community health centre (CHC) and four primary health centres. The CHC has, however, been shut since the second wave struck in late March. 
Of the four PHCs, only one takes samples for Covid testing in the entire block, with a population of 2.31 lakh.
The testing numbers of the block are alarming. According to data from the district health department, 107 samples were tested on 17 April, zero samples on 18-20 April, 197 on 21-22 April and 147 on 23 April.
ThePrint visited the CHC in the block's Narayanpur village, which now looks like an abandoned government building.
A few kilometers away from the CHC, lies the PHC. One of the staffers at the PHC, Dinesh Kumar, said: "On Sundays, the centre remains closed." A poster hangs on its main gate, stating that Covid samples are taken for tests between 10 am and noon. 
"We test 100 to 150 people every day," Kumar said.
ThePrint also visited the small emergency hospitals in the block, one of which, The Meridian Hospital, isn't functional. Posters adorn the walls of the hospital stating 'No beds and oxygen available in the hospital'.
The owner of the hospital, who didn't want to be named, said the hospital has not been authorised by the Varanasi DM to function as a Covid facility.
A few kilometers away from Meridian, lies another private facility — Smart Medicity Hospital.
With two ventilators and 10 oxygen beds, the hospital has been turning away patients who need ventilators. The hospital sees three critical patients every day in dire need of oxygen.
"Last week, we did not have oxygen supply. Now we are not risking the lives of patients. So we simply don't admit them because we don't have the resources," said Dr Deepak Singh, one of the doctors at the hospital.
Asked about the low testing figures, Dr S.S. Kannaujiya, Additional Chief Medical Officer, Varanasi, told ThePrint: "We are conducting Covid tests at the PHC and our Covid sampling teams are also going to villages. But since the block is near to the main city, a lot of people are coming to BHU and other authorised centres for testing."
Kannaujiya is also the district surveillance officer for Covid.
Asked about the deaths in Tilamapur and Ashapur, he said: "We acknowledge that there have been so many deaths in the recent days, but unless the deceased's report is positive for Covid, we cannot count it as a Covid death."
---
Also read: 'Holy dip will wash away all infections': Kumbh returnees are driving Rajasthan Covid graph up
---
Stigma & fear
The disease has also triggered fear and stigma among the villagers, like the previous wave.
Akash Mishra, 23, a resident of Tilamapur village, told ThePrint that no relative came to their house when his father, who had tested positive, died on 12 April.
"He had chest pain on 8 April. The samples were sent on the same day. We kept waiting for the test report. It did not come. By 12 April, his oxygen level dropped to 60. He died on the way to hospital. His report came the same night. He was Covid positive," he said.
"Covid is a stigma here. No relatives came to console us as they got to know that my father was Covid-positive. The block officials also did not tell us to isolate or start medication. We isolated ourselves for 14 days (after the death) and also completed our medicines," he said.
"But the stigma around this remains forever. Even after the isolation, the neighbours still kept themselves away," added Mishra, who used to work as a sales officer with HDFC Bank in Varanasi.
A few metres away from Akash Mishra's house, lived 48-year-old Santosh Mishra who died on 9 April after complaining of breathlessness.
One of his uncles, who didn't want to be named, told ThePrint: "He was diabetic. He complained of breathlessness on 9 April. We could not arrange oxygen, so we took him to Ashirvad hospital, which is 2 km away from the village. But he died on the way. The hospital did not admit him, so no Covid test or post-mortem was conducted."
Their 23 member-joint family got themselves tested at the block testing centre a few days after the death, but their antigen samples came negative. 
(Edited by Debalina Dey)
---
Also read: 'No mother should see such day': Stories of despair in CM Yogi's Gorakhpur as UP fights Covid
---