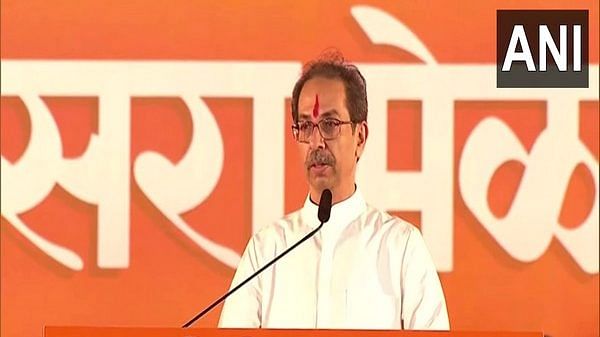 Mumbai: The Eknath Shinde-led Maharashtra government's decision to appoint Karan Adani, son of Adani Group Chairman Gautan Adani, on a new Economic Advisory Council, has drawn severe criticism from the Uddhav Thackeray-led Shiv Sena faction amid the Hindenburg Group-Adani controversy.
Karan Adani, chief executive of Adani Ports & SEZ Limited, is among the 21 members of the council that the Maharashtra government, comprising the Bharatiya Janata Party and Balasahebanchi Shiv Sena, has constituted to draw a roadmap to take the state towards its $1 trillion economy goal.
Shiv Sena (Uddhav Balasaheb Thackeray) leader Ambadas Danve tweeted that Adani's inclusion in the state economic advisory council "makes it clear who this government works for."
"Instead of running the government for the Adanis, leave the state government in their hands…this will not be tolerated in Maharashtra," he added.
The Maharashtra government announced the formation of the state Economic Advisory Council in December last year, before the Hindenberg report controversy. Maharashtra Congress President Nana Patole had objected to industrialists Karan Adani and Anant Ambani's inclusion even then. Patole had alleged it to be the Shinde-led governments "ploy to privatise power utility services."
In January, US-based investor research firm Hindenburg Research alleged in its report that the Adani Group had "engaged in brazen stock manipulation and accounting fraud schemes over the course of decades."
Rajgopal Devara, additional chief secretary of the planning department and also a member of the Economic Advisory Council, did not respond to ThePrint's call. The copy will be updated when he does.
---
Also read: Adani row: Most Oppn parties agree to participate in parliamentary proceedings
---
Advisory council for a trillion-dollar-economy goal
The state government constituted the Economic Advisory Council mainly to draw up a five-year plan to boost Maharashtra's economy to the government's stated target of $1 trillion. The council will be chaired by N Chandrasekaran, chairperson of Tata Sons, and have three bureaucrats as full-time members and 17 other part-time members, all from the private sector.
Other than Adani, the council includes names such as Reliance Industries Executive Director Anant Ambani, Mahindra & Mahindra Chief Executive Anish Shah, Bank of America President & Country head Kaku Nakhate, Sun Pharma Director Dilip Sanghvi, National Stock Exchange Chairman Vikram Limaye, AZB Managing Partner Zia Mody and, Bain Capital India Chairman Amit Chandra, among others. 
A government official who did not wish to be named said that the idea was to include major industry stalwarts across sectors such as education, economics, automobiles, textiles, banking, pharmaceuticals, finance, ports, engineering, and so on. "The council is expected to submit its report in three months. The first meeting should be sometime this month," he said.
As per a government notification issued in December last year, the council will be an independent body and is expected to advise the Maharashtra government on economic or policy-related issues and give its opinions on issues of macroeconomic importance. 
The council, which is expected to have its first meeting later this month, will also be required to have meetings and deliberations with stakeholders from across sectors and suggest ways to boost production across all such sectors.
The council will propose plans and policies for long-term development.
---
Also read: Adani Ports SEZ announces 18 pc jump in Q3 revenue
---