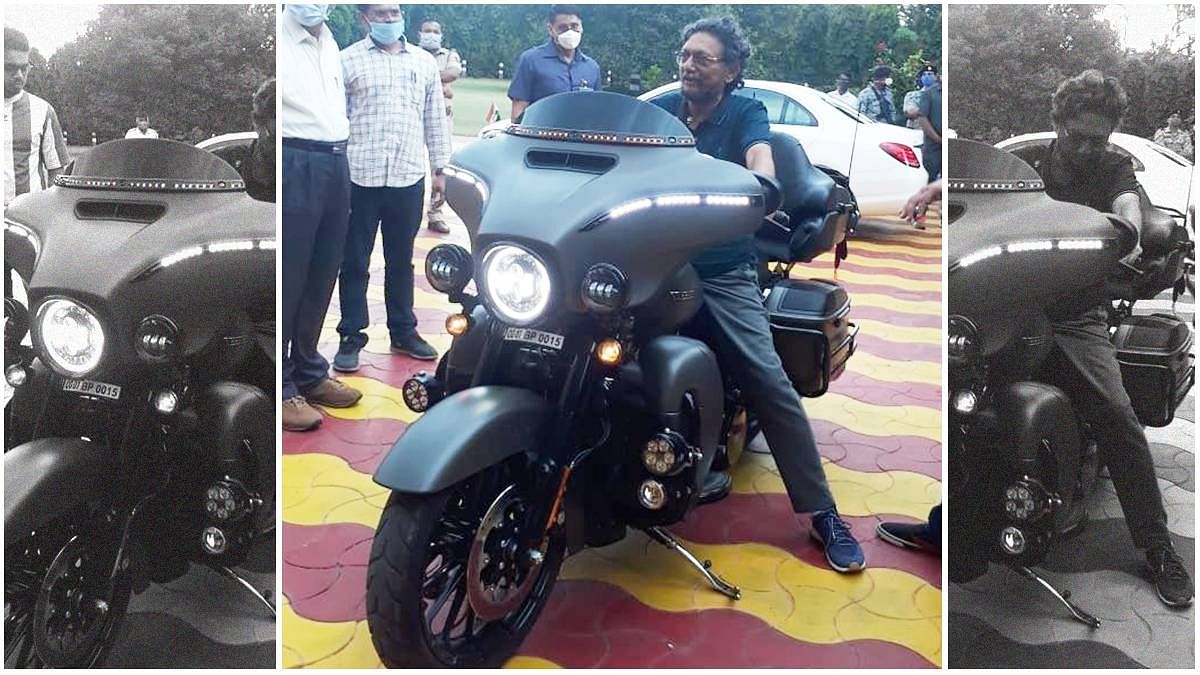 New Delhi: Photos of Justice Sharad Arvind Bobde flooded social media for a while Monday after they showed the Chief Justice of India (CJI) astride a limited edition black Harley Davidson.
Two photos of him were shared by several lawyers, journalists, Twitter accounts that track legal news and others.
In them, Justice Bobde can be seen sitting on the parked Harley Davidson CVO 2020, surrounded by people wearing masks. He, however, isn't wearing one.
Comments on the photos ranged from "uber cool" and "people who love life" to criticism over him not wearing a mask and even on the current state of the judiciary in the country. Some alleged the bike belonged to a BJP leader's son in Nagpur.
That's the Chief Justice of India on a weekend in Nagpur!
Justice Bobde, My Lord 😃😃😃😃😃 pic.twitter.com/hYGlq2muUC

— Payal Mehta/પાયલ મેહતા/ पायल मेहता/ পাযেল মেহতা (@payalmehta100) June 28, 2020
I like ppl who love life. No false pretensions. No false sense of protocol. Lutyens delhi full of such ppl. Just saw this pic on social media of our current CJI Sharad Bobde. A different person. Positions come & go. But you hv 1 life. pic.twitter.com/EFEr23KdP0

— Vivek Tankha (@VTankha) June 28, 2020
See the Chronology
The fancy bike is being riden by Hon'ble Chief Justice SA Bobde has registration NO CG05BP0015 and it is registered to Rohit Sonabaji Musale the son of BJP leader from Nagpur.
Think twice how much our Secularism is secure ? pic.twitter.com/LqM1Bh8ote

— Arun Sinha #WithRG (@ArunPrasadSinha) June 29, 2020
Sources close to the CJI told ThePrint that he did not ride the bike but was merely sitting on it.
The photo was taken at a ceremony the CJI was attending at Raj Bhavan in Nagpur, they added. Nagpur is the CJI's hometown. Justice Bobde is there since the Supreme Court is on a two-week summer break.
Since the showroom was close to the venue, the CJI expressed his interest in seeing one of the bikes, according to the sources.
They said the two-wheeler was then brought to him for a demo, during which CJI Bobde removed his mask to apparently see the fittings better. He sat on it for a few minutes "to take a feel of the bike" without riding it, they said.
---
Also read: 'Notorious student', champion sportsperson, dog lover — SA Bobde takes oath as new CJI
---
Motorcycle enthusiast
The sources said Justice Bobde has always had a love for bikes.
"Like other judges are fond of badminton or golf, biking is a sport for the Chief Justice. He used to go on long drives on his Bullet in his college days and early days as a lawyer," the said.
They also said that he is "very familiar" with the motorcycle models Bullet, Jawa and Rajdoot.
Earlier last year, before he took charge as CJI in November, Bobde had met with an accident while test-riding a motorcycle, which was believed to be a high-end Harley Davidson. The CJI has fractured his ankle in the fall.
The accident had kept him away from court duties as well as Supreme Court Collegium meetings.
During his interviews with journalists just before he took charge, he expressed his fondness for motorcycles, and said he used to ride a Bullet.
---
Also read: Rule of law most fundamental feature of modern constitutions of world, says CJI
---