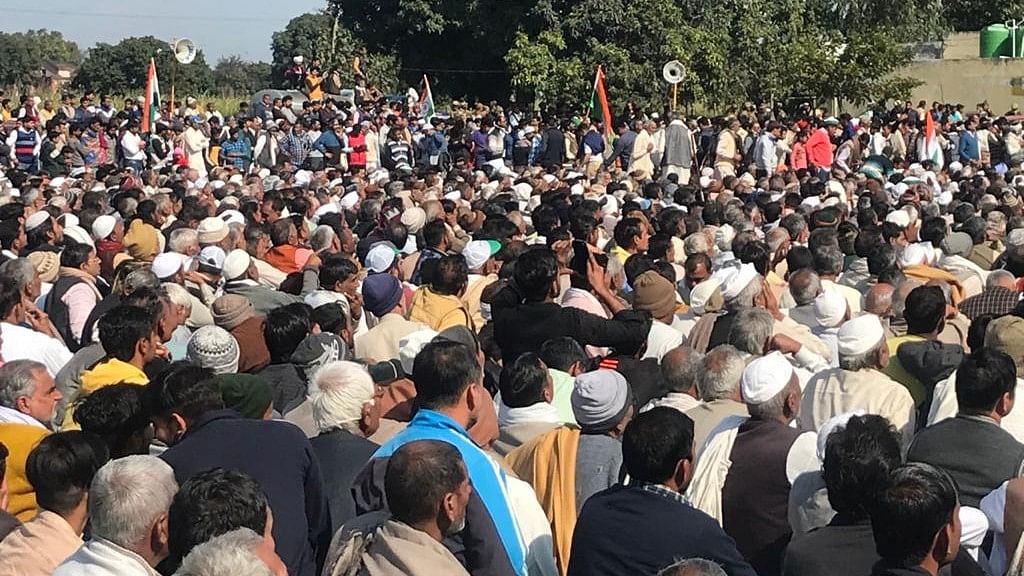 Muzaffarnagar/Bagpat/Shamli: Jaspal Singh cultivates sugarcane on his 18 acre farm in Chhaprauli in Uttar Pradesh's Bagpat district. Last week, he received the dues for his crop — for last year. And he is furious.
Singh believes farmers like him in western Uttar Pradesh are receiving a step-motherly treatment from the central and state governments.
Prime Minister Narendra Modi and Chief Minister Yogi Adityanath promised payment for sugarcane within 14 days — failing which farmers would get interest too — when they addressed rallies in this part of the state in 2014 and 2019, respectively, he says.
While this promise was fulfilled with a law, nothing came of it.
"Forget about interest, we got last year's sugarcane payment last week only after farmers agitation intensified. And we are waiting for payment of last four months," he says.
"Yamuna ke us paar Khattar sarkar Rs 360 quintal de rahi hai. Yogi sarkar Rs 325. Humne kya paap kiya tha? (The Khattar government in Haryana across Yamuna is giving a rate of Rs 360 per quintal while the Yogi government is giving Rs 325. Why this step-motherly treatment?)" he asks.
Singh's anger is resonating across the sugarcane belt in western UP region of Bagpat, Shamli, Khatauli, Amroha and Muzaffarnagar even as the farmers' agitation around the national capital is fast spreading to this Jat dominated region.
It has become the new political battlefield over the Modi government's three farm laws after Bhartiya Kisan Union (BKU) leader Rakesh Tikait, who is a major influence in the region, shed tears at the Ghazipur protest site on 28 January.
With sugarcane being the lifeline of western UP, the issues of delayed payments for the crop, marginal rise in the state advised price (MSP equivalent in UP), rising input costs and stray cattle have become the main sources of anger here. 
This is also leading to increased politicisation of the protests, with parties rushing to take advantage of the opportunity against the governments.
---
Also read: Modi govt has lost farm laws battle, now raising Sikh separatist bogey will be a grave error
---
Delayed payments, cattle issue, incremental SAP rise
In the Sultanpur Khera village in Bagpat, Jasvir Singh says the previous Mayawati and Akhilesh Yadav governments were better for farmers compared to the Yogi regime.
"They raised Rs 50 (to Rs 265). The Yogi government has raised only Rs 10 — from 315 to 325. For the last two years, there has been no increase in the SAP (state advised price) of sugarcane while prices of diesel, gas and urea are rising continuously," says Jasvir.
Moreover, farmers across the region complain about stray cattle, which destroy their wheat and mustard crops. While the state government has made several cow sheds, farmers say the administrators of these sheds leave the cattle free to roam in the evening.
Yudhvir Singh in Muzaffarnagar district's Budhana laments the delay in the announcement of the sugarcane price for this year.
"Almost three months since crushing began and only two month left to end the season, the state government has not announced sugarcane price for this year. Farmers don't know at what price our cane is going for crushing," he says.
"They are blank slips without price mentioned. Nobody knows when payment will come. Can you survive a year without any payment? How will we pay children's school fee? How will farmers survive?" he adds.
In Shamli district alone, mills have Rs 650 crore of sugarcane dues. In neighbouring Meerut, the figure is at Rs 1,500 crore. Overall in the state, sugarcane mills owe farmers dues worth over Rs 11,000 crore, including Rs 1,850 crore from last season, according to a report. 
Uttar Pradesh is the India's largest sugarcane producer, accounting for 51 per cent of the total cultivated area under the crop. Close to one-fifth (119) of India's 520 sugarcane mills are in UP, particularly the western region of the state, said another report.
---
Also read: Farmers to intensify protests, threaten to hold one chakka jam every week
---
RLD takes lead in cashing Jat anger
In November, BKU leader Rakesh Tikait had raised the issue of raising the SAP from Rs 325 to Rs 400 in a meeting with the Yogi Adityanath government.
Since then, he has become the face of the protests at the Ghazipur site on the national capital's border. In the aftermath of the police action at the site after the Republic Day violence, he has become a unifier of farmers in the Jat dominated region.
He has aligned sugarcane misery with the demand of rolling back the three laws.
In several western UP districts, BKU has given a call for farmers' panchayat to protest against the laws even as Tikait is himself avoiding aligning with political leaders.
But Ajit Singh-led Rashtriya Lok Dal (RLD) is taking a lead in calling farmers' panchayat, where BKU leaders are also participating.
In one such panchayat Friday in Shamli, a Jat Muslim dominated constituency, RLD leader Jayant Choudhary, whose caste-based party was decimated from western UP in 2017 assembly and 2019 Lok Sabha elections, asked farmers to teach a lesson to the Yogi and Modi governments in next year's assembly polls.
Referring to the state's sugarcane minister Suresh Rana, who is an MLA from a Shamli constituency, Choudhary said, "Sugarcane minister Rana is from this area but farmers are not getting sugarcane dues. The government is not giving you rates, you refuse them your votes…"
From Muzaffarnagar to Mathura, RLD is attracting large crowds at such panchayats. In Shamli and Bijnor, the panchayats saw the attendance of Samajwadi Party and BKU leaders, unnerving the BJP, which made huge electoral gains after the 2013 Muzaffarnagar religious polarisation.
Jitendra Choudhary, a Jat farmer in Shamli who voted for the BJP in 2017 and 2019, says, "Earlier, 2,000 people wouldn't gather in a Choudhary rally but after the Tikait incident, 10,000-15,000 farmers are coming in. Jats are leading every panchayat but others are also there. He is talking about farmers' issue, that is why farmers are listening."
However, the farmer adds that election is far away and PM Modi "will do something to contain anger".
---
Also read: How mahapanchayat in Haryana's Jind could spell fresh trouble for BJP-JJP alliance
---
Jat-Muslim unity fear for BJP
In the Shamli mahapanchayat, a sizeable number of Muslims were also present. Several Muslim leaders from SP and RLD shared the stage.
In Muzaffarnagar also, Muslims joined the Jats after the Tikait incident and even the BKU Muslim face, Ghulam Mohammad Jola, who distanced from the union after 2013 riots, joined in.
Nearly eight years ago, the Muzaffarnagar riots claimed 63 lives and destroyed the century-old unity of both communities. But a thaw in relations now seems likely, which will pose an electoral challenge to the BJP.
Faiyaaz Hussain, a farmer from Thana Bhawan, says, "This is not a question of Hindu-Muslim. All are farmers, whether Jat or Muslim. We are suffering. My payment is also due like others. So don't brand farmers agitation as Jat agitation. We mistrusted each other but time has come to unite."
SP Muzaffarnagar district president Pramod Tyagi says, "Jats have taught lesson to BJP in Haryana because they ignored their political space. Now it's UP's turn. They divided Jat against Muslim and polarised other castes against Jats. Both castes realised their mistake and they are uniting on the larger farmers' issue, which will cost the BJP."
In the 2019 Lok Sabha elections, BJP's Satyapal Singh defeated Jayant Choudhary by only around 25,000 votes in Bagpat even as the latter received 5 lakh votes. He lost due to division in Muslim and Jat votes.
In the 2012 assembly elections, out of the 11 Jat-dominated seats here, RLD won five, SP-BSP three each and BJP scored zero. After 2013, BJP received over 50-75 per cent Jat votes in two consecutive general polls. 
There is not much activity currently in BJP's Bagpat office, with leaders missing.
A sitting BJP MLA from this area says on condition of anonymity, "We are not so much concerned about Jat-Muslim unity or other caste arithmetic. The main concern is the perception that this government is not farmer friendly due to various factors, sugarcane is one of them." 
He adds, "The message is going that due to ego they don't want to resolve the issue, which can cause larger damage. People don't make up their minds in one or two days, but one perception travels for a few months, then people crystallise that."
---
Also read: How RLD is looking to capitalise on Jat resentment to revive poll prospects in western UP
---
'Modi has bad managers'
Suraj Bhan Singh of Nethala village, however, says there is no doubt on the intention of PM Modi.
"Modi ji has done surgical strike, removed Article 370 and sent Rs 6,000 in farmers' account directly. No other government has done such work. We are happy that Yogi has ensured miscreants are in jail. Earlier it was not possible to roam in sugarcane fields in the night," he says.
"Only problem is Modi's managers are not good. They create obstacles in taking farmers' problem to him. There is no doubt on his intention," he says.
In many non-Jat villages from Meerut to Amroha, castes like Brahmins and Kurmis are not as agitated on farmers' law as they are small cultivators, and not informed like farmers from Punjab and Haryana, where the mandi system is strong. There is temporary resentment only due to agrarian crisis. This is the only bright spark for BJP in the region for 2022 assembly elections.
However, a BJP leader who didn't wish to be named says the party's winning formula in many states has been to consolidate other castes against the dominant caste. In UP, it gained power by consolidating the upper caste, EBCs, Kushwahas, Kurmis and OBCs and non-Jatav Dalits. "This formula is still winnable," he says.
---
Also read: Meeting with khaps, central intervention — how BJP plans to defuse Jat dissent over farm laws
---