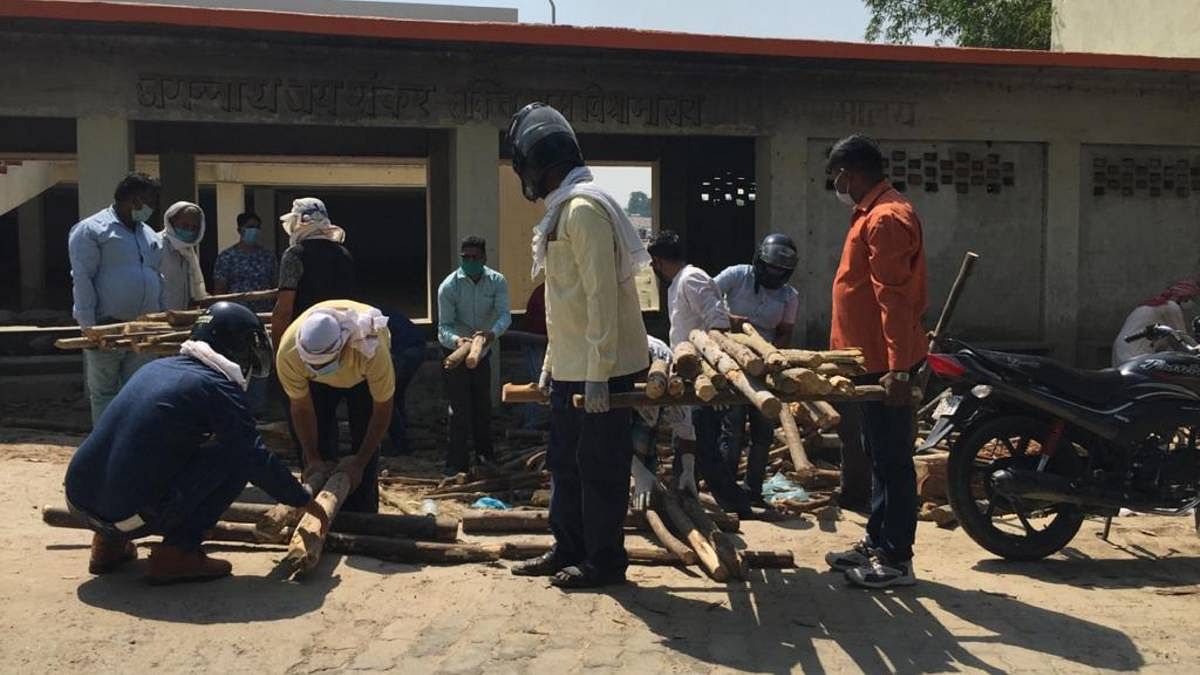 Gorakhpur/Deoria: Standing outside the Covid facility in Deoria's district hospital around noon Friday, 65-year-old Nirmala Tripathi, a retired government school teacher could be heard pleading with her 34-year-old son, Vivek, to get up and walk the few metres to the entrance of the facility so she could get him admitted.
Gasping for breath, with oxygen level dipping to 81, the young man working as a medical sales representative in Deoria, had simply collapsed on the dirty staircase, barely a few feet away from the entrance. A teary-eyed Nirmala, resident of nearby Ramnath-Deoria, told ThePrint that she hoped no mother has to see such a day.
Vivek had fever when he returned home from work Wednesday, recalled Nirmala. By Thursday evening, he was having difficulty breathing. He was taken for rapid antigen testing and the report confirmed Covid.
"Since morning, I have dragged him to two private hospitals. But there was no bed available. Now, I have come here. I can see that his condition is deteriorating every minute, but the hospital staff is not bothered. They have told me to wait. Where do I go? What do I do?" Nirmala asked, breaking down.
Barely 50 km away, at Gorakhpur's Rajghat cremation ground, 39-year-old Avinash Singh, a railways officer posted in Gorakhpur, had brought the body of his younger brother, 36-year-old Vikas, who was an income tax inspector in Deoria, for his last rites.
"He was fine until Monday and today he is no more. Tell me, is this an age to die? My parents are still in shock," said Avinash, choking with emotions.
He took his brother to a government hospital in Kushinagar but by the time they reached, it was too late. "The oxygen cylinders in the hospital had run out. I ran from pillar to post, but did not manage to get oxygen [for my brother]," he said.
With Covid cases seeing a sharp spike in the past fortnight, triggering shortage of hospital beds and essentials such as medical oxygen, such distressing scenes are now being witnessed every day outside hospitals in Gorakhpur and its neighbouring districts, such as Deoria, Kushinagar and Maharajganj.
Casualties have also spiked, and the Rajghat crematorium in Gorakhpur reported an increase in the number of Covid bodies being brought in. Official figures, however, don't reflect these numbers. The discrepancy is apparently because bodies from surrounding areas are also being brought here for cremation.
UP is among the five worst-affected states, reporting 37,238 Covid positive cases as on 23 April. The states has the third highest number of Covid cases in the country. And Gorakhpur, home constituency of UP chief minister Yogi Adityanath, is among the top ten worst-affected cities in UP.
As hospitals ran out of beds and supplies of medicines — some hospitals have had to ask patients and their families to source remdesivir injections, critical in Covid treatment, from outside pharmacies — the authorities said "they are doing their best" to handle the medical emergency in the district, gave examples of bigger cities like Mumbai and Delhi, which are also grappling with the Covid crisis.
---
Also read: As Modi govt faces up to Covid disaster, BJP learns a tough truth — the virus doesn't vote
---
'Health infrastructure wanting'
"We are witnessing an unprecedented human tragedy. I don't know if the authorities are realising the enormity of the situation. As it is, the district's health infrastructure is wanting. With this ongoing pandemic, if beds and essential supplies are not ramped up urgently, there will be disaster," said a staff member at Gorakhpur's Hope Panacea hospital, on condition of anonymity.
The 96-bed private hospital ran out of beds Friday, he said.
For the past two days, the hospital has also been out of remdesivir injections and has been telling those accompanying patients to get it from outside. "The hospital gave me an authorisation letter Thursday to get Remdesivir from outside. My family has been going from one medical shop to another since then. We have not managed to get it yet," said Kishore Das, whose 74-year-old father is battling for his life in the ICU, after testing positive for Covid.
Other medical facilities in the district too are facing a similar situation.
Dr Ganesh Kumar, principal, Baba Raghav Das (BRD) Medical College and Hospital, Gorakhpur's largest government health facility with 500 beds, told ThePrint, "We have adequate resources as of now. But if the numbers keep rising there will be problems. The resources available, be it government or private, is limited."
By Thursday, 440 out of the total 500 beds in the hospital were full, said Kumar.
The number of Covid cases in Gorakhpur increased from 576 on 17 April 17 to 1,078 on 23 April, according to daily data released by the Gorakhpur district. The total active cases reported in the district as on Friday was 8,335. Neighbouring districts, including Deoria, also saw a huge surge in Covid cases.
With a population of over 1 crore, Gorakhpur is notorious for its below par health facilities. The district's decrepit health infrastructure drew national focus in 2017, after 60 children died at its biggest government medical health facility, Baba Raghav Das (BRD) Medical College and hospital because of shortage of medical oxygen.
In 2019, Gorakhpur got a new All India Institute of Medical Sciences (AIIMS), but only the out-patient department (OPD) is operational so far.
---
Also read: A bacteria made Indians political. A virus will now extract a political price from Modi
---
Crematoria report spike in Covid bodies
It's not only the number of cases that has increased exponentially. The number of Covid-related deaths have also been on the rise, though official records continue to reflect low numbers.
At Rajghat, Gorakhpur's only crematorium, the number of bodies registered for cremation increased from 12 on 21 April to 37 on 23 April, according to data provided by the Enforcement Task Force (ETF) of Gorakhpur municipal corporation, which has a counter at the crematorium. On 24 April, 26 bodies had already been cremated by 5pm, when ThePrint went there.
"We make entries of all the dead bodies that are brought here for cremation," said a staff member of the ETF, which has been set up with retired army personnel.
But there is a mismatch in the figures registered at the cremation ground and those released by the district administration every evening.
On 23 April, when the crematorium registered 37 dead bodies of Covid patients, the official release showed just five deaths. The official release on 24 April showed just two deaths, while 26 bodies had been registered at Rajghat till 5 p.m.
Jayant Narlikar, Commissioner, Gorakhpur division, told ThePrint that there was no denying the fact that the number of Covid deaths has increased. However, he said the discrepancy between cremation ground numbers and official figures was because bodies were brought at Rajghat not only from Gorakhpur, but also from adjoining districts and towns.
"Rajghat is the biggest cremation ground in the division where bodies are brought in from across eastern UP districts. We do not count those bodies brought from outside Gorakhpur," Narlikar said.
He added, "In the BRD medical college for instance, patients not only come from 10-12 neighbouring districts, but from Bihar also."
Narlikar, however, could not say if the figures for dead bodies brought from outside Gorakhpur were passed on to the respective district authorities so that it got reflected in the latter's record.
---
Also read: Pune paradox: Why vaccine & virus research hub is among worst-affected by Covid
---
'We are doing our best'
The Covid positivity rate in the district went up post Holi, said Narlikar. "In Gorakhpur district, it has gone up by about 3.1 per cent. The reason being that the district is the hub of business and commerce in eastern UP, with an airport and railway station and people come here from all over the region," he said.
The commissioner admitted that there has been a definite Covid surge, but said the situation was not unique to Gorakhpur. "We have resources, but if the number keeps increasing in an exponential way, there will be a problem. It happens everywhere. Mumbai and Delhi are witnessing it."
The district administration's focus in the past 72 hours has been on ramping up oxygen supply and the number of intensive care beds at hospitals, he said.
"From 31 March, when the number of cases started going up, we have activated 100 ICU beds. As of now, we have 1,700 beds with oxygen support. Some private hospitals are reporting oxygen and bed shortage. We are addressing the issues they are facing," he added.
In the next 24 hours, 24 more beds will be activated, which will be increased to 70 by 30 April, he said. Besides, oxygen supply is also being increased.
Narlekar said the BRD hospital currently had a tank with a capacity of 20,000 litres of liquid medical oxygen. "Another 20,000 litre tank will be shifted from the non-Covid units to the Covid unit. It will take seven days to do so," he said, adding that the administration was working to increase the number of hospital beds, as well as augmenting oxygen supply to help Covid patients in the district.
(Edited by Poulomi Banerjee)
---
Also read: Pfizer vaccine prevents symptomatic & asymptomatic Covid infections in adults, UK study shows
---