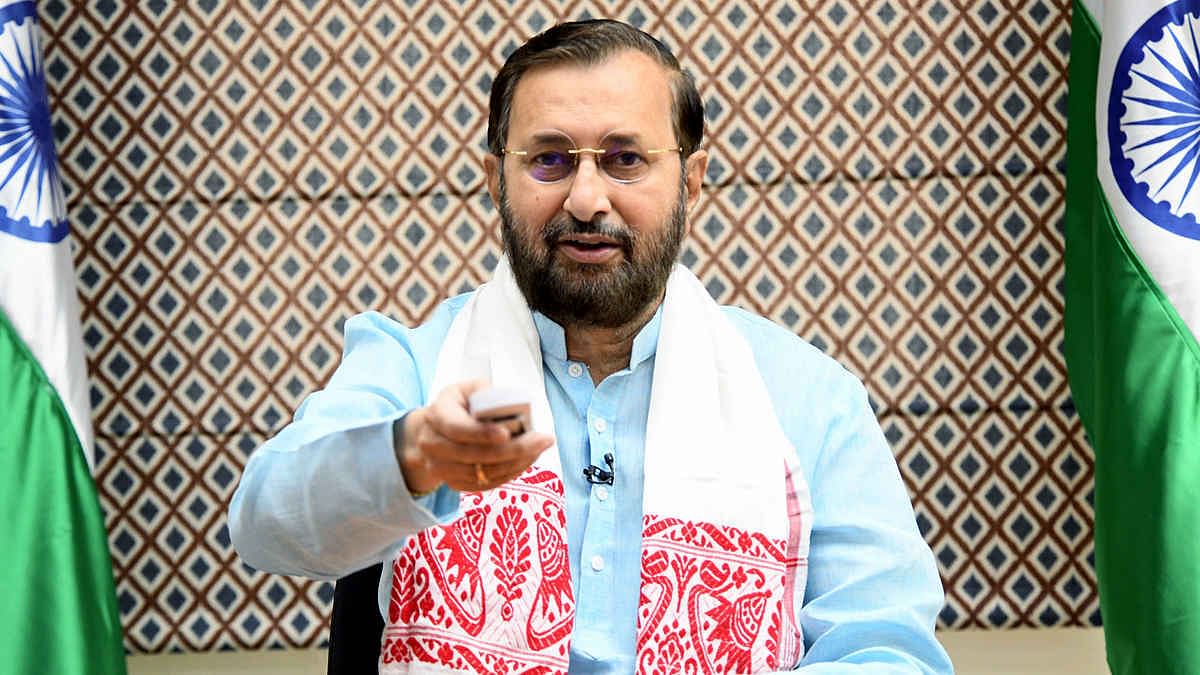 New Delhi: The Ministry of Information and Broadcasting Sunday issued new protocols for restarting film and TV production after the Covid-19 lockdown, making the Aarogya Setu app mandatory for all cast and crew, and disallowing any audience or visitors on the sets. Even in outdoor shooting, the presence of spectators will have to be minimised.
I&B Minister Prakash Javadekar issued the central standard operating procedure (SOP) Sunday, though the Government of Maharashtra, where a large chunk of the industry operates, had already come out with its own set of protocols.
Due to the pandemic, the Indian media and entertainment sector — including newspapers, news channels, radio, and cinema — valued at Rs 1.82 lakh crore according to the latest FICCI-EY report — have suffered losses to the tune of Rs 25,000 crore to Rs 1.3 lakh crore this fiscal, according to CRISIL.
---
Also read: Covid halted film productions, closed cinemas. But movies were in trouble long before
---
Key points in the protocol
Physical distancing of at least 6 feet is among the primary protocols — it is to be followed as far as feasible in all locations at all times, while sitting or standing in queues. This includes places such as shooting locations, sound recording studios and editing rooms.
The protocols state that a minimum number of cast and crew members should be involved during the shoot, and visitors and audience will not be allowed on sets. For outdoor shooting, necessary coordination with the local authorities shall be ensured to minimise and manage spectators.
Staggered call and pack-up timings for different production units shall also be ensured by studios having multiple sets. There will be designated entry and exit points for all shoot locations, and other workplaces and common locations such as sets, cafeteria, make-up rooms, edit rooms, vanity vans, washrooms, as well as equipment and props, shall be sanitised regularly.
The protocols state that lapel mics may be avoided, and should never be shared. Direct physical contact with the diaphragm of other microphones should also be avoided.
"As far as possible, the practice of work from home should be followed. Communication and training on precautions related to Covid-19 shall be conducted with the cast, crew, and all other staff," the protocol states.
It adds that face masks are mandatory for cast and crew, except for actors in front of the camera, and sharing of costumes, wigs, makeup items, equipment, etc. should be kept to a minimum.
The protocol also instructs make-up artists and hair stylists to use personal protective equipment, and says artistes should be encouraged to do their hair styling and make-up remotely with the help of professionals.
Point-person
A designated supervisor shall be nominated from among the cast, and that person will keep a record of the zone (red/orange/green) where the workplace exists, and ensure that all members present on the set have installed and updated the Aarogya Setu app on their mobiles.
This point-person will also monitor the contact between various personnel, observance of precautions and sanitation protocols, and keep a record of the medical history, travel history and a check on the health of the cast and crew.
The person will also be responsible for identifying nearby hospitals/clinics/testing facilities that are authorised to test for and treat suspected Covid-19 cases.
The protocol adds that quarantine areas should be identified for isolating employees showing symptoms of Covid-19 till they are safely moved to medical facilities, and the health authorities should be approached for contact-tracing in case of contingencies.
It adds that Covid-related stigmatisation or unruly behaviour shall be dealt with strictly in coordination with the local authorities.
Producer Sukesh Motwani of web series The Gone Game, which was shot at home by the actors themselves, had told ThePrint that shooting in the post-Covid world would be a changed affair.
Motwani had said there could be a need for stories with fewer characters and reduced unit sizes, and that scenes such as a chase through a marketplace would need to be done away with.
---
Also read: Special effects & social distancing: How Ram Gopal Varma shot India's first 'Covid film'
---