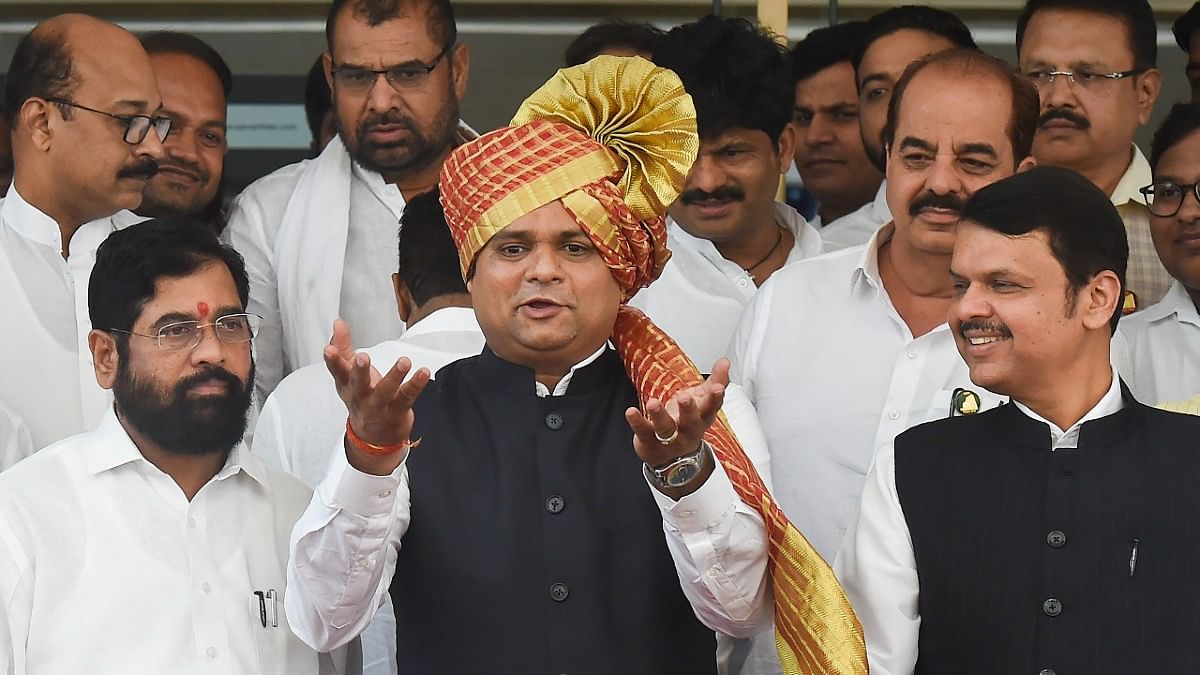 Mumbai: Nationalist Congress Party (NCP) leader Ajit Pawar was not far off the mark when he made a back hand compliment to Maharashtra's new Speaker Rahul Narwekar that he has been an "excellent spokesperson" of every party he has been in.
At the Assembly, Pawar also said the best thing about Narwekar is "his ability to get close to the senior leadership of any party" in an apparent refence to himself, Aaditya Thackeray of the Shiv Sena, and Devendra Fadnavis of the Bharatiya Janata Party (BJP).
The irony of Narwekar's responsibility of overseeing a floor test of the newly formed government of the BJP and the Shiv Sena rebel faction under Eknath Shinde on Monday was not lost on many.  The new Speaker will have to also decide on the disqualification plea moved by the Uddhav Thackeray-led Shiv Sena against several of the Shinde camp's MLAs.
In his entire political career, Narwekar has been a representative of both sides — first with the Shiv Sena, then the NCP, and now the BJP.
On Sunday, the new government won its first major battle by getting its Narvekar elected as the Speaker with 164 votes in a House of 287 members. Rajan Salvi, the Maha Vikas Aghadi's candidate, managed  107 votes. At 45, Narwekar is now Maharashtra's youngest Assembly speaker.
---
Also Read: What next for MVA as Uddhav govt falls? Struggle for survival, fresh strategy for BMC polls
---
Close friend of Aaditya Thackeray
Narwekar started his political career as a member of Shiv Sena's Yuva Sena. He eventually rose to the position of the party's spokesperson and used to regularly feature on English news channels defending the Shiv Sena's position with his suave oratory.
While congratulating Narwekar on his win, Thackeray shared several anecdotes about his friendship with his former party colleague with the rest of the Maharashtra Assembly.
"I remember the old days when we used to come to you for tuition for our law exam. We were friends, having conversations. We used to travel to Delhi often together," the Shiv Sena leader said.
Thackeray recalled one particular incident when he and Narwekar had been to Parliament and Nationalist Congress Party (NCP) chief Sharad Pawar had pointed out to someone "Aaditya Thackeray and Rahul Narwekar are here."
"At that time, you were forming relations with the NCP, not in terms of the party, but on the personal front," Thackeray said, referring to Narwekar's father-in-law Ramraje Naik Nimbalkar who is a senior NCP leader. "Of course, later you formed other relations too."
Narwekar fell out with the party in 2014 when he first backed out of an MLC poll for which the Shiv Sena had nominated him, and later joined the NCP just ahead of the Lok Sabha election.
While withdrawing his nomination as a Shiv Sena MLC, Narwekar had claimed that some in the party were working against him, and that he had tried approaching Shiv Sena president Uddhav Thackeray but could not get through. Narwekar had a meeting with NCP President Pawar and formally joined the party the same month.
He unsuccessfully contested the 2014 Lok Sabha election as the NCP's candidate from Maval, a stronghold of the Shiv Sena. He was, however, accommodated as an MLC by the NCP.
In 2019, Narwekar was among the string of leaders who jumped from the NCP to the BJP ahead of the Maharashtra elections. The BJP nominated him as a candidate from Mumbai's Colaba, where he lives with his wife and daughter. Narwekar defeated Congress' Ashok (Bhai) Jagtap by a margin of more than 16,000 votes.
Cut back to 2022, Narwekar is well aware that all eyes will be on him Monday as the new government will appear for floor test in the Maharashtra Assembly. A lawyer by profession, Narwekar may soon find his legal acumen stand him in good stead as he will be required to carry out his role with both authority and impartiality as the Speaker.
(Edited by Tony Rai)
---
Also Read: Moral, political & ideological questions on Maharashtra: 1st is simplest to answer, 3rd trickiest
---