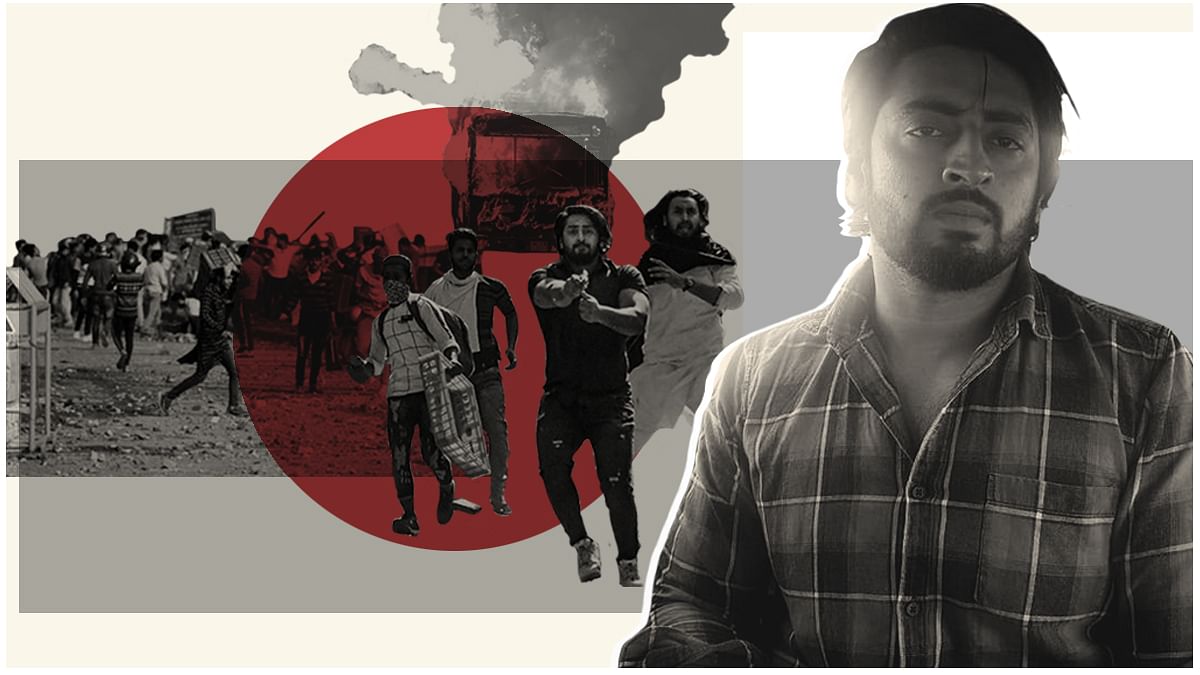 New Delhi: The man in a red shirt who was photographed pointing a pistol at a policeman during the Delhi riots last Monday has been apprehended from Shamli in Uttar pradesh. The suspect, Shahrukh, also allegedly fired eight rounds during the violence. 
Shahrukh was nabbed Tuesday while in hiding at a friend's house in Shamli, police sources told ThePrint. He has been brought back to Delhi and will be produced in court later Tuesday.
According to a police source, Shahrukh does not have a criminal record but moved around with members of the Chenu gang, which operates in Northeast Delhi and parts of Uttar Pradesh and is allegedly involved in several cases of murder, robbery, kidnapping and Arms Act. Police suspect the Delhi riots involved some participation of local criminal gangs, but their exact role remains a matter of investigation. 
"We have not found any case against Shahrukh, but he was in regular touch with members of the Chenu gang. He was apprehended from his friend's house in Shamli, where he had been hiding," a senior police officer said. "Just as he was about to change that location, we nabbed him." 
"He used to roam around with members of the Chenu gang, who taught him how to use weapons of different kinds… We suspect he was soon to join the gang," the officer added.
The officer also said they had recovered weapons from Shahrukh's possession.
Shahrukh's father, police sources claimed, also worked as a drug peddler with the gang and faces over four cases under the Narcotic Drugs and Psychotropic Substances Act. Shahrukh's mother, too, is named in cases of drug peddling, the sources added.
---
Also Read: Rickshaw puller Prem Singh went to buy milk during Delhi riots & never returned
---
Weapon may have been procured from UP
Delhi Police suspect that the pistol Shahrukh allegedly fired during the riots was procured from Uttar Pradesh.
The forensic teams that investigated the riot sites in Northeast Delhi found over 500 cartridges of weapons often used by gangs. This, investigators say, suggests that criminal gangs either participated in the riots or supplied weapons to rioters.
According to police, pistols of .32 mm, .9 mm and .315 mm calibres were widely used in the riots.
"It is certain that since weapons were used in such large numbers, they were either supplied to rioters or criminals themselves took to roads," a second police source said. "Shahrukh, in this case, got that pistol from one of his friends from the Chenu gang."  
"We will question Shahrukh on where he got the pistol and whether he supplied weapons to others as well," the officer quoted earlier said.
Apart from Shahrukh, police have also identified five other suspects who actively participated in the riots, which killed over 40 people. The identification was aided by CCTV footage. 
"CCTV footage shows that the men indulged in indiscriminate looting and robbery. The investigation in the cases is on and more arrests are likely," the officer said.
---
Also Read: Hardest journey Babu Khan ever made, carrying bodies of his two sons killed in Delhi riots
---