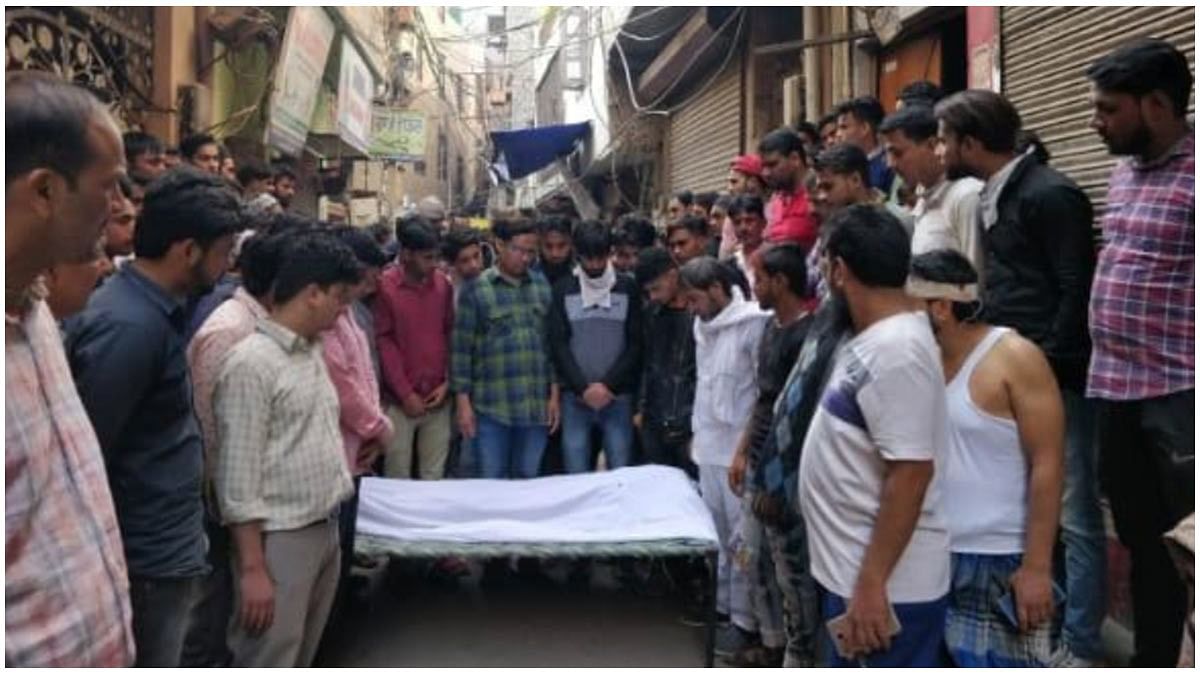 New Delhi: The Delhi Police Thursday night revised its official death toll in last week's communal riots to 44, though reports pegged the figure at 53. The police, however said bodies were still being recovered and the identification process was underway.
First released on 27 February, the list was last updated Thursday. As a result, several names have been dropped from the earlier list. The discrepancy, police said, is likely a result of misidentification.
"There were a lot of bodies that were unidentified. So during their initial identification, the person in-charge making the list could have confused the names. It also happened that some relatives first identified a person and later retracted (their statement)," a police officer said Monday.
"The official list till now only has 44 dead," he added.
The process to identify others is on, the officer said, adding that three bodies were fished out from a drain Sunday. "Those too are yet to identified. We will issue another list once there is more clarity on their names and age," he said.
Violence broke out 23 February evening after pro- and anti-Citizenship Amendment Act protests clashed. The clashes carried on for three days, with mobs armed with stones, sticks and rods running amok in Northeast Delhi.
---
Also read: Why Modi decided to send Ajit Doval to enforce the law, bring peace to Northeast Delhi
---
Below is the current list of 44 deceased. It will be updated when more information is available.
Brijpuri
Mehtab (22 years), Physical assault
Bhajanpura
Akbari (70 years), Burn injury
Bhajanpura Police Station
Mahroof Ali (32 years), Physical assault
Bhagirathi Vihar
Musaraf (28 years), Physical assault
Dayalpur
Prem Singh (30 years), Physical assault
Dayalpur Police Station
Unknown (25 years), Gunshot
Unknown* (25 years), Physical assault
*Was initially identified as Mohseen (22 years)
Gokulpuri
Ratan Lal (42 years), Gunshot
Dilbar (21 years), Burn injury
Nitin (23 years), Physical assault
Gokulpuri Police Station
Unknown (25 years), Physical assault`
Hasim Ali (26 years), Physical assault
Ghonda
Vinod (42 years)
Jagatpuri
Rahul Thakur (25 years), Gunshot

Kabir Nagar 
Istayak (24 years), Gunshot
Karawal Nagar
Alok Tiwari (32 years), Physical assault
Dinesh (35 years), Gunshot
Rahul Solanki (26 years), Gunshot
Jamaluddin (30 years), Physical assault
Karawal Nagar Police Station
Suleman (45 years), Physical assault
Unknown (32 years), Physical assault
Kardampuri
Md Furkan (30 years), Gunshot
Faizan S (24 years)
Kartarnagar
Irfan (25 years), Physical assault
Khajuri Khas
Ankit Sharma (26 years), Physical assault
Babbu (32 years), Stone pelting
Khajuri Khas Police Station
Unknown (45 years), Physical assault
Loni
Shad Mohammed (35 years), Gunshot
Salman (24 years), Stone pelting
Md. Sahnawaj (Age unknown), Burn injury
Mandoli
Deepak (34 years), Stabbing
Maujpur
Md Mubarak Hussain (28 years), Gunshot
Pravesh (48 years), Gunshot
Beer Khan* (40 years), Physical assault
*Initially identified as Vir Bhan
Mustafabad
Md Mudassar (30 years), Gunshot
Asfaq Hussain (22 years), Physical assault
Sahaban (25 years), Gunshot
Aakil Ahahid (26 years), Physical assault
Sharif Khan (90 years), Burn injury
Old Mustafabad
Amir Khan (28 years), Physical assault
New Delhi
Naresh Saini (32 years), Gunshot
New Mustafabad
Zakir (24 years), Physical assault
Shahid (24 years), Physical assault
New Sabhapur Village
Arshad Raza (32 years), Physical assault
Seelampur
Amaan (18 years), Gunshot
(The copy was last updated 5 March)
---
Also read: Why Delhi riots are different — what ThePrint's 13 reporters, photojournalists saw on ground
---