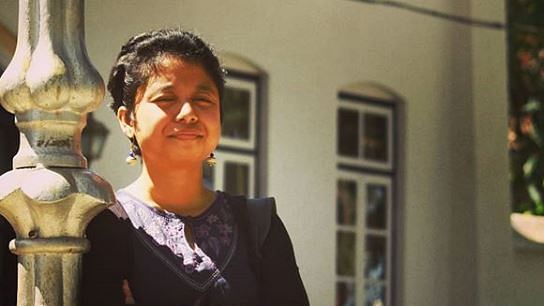 New Delhi: The year was 1995. In a fading photograph, the batch of Class II – a motley group of 74 students – in Guwahati's Little Flower School is lined up by height. In the middle row is Karabi Gogoi, wearing a blue pinafore, a fringe lining her forehead, looking straight into the camera.
Twenty-four years later, in 2019, she readies herself to set sail as India's first woman Navy officer to be posted as a defence attaché abroad. A Lieutenant Commander, she has been meticulously learning and rehearsing Russian for the past several weeks for her deployment at the Moscow embassy, which is likely next month.    
For her friends and family back home, Karabi's new appointment has only reinstated what she always told them – that she wanted to do something different in life.
"I still remember how she aspired to become an IPS officer when we were barely 14," said Kasturi Saikia, Karabi's former classmate who currently works as an assistant manager at a Delhi-based firm.
"She may not have got the first rank in school but her sincerity always shone through… I wasn't surprised when she first told me about the appointment," she added.
Her mother Indira Borgohain Gogoi recalled how Karabi was hooked to Aarohan, the 1990s series on naval officers. "She often remarked how it would make her so happy to be able to wear a uniform like the actors did." 
Karabi left Guwahati in 2006 to study at the Gandhi Institute of Engineering and Technology in Odisha. Right before her final year BE exams in 2010, she took the Service Selection Board (SSB) test in Bengaluru and was commissioned into the Navy the same year. 
That was the time the impact of the global recession had begun to be felt in India, resulting in a decrease of jobs and salaries. Campus selections were limited and fewer firms set foot in institutes.
"I remember us speaking over the phone for hours, discussing what the future held,"Saikia said. "But even then, Karabi had a few things clear in her head. She wasn't joining the herd that was walking into the IT industry."
Karabi later joined the Indian Institute of Technology (IIT) in Delhi to study naval architecture. She has since been posted at the Visakhapatnam base and the scenic Karwar in coastal Karnataka.
Her selection as the Assistant Naval Attaché comes only a month after the Indian Air Force posted Wing Commander Anjali Singh as a deputy air attaché at the Moscow embassy. While Singh is an aeronautical engineer trained on a MiG-29 fighter, Karabi has expertise in warship construction and maintenance. 
The family's 'boss'
Known to be fiercely optimistic, there is also one word that most of her friends associate Karabi with – optimist. 
"She had called me right after the SSB interview. There was one round where aspirants had to utter a word that is related to the one which was given them. Her answer to the word 'blood' was 'donate'," said Leena Sarma, her classmate from Little Flower School who is now an assistant manager at the Reserve Bank of India. 
Their friendship, Sarma added, hadn't changed "one bit" in the past 20 years, "right from eating samosas outside our tuition centre in Guwahati".
At home, her sister Mouchumi Gogoi said, Karabi is "the boss". "Unlike other families, where any important decision has to be approved by the father, everyone in our house consults her before deciding on something," she added. "It was she who had also encouraged me to step out of Guwahati and pursue an MBA." 
Karabi's husband Pranjal Handique is also a lieutenant commander in the Navy. "She is married to the son of our father's best friend," Mouchumi said.  
'Painting to heal'   
If there is one regret, however, that her family and friends have is her father's untimely death earlier this year.
"It was a Sunday morning in March when Karabi called me to say that her parents had met with an accident on their way from Sibsagar to Guwahati," said Sarma. "Her father Dilip Gogoi was killed and mother Indira critically injured. But she handled the crisis with such calmness."
Almost all of her friends expressed regret that she couldn't give him the latest bit of news. "Her father not only encouraged her but us too," said Nasreena Rehman, her friend from school who is now an accounts executive in Guwahati. 
In the months after her father's death, Karabi took to painting – a hobby she had left behind. "It has perhaps been one way for her to try and cope with the tragedy," Sarma said. 
---
Also read: Indigenously-built INS Khanderi adds to Indian Navy's submarine strength
---